It was back to Summerhayes on Sunday but Longs this time, breakfast was at the bowling club and always starts the day off right. At the fishery, parking was at a premium with matches on both lakes. I drew peg 27 on the track side, a great area for silvers, Nick got the golden peg which was 18 on the bottom bank (next to my favourite peg), Parker 'The Pole' was on number 3 (Cyanide Straight) and Terry 'The Toast' was on 38. With 25 anglers on the lake, I thought it might be fairly tough with around 15lb a good weight today.
Jim Jenner was on 26 while Mark Leahy was my neighbour to the left on 29, I was ready with fifteen minutes to spare so went and got a coffee before walking round the lake, annoying people on the way back to my peg. On the whistle I fed two lines at 11.5 metres with gb and maggots and was also pinging a few over. After wasting a few minutes on the top two line (which seems to be a regular occurrence at the moment!), I went out onto the longer lines.
It was quite slow going but by swapping between the two lines I was getting a few skimmers with the occasional better one mixed in. I could see Nick, Zooner over on 12 and Paul Purchase to my left on 30, netting the odd decent skimmer but nobody was running away with it.
By the halfway point I had around six decent skimmers plus some smaller ones along with a few roach and I was itching to go across to the island where I'd been pinging maggots since the start. I went over and although I was getting bites it was mainly from small roach but I stuck at it as every now and again I'd get a 4oz skimmer. It looked like the pond had switched right off as there weren't even that many carp being hooked now.
I did hook one fish that didn't feel like a carp and a nice 12oz perch was a bonus, Nick was still getting odd skimmers but he also got bitten off by a big eel. For the remainder of the match I kept putting small roach in the net and did manage two more decent skimbobs. I ended up with around 10 decent skimmers, a few smaller ones plus a fair few roach including a couple of netters.
The scales started round on peg 40 where Rob Birch had done really well with 7lb 13oz of silvers, Hoffy on peg 2 weighed 31lb 11oz of mainly carp, Parker 'The Pole' and Kev O on 3 and 5 both chucked back, Ian W on 6 had 13lb 13oz before Sean Dutton (peg 8) went into the overall lead with 42lb 9oz.
Rog C on 10 had 8lb 15oz, Craig next door didn't weigh (no photobombing today then!) and then Jess (Zooner) weighed 6lb 10oz of silvers which included a couple of eels although he lost a big snake as well. Adie Bishop on 13 had 22lb 15oz, Glynn DNW'd, Bob A weighed 31lb 6oz on peg 17 and then it was Nick, he pulled his net out and weighed 7lb 12oz which was just short of going into the silvers lead.
Martin Addicott had 34lb 13oz on peg 20 and then Tom Mangnall went into the lead with 44lb 8oz, Andy Bishop (peg 24) weighed 33lb 3oz and Jim chucked back. I was next and my silvers went 11lb 9oz which was top so far. Mark weighed 20lb 6oz, Paul P had 27lb 8oz which included 7lb 2oz of silvers.
Alan J weighed 8lb 2oz of carp, Wayne S on 33 had 18lb 4oz, then Dan Pither went into the lead with 50lb 3oz, Lee S next door chucked back and last to weigh was Terry who had 34lb 13oz for joint fourth but was left regretting throwing back a 4oz skimmer!
1 – Dan Pither (Summerhayes) – 50lb 3oz
2 – Tom Mangnall (Summerhayes) – 44lb 8oz
3 – Sean Dutton (Summerhayes) – 42lb 9oz
4 – Terry Morgan (Ilminster) – 34lb 13oz
4 – Martin Addicott (Summerhayes) – 34lb 13oz
Silvers
1 – Jamie Rich (Against Men and Fish) – 11lb 9oz
2 – Rob Birch (Summerhayes) – 7lb 13oz
3 – Nick Payne (Ilminster) – 7lb 12oz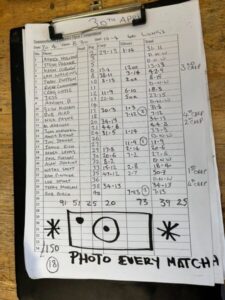 Another enjoyable day and a nice pick up of £73, the Nugget-O-Meter grew by another £3 (pounds from Zooner, Nick and me) and is now at £217.
There's still a great offer running if you fancy treating yourself to some new fishing gear, use the exclusive discount code AgainstMenandFish10 to get 10% off when you shop online at Somerset Angling
Also I still have copies of my book available from eBay here or Amazon here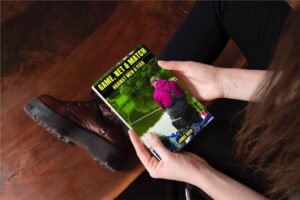 And if you could spare five minutes to leave a nice review on Amazon, it would be very much appreciated.
Next up – Summerhayes
Coming soon – Lots more match reports
Check Out – My last match