A triple header for the long weekend with all three matches at Summerhayes, starting with a silvers only open on Sellicks. After meeting Nick (who was going to Avalon today) and Zooner for breakfast, we drove the short distance to the fishery. Originally there were ten booked in but a couple dropped out, meaning the remaining eight would all have loads of room.
I was hoping to draw pegs 17-22 on the far side and came quite close with number 15 towards the top end which can be good for silvers as its one of the wider swims. My neighbours for the day were Rob B on 13 (he wasn't impressed!) and Roy H on 19 (I did say we had lots of space!).
Now this is normally the bit where I tell you about the rigs and bait but recent feedback suggests people aren't that bothered so here's a photo! I do agonise sometimes about the level of detail to go into as I know some people just scroll to the end to see the results so am I just wasting my time spending hours writing loads of stuff?!
On the whistle I fed a little loose groundbait with a few maggots short and the same at 11.5 metres before pinging a few maggots across at 14.5 metres which was around a metre off the island. The short line was a waste of time once again and with Roy and Rob both into decent skimmers from the off, I was soon shipping out to 11.5 metres.
It didn't take long to get my first bite but unfortunately it was from a carp, a repeat performance next put in was a tad worrying but thankfully it was then third time lucky with a decent skimmer. Over the next hour or so it was just lovely fishing, a bite a chuck from 8-12oz skimmers with the odd better one and I even had a couple of lovely crucians around 1.5lb apiece. Roy was also catching really well although Rob was starting to have a few carp problems.
I was still feeding a few maggots across in two areas but would leave it as long as possible before going over there. For now I was getting regular bites at 11.5 metres and had a lovely big skimmer that was getting on for 3lb, although Roy was still bagging and I was sure he was ahead of me. I got to 52 fish after four hours and really didn't know what weight I had, the net limit for silvers is 50lb which I was sure I was nowhere near but for peace of mind I decided to get another net just to be on the safe side.
As I passed Roy, he asked if I'd get him a net as well as he thought he had 36lb but I didn't know whether he was winding me up or not. When I reached the net bins, Alex on peg 2 enquired what the net limit was and then he got another net as well! Back on my box, I then suffered the curse of the second net as I didn't have a fish for quarter of an hour so had my first look across on the 14.5 metre lines.
First drop in the float buried resulting in a net roach and it was a bite a chuck, mainly from roach with the odd skimmer, hybrid and even a Bob Nudd (rudd) thrown in for good measure, fantastic fishing. Roy slowed up in the last period of the match and despite Rob shouting over that I'd gone ahead of him now, I wasn't so sure.
Apart from the two early carp I'd hooked, I hadn't had hardly any trouble from them until a few minutes from the end when the float went under and on the strike, yellow hydro streamed from the pole tip. I shipped back to the top kit but then the carp? went to ground and loads of bubbles came up! The fish then tried going under my keepnets and as I stripped elastic from the pulla kit, a big 2lb eel came to the top and I managed to net it at the second attempt, just after the whistle, what a great end to the match!
I ended up with 96 fish (so 44 fish in the last two hours) and had loved every minute although I did say to Rob there was a good chance I'd done my best ever Summerhayes silvers weight and still might not frame! After packing up I went round to watch the weigh in which was starting with Alex, his second net weighed 8lb 15oz and then the other went 32lb 13oz to give him a brilliant total of 41lb 12oz.
Rob 'Oscar' Wylde on peg 5 had another lovely net of silvers (including three tench) for 27lb 9oz although he also had a number 4 section go in the lake. Zooner weighed 18lb 4oz of skimmers and quality roach on peg 9, Jeff Sparkes chucked back around 14lb on 11 and then Rob B had some big crucians plus tench and skimmers for 25lb 3oz on peg 13.
I was next and felt if I could beat Alex I'd frame, my second net went 14lb 5oz which meant I needed the other one to go 28lb, there was lots of splashing but would it be enough? The digital display settled on 31lb 2oz and my total of 45lb 7oz put me in the lead but Roy was next. When his second net weighed 9lb something I thought I had a chance, his other net went over 31lb although his impressive 41lb 7oz total left him an agonising 5oz short of framing. Tom R on 23 was last to weigh and also had a lovely net of skimmers for 20lb 8oz.
1 – Jamie Rich (Against Men and Fish) – 45lb 7oz
2 – Alex Kerr (Summerhayes) – 41lb 12oz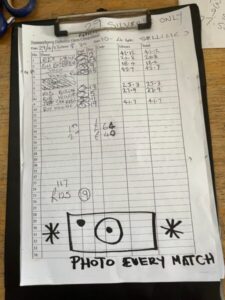 I picked up a very nice £64 and had my best ever silvers weight at Summerhayes plus the Nugget-O-Meter went up by another £3 (nuggets from Nick, Zooner and me) and now stands at £214.
There's still a great offer running if you fancy treating yourself to some new fishing gear, use the exclusive discount code AgainstMenandFish10 to get 10% off when you shop online at Somerset Angling
Also I still have copies of my book available from eBay here or Amazon here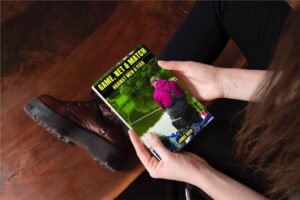 And if you could spare five minutes to leave a nice review on Amazon, it would be very much appreciated.
Next up – Summerhayes
Coming soon – Lots more match reports
Check Out – My last match