Only one outing this weekend, a Stoke match at Revels, quite a few of us met at the Airfield Tavern for breakfast and as per usual, the food was nice and the banter was top notch, the best way to start Sundays. Arriving at the fishery, the car park was already nearly full with twenty two booked in for this one, a great turnout.
We were on Main and Trendles today and I was hoping for a nice silvers peg on the former. Norts announced the draw saying there would be two sections on Main and one on Trendles and the super pools would pay the top two overall. For the league points there would be two zones of 11. I was towards the end of the queue and as people were drawing, I heard several of the six pegs on Trendles had gone. Nick was just in front of me and got number 20 on Main, my favourite peg and he'd be hard to beat on silvers today.
I was now resigned to either being on one of the remaining pegs on Trendles or one of the carpy pegs on Main, after grabbing a ball, I looked and I was fairly happy to see I was on peg 4. I have drawn it once before, in a silvers only match but the weather was atrocious and I got carped out all day. For company, I had Mike Goad in close proximity on peg 3 and Parker 'The Pole' was on peg 6.
I set up a Drennan 0.4 gram Carp 1 for 11.5 and 13 metres plus a 0.25 gram Guru F1 Carbon Slim for the top two line. Both rigs had size 18 Guru Match Special hooks to 0.10mm. On the side tray I had several pints of red and white maggots along with some Bait-Tech Special G F1 and Dark groundbait.
The match kicked off and after feeding some groundbait with a few maggots at 11.5 metres I began on the top two to the right with single maggot on the hook. I was getting indications straightaway and soon had a little perch, next put in I netted a 6oz skimmer and had started brightly.
More little perch followed with the odd better one around 4oz along with some gudgeon and roach. Mike had caught a nice skimmer on the whip and I could see Nick catching odd fish over on 20. My bites began to slow up after 45 mins and I probably stayed on the short line a bit too long. Moving out to 11.5 metres, I was expecting a quick response but it actually took a while to get a bite, I had a couple of skimmers but it wasn't as good as I'd hoped.
Over the next hour or so, I added a few more skimmers but it wasn't really happening, another look short resulted in a burst of chunky perch but it was short lived. Back long, I was hoping the rest would have done it some good but it was disappointing and going past the feed was also a flop. A few more carp were starting to be hooked and Steve P landed a pretty 'instant win'.
With around ninety minutes remaining, I didn't think there was much between Nick and me on the silvers front. I had another look on the short line and added a 4oz perch and then had a cracking 8-10oz roach but also hooked a couple of carp. During the last hour, Nick had several more skimmers while I could only hook carp. Mike had struggled but set a tip rod up and had two carp and a decent skimmer in as many casts fishing to the island.
I did hook a fish on the longer line that tore off so I was sure it was yet another carp but then it stopped and wasn't doing much as I shipped back which had me thinking it might be a foulhooked skimmer or maybe something else (perch/chub?). I'll never know though as the hook pulled out and that was the last of the action for me, I ended up with a couple of carp and 40 silvers.
After packing up I went to give a hand weighing in and get some photos, Dave P had 12lb 14oz on peg 10, Ian B next door weighed 9lb 3oz and then Burnsey on 12 had 20lb 11oz but had snapped some pole sections. Andy 'Mr Matrix' Downton on peg 14 then went into the lead with 36lb 10oz of mainly carp.
The Grand Wiz on 15 weighed 9lb 1oz then Roy 'The Bomb' Worth went into second spot with 30lb 1oz of carp on peg 16, Jake B didn't weigh on 18 and Nick had some decent skimmers for 7lb 15oz and I knew I didn't have that. Derek G on 21 weighed 5lb, Oscar (peg 22) had 7lb 2oz, Rob C on peg 2 weighed 5lb 6oz, Mike G had 7lb 1oz and then my two carp went 7lb 10oz and my silvers added 6lb 4oz.
Parker 'The Pole' had 10lb 9oz including his Guru goldfish, Sam H weighed 9lb 9oz and last to weigh was Neil P who had a big skimmer and some carp for 27lb 5oz on peg 8.
Up on Trendles, Norts had the top weight with 35lb 9oz of carp on peg 36, Terry 'The Toast' on peg 31 was second with 23lb 12oz and Cliffy had the best silvers weight with 4lb 12oz. Clive R weighed 19lb 9oz on peg 27, Wayne C had 2lb 14oz of silvers and Rick didn't weigh. Thanks to Chris Norton for the photos*
Overall
1 – Andy Downton (Tackleuk) – 36lb 10oz
2 – Chris Norton (Stoke) – 35lb 9oz
Section A (Pegs 2-11)
1 – Neil Purchase (Stoke) – 27lb 5oz
2 – Jamie Rich (Against Men and Fish) – 13lb 14oz
Section B (Pegs 12-22)
1 – Andy Downton (Tackleuk) – 36lb 10oz
2 – Roy Worth (Stoke) – 30lb 1oz
Section C (Pegs 25-39)
1 – Chris Norton (Stoke) – 35lb 9oz
2 – Terry Morgan (Stoke) – 23lb 12oz
Silvers
1 – Nick Payne (Stoke) – 7lb 15oz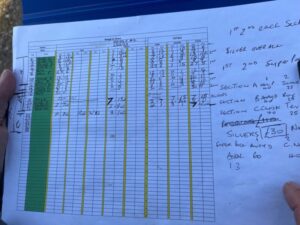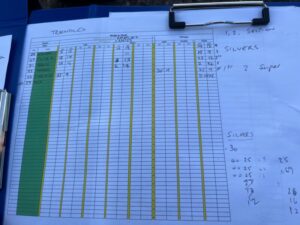 At the results, Andy D was the top weight on the day followed by Norts, Nick had the best silvers and then I had nice surprise when I was second in my section and picked up £25. The Nugget-O-Meter benefitted by £4 (Rob C very generously put two quid in, plus pounds from Nick and me) and now stands at £211 with lots more matches over the coming weeks.
As soon as the Stoke AA website is updated, I'll put the various league standings on here.
There's still a great offer running if you fancy treating yourself to some new fishing gear, use the exclusive discount code AgainstMenandFish10 to get 10% off when you shop online at Somerset Angling
Also I still have copies of my book available from eBay here or Amazon here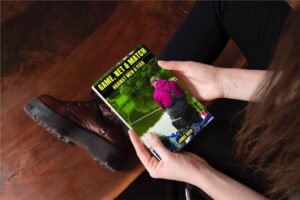 And if you could spare five minutes to leave a nice review on Amazon, it would be very much appreciated.
Next up – Summerhayes
Coming soon – Lots more match reports
Check Out – My last match