A really long day yesterday, up at 5:45am to fish at Acorn, got home at 6:30pm, packed kit away, straight in the shower then to Stoke Sub Hamdon for the angling clubs presentation night at 7:30pm. It was a brilliant night with lots of laughs and a fantastic buffet was laid on, I actually went back up and filled my plate several times (I'm a growing lad!). I managed to get my name on two more trophies last year, the Aggregate Shield and the Evening Cup, Russ took lots of photos so I'll see if I can get him to send some over.
The Grand Wiz was crowned Club Champion and received four trophies in total, Nick Payne won the coveted Memorial Shield and Roy Worth was the recipient of the prestigious Rose Bowl. Other trophy winners were Chris Norton, Dave Pope, Steve Chant, Marco Smith, Dan Baldwin, Dave and Russ Hilton, Andy Downton and Jake Berkley – well done everyone! After getting home quite late and up again at 6:00pm, needless to say I was rather pooped!
This match was scheduled to be on Sellicks and I was really looking forward to it after the last one but when we got there (after another of Charlottes lovely brekkies of course), I was a bit gutted to find out we were on Longs due to the numbers booked in.
My name was first on the list and my home for the day was peg 2 on 'Cyanide Straight', I wasn't too disappointed though as it had fished well last Sunday. Nick hadn't moved far either and was on 4, Parker 'The Pole' was on 21 and Jacko got the golden ball which today was 32, a decent area.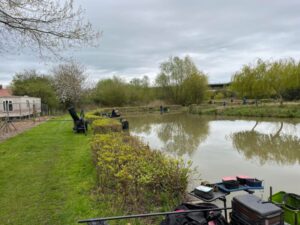 I set up the usual two 0.3 gram Guru AR's, for 13 metres across, 10 metres angled to the right and top two plus one towards some reeds on the inside to the right as I'd caught well on peg 1 doing similar last week. On the side tray I had loads of red and white maggots plus some Bait-Tech Special G F1 Dark groundbait.
The match got underway and I fed the three lines before starting on the short line, Nick was into a lump of a carp straight away. My first bite resulted in solid resistance and after an age, I netted a carp that was probably 6-7lb and Alvin over on 39 also had a decent carp early on. Not wanting a repeat performance, I went out to 10 metres and after a few minutes, the float sailed away and a fish tore off. As I started to gain some ground on this fish, I could tell it was foul hooked by the way the line was snaking from side to side, almost eel like and I joked to Nick it was a decent skimmer hooked in the tail and when it came up it actually was!
Next chuck I hooked another decent skimmer but it came off shipping back, I was getting regular bites and over the next ninety minutes or so I had another four better skimmers plus quite a few between 3-6oz and was ticking along nicely. Nick was getting the odd skimbob but also suffering a few carp problems and then hooked into a fish that was fighting rather strangely before a 2lb eel came to the top!
Alvin was catching carp and also had several skimmers across to the island so hopefully there would be a few waiting for me when I went over, he also had a nice perch and a crucian fishing down the edge. Nick began getting some nice skimmers on his longer line so with bites on my 10 metre line drying up, I couldn't wait to go over.
To be honest it was a massive anti-climax (much like when I was on peg 1 last Sunday and couldn't catch skimmers over) with small roach and motherless minnows being a pain. Nick on the other hand was now catching a succession of skimmers, we were probably fishing the same distance but as his peg was wider, he was around a metre off the island so I tried dropping (and feeding) a bit shorter on another line but it just wasn't happening.
Another look on the short line to the right and a lovely bite saw me into a decent fish which I just knew wasn't a carp and a nice bonus 1.5lb bonus perch was safely netted. Unfortunately that was the only fish (apart from carp) that I hooked there. My other lines were no better either and for the remainder of the match, apart from tiny fish, I only added a couple of decent roach and a 6oz hybrid.
At the all out, I knew Nick had beaten me and Jacko came round to see how we'd gotten on which is normally a sure-fire way of telling he's done well, he was admitting to 20-25lb so there was a very good chance he'd be taking home a bumper payday.
I was first to weigh and my silvers went 10lb 2oz which I knew wouldn't do any good today, Nick had a nice net of skimmers and the eel for 15lb 5oz, Ian W on 6 weighed 33lb 7oz of carp, Steve Collins had 26lb 1oz and then Jim J (or should that be Jesus!) weighed 28lb 1oz on peg 10. Thanks to Steve Collins for the photos*
Dan R on 11 went into the lead with 56lb 12oz and then Jeff Sparks had 8lb 8oz which also included an eel. Rob A on 13 weighed 35lb 12oz, Zooner next door had 6lb 10oz of silvers with another two eels, Rog C weighed 15lb 14oz on 16 and Kev O had 35lb 8oz.
Roy Hughes on 19 was saying he definitely didn't have double figures and of course weighed 16lb 1oz to go into the silvers lead, he also had an eel which was rather camera shy! Parker 'The Pole' weighed 14lb 5oz of carp and 4lb 6oz of silvers, including a nice perch and yet another eel. Tom R and Rob B didn't weigh on 23 and 25 and then Alex Kerr did well again, weighing 19lb 13oz of decent skimmers and perch.
Rich S chucked back, Sean D on 30 weighed 56lb 7oz and then we got to Jacko who had a cracking net of skimmers and quality roach on the waggler for 22lb 4oz which would see him take home a big, fat envelope – well done Steve!
Adie Bishop on the next peg continued his great run of results with 77lb 6oz of carp, Bill chucked back, Eric Fouracres on 36 weighed 38lb 15oz, Martin Addicott did well again with 64lb 1oz on 37 and last to weigh was Alvin who weighed 7lb 13oz of silvers and 65lb 13oz of carp to take second place overall.
1 – Adie Bishop (Summerhayes) – 77lb 6oz
2 – Alvin Jones (Summerhayes) – 73lb 10oz
3 – Martin Addicott (Summerhayes) – 64lb 1oz
Silvers
1 – Steve Jackson (Garbolino) – 22lb 4oz
2 – Alex Kerr (Summerhayes) – 19lb 13oz
3 – Roy Hughes (Summerhayes) – 16lb 1oz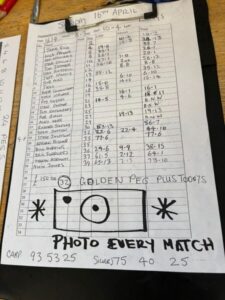 Close weights again and it was interesting to see so many big eels and perch caught. A disappointing day for me, especially after I had such a good start but fizzled out in the second half of the match. The Nugget-O-Meter on the other hand, had a great day with another £7 being added to the pot (£2 each from me and Nick for yesterday and today, a nugget from the Grand Wiz last night plus £1's from Zooner and Alvin), the new total is £207 and climbing nicely.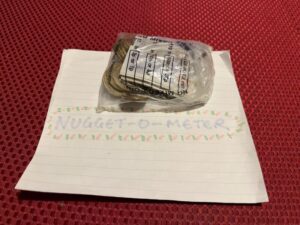 There's still a great offer running if you fancy treating yourself to some new fishing gear, use the exclusive discount code AgainstMenandFish10 to get 10% off when you shop online at Somerset Angling
Also I still have copies of my book available from eBay here or Amazon here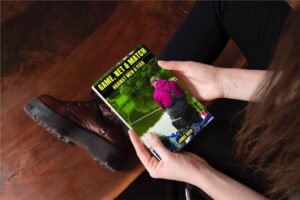 And if you could spare five minutes to leave a nice review on Amazon, it would be very much appreciated.
Next up – Revels
Coming soon – Lots more match reports
Check Out – My last match