I wasn't going to fish anywhere on Saturday and was actually looking forward to having a lie in but that all changed when Zoe messaged and said they had half the lake available for an open and I couldn't resist! So once again, Saturday morning had a familiar feel to it, after meeting Nick, we headed to Clevedon, had a nice breakfast and then made the short drive to the fishery.
It was shaping up to be a gorgeous day with blue skies and a strange yellow object in the sky! As we waited for the bag of balls to make an appearance, I was joking with Nick about how we keep drawing the same swims and I said after getting peg 5 for the third time last Saturday (and not doing it justice), I'd like a change of scenery this week.
Zoe announced the draw and I was around halfway along the queue, Nick got peg 1, a new one for him and he was happy with that, I grabbed a ball and as I opened my fingers I couldn't believe it when I'd only gone and drawn 5 again, much to Nick's amusement although I think some of the regulars were less impressed!
I set up the same three rigs as last week, a Drennan 0.4 gram Carp 1 for the top two plus two line, a Drennan 0.4 gram Pencil for 11.5 metres angled to the left and a 0.3 gram Guru F1 Slim for 13 metres across. All three rigs had size 18 SFL-B hooks to 0.11mm. On the side tray I had three pints of red and white maggots, disco pinkies plus some Bait-Tech Special G F1 and Dark groundbait.
At the all in, I fed all three lines before starting across at 13 metres, it didn't take long to hook my first fish which I thought was going to be a good roach but turned out to be a small carp! I was getting a few bites without it being hectic and after an hour, I had four decent roach, two carassio and a couple of small carp.
Next stop was the top two plus two line and it took a while to get bites but I started catching some decent skimmers along with roach and the odd tench although I wasn't really bagging. I couldn't see how Nick was doing but Mark Broomsgrove behind me on peg 6 had heard from Kev Perry on 33 who was catching silvers well.
With around two and a half hours gone I had a look on the 11.5 metre line where I'd caught really well last time. I'd been feeding it by catapult but as soon as I went on it, I changed to just feeding via a toss pot and once again it worked like a dream. It was a bite a chuck, odd roach and skimmers but mainly tench from 4oz to 1.5lb, no carp but I did get a few carassio.
I got to 46 fish with an hour to go and started a second silvers net just to be on the safe side, I added another 8 fish but it started to slow so I had another look short for no fish and in the last twenty minutes, I only had one more roach to finish with 55 fish plus a few accidental carp and carassio.
After packing up I went down to see how Nick had done and he said he'd suffered from carp trouble and probably didn't have 20lb of silvers. When the scales reached the island, looking at the weigh sheets, Kev had done really well again with a brilliant 38lb and I knew I didn't have that. Lee Masey was leading overall with 100lb 1oz from peg 34 with Tony Ponting in second place with 93lb 13oz from peg 31.
Nick had a few small carp for 7lb 2oz and then 17lb 13oz of silvers which included some lovely roach, Stuart Stevens on 2 weighed 56lb 12oz and then Patrick on 4 had 18lb 15oz of silvers and 48lb 3oz of carp for 67lb 2oz. My carp net went 12lb 14oz and then my silvers added 31lb 12oz, another brilliant days silvers fishing but not enough to do any good and I needed a few of those bigger tench which make all the difference. In the club match on the other side of the lake, one of the anglers had 62lb of tench, stunning weight.
1 – Lee Masey (Acorn) – 100lb 1oz
2 – Tony Ponting (Acorn) – 93lb 13oz
3 – Brian Slipper (Acorn) – 78lb 7oz
Silvers
1 – Kev Perry (Acorn) – 38lb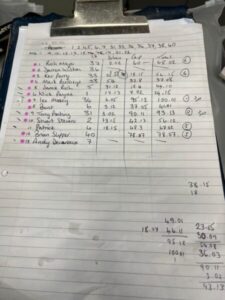 There's still a great offer running if you fancy treating yourself to some new fishing gear, use the exclusive discount code AgainstMenandFish10 to get 10% off when you shop online at Somerset Angling
Also I still have copies of my book available from eBay here or Amazon here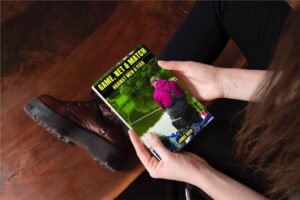 And if you could spare five minutes to leave a nice review on Amazon, it would be very much appreciated.
Next up – Summerhayes
Coming soon – Lots more match reports
Check Out – My last match