Bank Holiday Monday and match number four as my fishing (and blogging) marathon approaches it's climax. We were on Sellicks today which I was really looking forward to as it's been fishing well, in the silvers only match on Saturday, Zooner had the top weight with a brilliant 22lb and there were back up weights of 20lb and 18lb. The forecast was awful though with strong winds and rain – lovely!
21 anglers booked in so nearly a full house, Pete announced the draw starting with the golden peg which today was number 6. I was third on the list and pulled out peg 11 which is up near the top end and wouldn't have been my first choice but hopefully it might be fairly sheltered. Nick was on peg 6 and on either side I had Rob B (peg 10) and Jim J was on 12.
I set up two 0.3 gram Guru AR's to cover several different areas, two lines at 10 metres, in front and angled towards Jim in the open water, 13 metres across to the island and the top two line. The usual fare was on the side tray, red and white maggots, disco pinkies plus some Bait-Tech Special G F1 and Dark groundbait. I was ready with fifteen minutes to spare so went to get a coffee, Pete made the drinks and told Adie he was going to keep an eye on him today!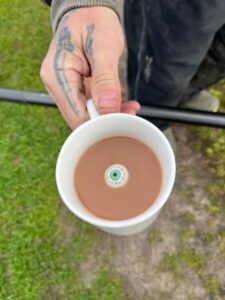 Back on my box, it started chucking it down, the wind was beginning to get up and it was looking like we were in for a miserable day. On the whistle I fed all my lines before starting on the top two line. Rob was fishing the waggler across and had a decent leaping skimmer first chuck and then Ian Williams on peg 9 had one as well so with no bites short I went out to 10 metres. After a short wait, a positive bite resulted in what felt like a good skimmer, I gently shipped back but as I got down to the top kit, it was pulling too hard and somehow turned into a 2lb carp.
Next put in I hooked another that came off so switched to the left hand line and was soon into my third carp in as many chucks, much to Rob's amusement! Back on the original 10 metre line, I hooked carp number four and not enjoying myself already! Thankfully the next bite resulted in a nice roach and then I had a skimmer and started catching really well. Toss potting in 6-10 maggots every chuck , it was a bite a chuck and just lovely fishing although the same couldn't be said for the weather which was getting worse by the minute.
Rob was getting some nice skimmers and landed a decent perch but I couldn't really see how they were doing further down although they were getting hit by the wind worse than we were. I've caught really well for three hours and after hooking those four carp early, had only landed two little pasties since. Bites started to slow so I've had my first look across where I'd been pinging maggots since the start and that was really good too, more skimmers and some cracking roach around 10-12oz.
The wind was now getting silly, Rob had his hat blown off several times and also had the line go behind the reel spool which took him ages to sort out. I pulled out of a couple of decent skimmers but was still catching really well and not hooking many carp. My match went really well until the last half an hour when I hooked a carp that tore off and went round Rob's line, he landed the fish and I got off my box and spent ten minutes trying to untangle the rigs.
Nick arrived behind me and had packed up as he couldn't fish the pole and had to fish the tip for most the day, he did say Adie on peg 5 had bagged up with big skimmers on the waggler. I managed a couple more fish but then hooked another carp that I had on for ages before it did me under the pallet and that was the last of the action.
It was a relief to pack the pole away intact as several people had suffered breakages during the day. Despite the weather I'd had a lovely match catching 80 skimmers and roach plus a couple of carp. The scales began on peg 2 with Mark Leahy who had a massive 207lb 4oz but there was talk it might not be enough as Sam Williams had caught all day on the other bank. Martin Addicott weighed 78lb 5oz and then Alvin Jones on peg 4 had 51lb 3oz which included 15lb 1oz of silvers.
Adie Bishop was next and had a lovely net of big skimmers for 31lb 6oz, Nick had chucked back and then Oscar on 7 weighed 56lb 9oz. Ian Williams had 68lb 10oz, Rob B didn't weigh and then it was me, I knew I hadn't beaten Adie but 25lb was still a decent weight. Jim J on 12 had 48lb 9oz, Kev O didn't weigh and then Mark Broomsgrove on 14 went into second place with 95lb.
Scott C chucked back, Daryl Basstone had 91lb 9oz on peg 16, young McKenzie weighed 30lb of carp and then after multiple weighs Saw W had a huge 213lb 7oz, caught slapping a pellet all day. Zooner was on 19 and had another great net of silvers with 17lb 4oz which included a couple of roach over a pound apiece. Alan J weighed 7lb 2oz of silvers on 20, Brian S had 58lb 15oz, Bruce H (peg 22) weighed 78lb 1oz and then Glynn on 23 had 12lb 10oz of silvers.
1 – Sam Williams (Summerhayes) – 213lb 7oz
2 – Mark Leahy (U-ZIT Bait Innovations) – 207lb 4oz
3 – Mark Broomsgrove (Summerhayes) – 95lb
Silvers
1 – Adie Bishop (Summerhayes) – 31lb 6oz
2 – Jamie Rich (Against Men and Fish) – 25lb
3 – Jess Jordan (Summerhayes) – 17lb 4oz
I finished second in the silvers and picked up £35 to round off a successful but exhausting long weekend. The Nugget-O-Meter went up by a fiver (£2 each from Nick and me for yesterday and today plus one from Zooner) and the total has now reached £200! Also a fishing match wouldn't be the same without the obligatory selfie which is now becoming a recurring theme along with photobombing!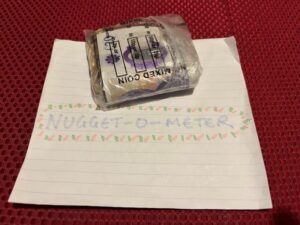 There's still a great offer running if you fancy treating yourself to some new fishing gear, use the exclusive discount code AgainstMenandFish10 to get 10% off when you shop online at Somerset Angling
Also I still have copies of my book available from eBay here or Amazon here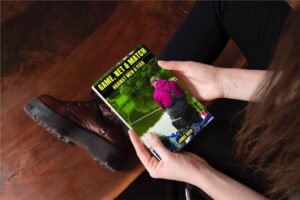 And if you could spare five minutes to leave a nice review on Amazon, it would be very much appreciated.
Next up – Acorn Fishery
Coming soon – Lots more match reports
Check Out – My last match