Up early again, I was feeling surprisingly fresh for my third match in as many days and met the others for one of Charlotte's lovely breakfasts at the bowling club. As we pulled into the fishery car park, it was rammed! There were 31 booked in for our match, plus a club fixture on Sellicks. Along with all the usual suspects, there were some new faces and even the Torquay Tart had come out of hiding!
Pete announced the draw and Jacko was first on the list this week, in recent matches he's been last to draw and kept pulling out peg 6 on 'Cyanide Straight' so how would he fare with all the balls in the bucket. Of course as he went up to draw we were all chanting 'Peg 6, Peg 6' and as he grabbed a ping pong ball and revealed his fate, he had actually avoided his nemesis peg but number 4 wasn't much better, a deathly hush fell upon the crowd and Mr Jackson had that resigned look of a condemned man walking to the gallows!
I was called up to draw not long after and was hoping for one of the noted silvers pegs like 10, 12, 13 or my favourite peg, number 19. What I actually got, is probably best described as karma for laughing at Jacko, peg 1 on 'Cyanide Straight'! Nick also ended up with us on the dreaded peg 6 while Parker 'The Pole' got 34, Terry 'The Toast' was on 29 and The Tart drew 17.
For company I had birthday boy Rich S to my right on 39 (which was also the golden peg) and Tom Mangnall on peg 2. Now despite being called 'Cyanide Straight', it can be good on occasion and with a lot of anglers on the lake, it would be a bit of a leveller and I fancied 8-10lb would be a good silvers weight today.
I set up two 0.3 gram Guru AR's to cover several different lines, 11.5 metres across, 10 metres off the point of the island (in the reflection of the tree – see photo above) and top two plus two towards an inviting clump of reeds on the inside to the right as I was advised perch and crucians sometimes frequent the area. On the side tray I had loads of red and white maggots, disco pinkies plus some Bait-Tech Special G F1 and Dark groundbait.
The whistle sounded and I fed the shorter lines with groundbait and a few pinkies before flicking a few maggots across to the island. As always I spent a few minutes on a throwaway top two line but no reward saw me move out to 10 metres. Tom was into a carp straight away as was Kev Osborne over on peg 37. I started getting bites from small roach and hand size skimmers and had a steady start without setting the world on fire.
Just as the first sixty minutes was coming to a close, the float buried and a decent skimmer flew out of the water, thankfully it stayed on and I netted a 1.5lb fish, next chuck I had a slightly smaller one and a mediocre start had turned into a very good one after two bites in five minutes! Not long after I hooked a fish that was pulling too hard to be a skimmer but not hard enough to be a carp and I was delighted when a gorgeous 10oz crucian popped up.
I was ticking along nicely catching small roach and the odd little skimmer when I hooked another nice skimmer but just couldn't get it's head up, at this point the Tart appeared behind me eating a rather nice looking donut (where was mine?) and thought I was playing a carp. He reported it was fishing quite hard, Gabe Skarba had caught a couple of decent skimmers but nobody was bagging. It was getting a bit silly and I couldn't work out why it was fighting so hard, Tom even hooked and landed a carp while I was fannying about. Eventually the line wrapped around it's body and it came to the top, I netted a decent fish and could see it was hooked in the snout.
I shipped back out and after a short wait, the float buried and I landed another 12oz fish, the Tart finished stuffing his face, left his rubbish in my carryall and headed back to his peg. Just after he left I had another leaper and then my sixth decent skimmer followed shortly after. Bites started to slow as we reached the halfway point so I had my first look on the short line. The first indication resulted in a small carp so I decided if the next bite was from a carp, I'd leave it alone.
A positive bite saw lots of elastic come out but it didn't feel like a carp and this time a nice 8oz perch added more variety to my silvers net, my next fish was a lovely roach but then I hooked two carp with one of them wrecking my rig. I'd been feeding across by the island since the start and was itching to go over so that was my next port of call.
I was getting plenty of bites but only from tiny roach and motherless minnows which were being a pain. Jacko started catching some decent skimmers fishing long and I'd also seen Nick land a couple whereas I was now struggling. Another look short added a 6oz skimmer but then I pulled out of one. I did hook one fish that steamed off before heading back towards me at a rate of knots, I was stood up, stripping elastic from the pulla-bung trying to stop it going under the pallet when a big skimmer came up, hooked in the tail!
I did manage one more half decent skimmer from the short line before carp became too much of a nuisance, Jacko was still netting some decent skimmers and I was sure he'd overtaken me. Back across for the last period of the match, it still wasn't really happening but I did add a few more small roach and one decent one that was 8oz or so.
Pete started the weigh in with Mark Leahy as he wanted to rush off to watch the footy, he had 43lb 4oz on peg 35, Andy Bishop on 36 weighed 35lb 4oz and Kev had 23lb 3oz. Rich on 39 chucked back then my carp went 26lb 13oz and my silvers weighed 14lb 7oz but I still wasn't sure it would be enough to beat Jacko.
Tom had 53lb 8oz to go into the overall lead and then Jacko had 21lb 2oz of carp before he pulled his silvers net out and it was going to be very close, the display settled on Pete called it at 13lb 5oz – phew! Nick also did well with 9lb 4oz of skimmers and 26lb 3oz of carp. Craig 'The Photobomber' on peg 7 weighed 36lb 1oz but had suffered a pole breakage.
On peg 10, Scott Cousins had struggled early on before spending half the match drinking coffee and talking to Pete before heading back to his peg and catching 44lb 2oz of carp which put him in second place so far. Martin Addicott on 11 then put 138lb 14oz of carp on the scales which put him firmly at the top of the pile.
Jim on peg 12 weighed 37lb 1oz and then Adie weighed 87lb 15oz of carp on 13 to go into second place. Gabe on 18 had 9lb 7oz of skimmers which put him third in the silvers so far and then there were quite a few pegs that had chucked back. Terry 'The Toast' weighed 32lb 6oz, Parker 'The Pole' had 5lb 14oz of silvers and Dave 'Bombardier' Phillips caught 29lb 12oz of carp and 2lb 7oz of silvers on peg 33.
1 – Martin Addicott (Summerhayes) – 138lb 14oz
2 – Adie Bishop (Summerhayes) – 87lb 15oz
3 – Tom Mangnall (Summerhayes) – 53lb 8oz
4 – Scott Cousins (Summerhayes) – 44lb 2oz
Silvers
1 – Jamie Rich (Against Men and Fish) – 14lb 7oz
2 – Steve Jackson (Garbolino) – 13lb 5oz
3 – Gabriel Skarba (Summerhayes) – 9lb 7oz
4 – Nick Payne (Ilminster) – 9lb 4oz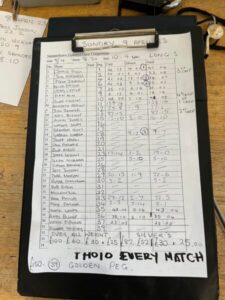 I had another nice pick up of £82 for winning the silvers and £4 was added to the Nugget-O-Meter thanks to pounds from me, Zooner, Nick and the Tart so the total now stands at £195.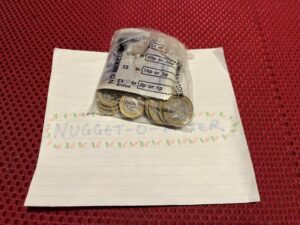 There's still a great offer running if you fancy treating yourself to some new fishing gear, use the exclusive discount code AgainstMenandFish10 to get 10% off when you shop online at Somerset Angling
Also I still have copies of my book available from eBay here or Amazon here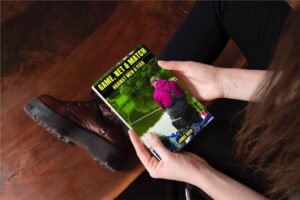 And if you could spare five minutes to leave a nice review on Amazon, it would be very much appreciated.
Next up – Summerhayes
Coming soon – Lots more match reports
Check Out – My last match