For match day two, Nick and me headed back up to Acorn, another early start was required and we stopped off at the burger place for breakfast which was very nice. It was shaping up to be a gorgeous day and there were plenty of fish moving about as we waited for the draw. I delved into the bag and only went and pulled out peg 5 again, that's three times now, not to be outdone, Nick drew 34 for the third time!
On current form, 5 is the best peg on the lake winning matches all over the place although I'd still fish for silvers as I had 38lb the last time I drew it and there was also a 51lb weight of silvers on it in a recent match. For company I had bagger Martin Rayet on peg 4.
I set up a Drennan 0.4 gram Carp 1 for the top two plus two line, a Drennan 0.4 gram Pencil for 11.5 metres angled to the left and a 0.3 gram Guru F1 Slim for 13 metres across. All three rigs had size 18 SFL-B hooks to 0.11mm. On the side tray I had three pints of red and white maggots, disco pinkies plus some Bait-Tech Special G F1 and Dark groundbait.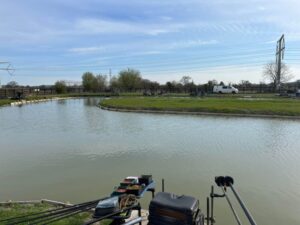 On the whistle, I fed across and the short line with gb and pinkies, the 11.5 metre swim received half a pot of maggots. I started across, pinging a few maggots but didn't really get the response I'd hoped for, a few missed bites/bumped fish before I landed a carassio which wasn't ideal either! Martin on the other hand, hand flown out of the blocks landing a procession of big carp on a short corn line.
It had been lovely before the start with just a hint of ripple but as seems to be the norm these days, a rather naughty wind was now hampering presentation and I was really struggling. With an hour gone, I had two carassio, two small carp and my silvers net contained a solitary roach! I could see Kev Perry over on peg 13 catching silvers well so I came on the short line earlier than I would have liked.
I had a roach and a nice perch quite quickly but was also foul hooking quite a few carp and basically going nowhere fast! Martin was bagging and admitting to 80lb after an hour and a half, Brian Slipper on 9 was also catching well and behind me on pegs 6 and 7, there was lots of splashing going on as carp were being landed on a regular basis.
With both my lines so far not really producing silvers, I wasn't really expecting much from 11.5 metres but first put in I had a nice roach and I started catching really well. Over the next hour I had around 16 fish (skimmers, roach and tench) although annoyingly I also had several more carassio which I was sure were decent skimmers until they popped up!
Just as I was beginning to believe a decent weight was still possible, I started hooking and foulhooking more carp. To be honest I didn't really know what to do next, now at this point I must confess I can be a bit robotic with my feeding (i.e. I don't really vary it very much) and I don't tend to mess about with depths much either. I had been toss potting in maggots and also pinging a few in over the top as well. I decided to cut out catapulting maggots with my thinking that it might be bringing the carp in.
Well, by just toss potting in maggots every time, it worked a dream and I was getting a bite a chuck from tench, skimmers and some lovely roach. I was still getting odd carassio but I don't think I hooked a carp in the remaining two hours. On the whistle I'd finished up with 50 fish which I thought would go 25-30lb but I knew it wouldn't be any good as Kev had bagged all day.
The scales started on the island today, Glenn Calvert on peg 1 had 103lb 10oz, Mark Birdseye on 2 weighed 75lb 9oz and then we got to Martin who had five nets in! After they had all been totted up, his total was a massive 243lb 4oz! My carp/carassio net went 52lb 2oz and then the silvers weighed 28lb 8oz, lovely fishing but in all honesty it was a winning carp peg wasted today. Nick weighed 46lb 12oz which included 20lb 3oz of silvers but had suffered from carp trouble as well.
Back at the results and it had fished it's head off, Martin won and then Neil Morgan on peg 16 was second with 164lb 5oz followed by Martin Tomas with 145lb 7oz on peg 7. Kev Perry won the silvers with a brilliant 54lb 4oz although you have to spare a thought for Jerry S on peg 15 who had 47lb 4oz of silvers but lost the net (the silvers net limit is 40lb), although at least it didn't cost him anything. John McLennon also had a lovely day on the silvers weighing 32lb 2oz.
1 – Martin Rayet (Acorn) – 243lb 4oz
2 – Neil Morgan (Acorn) – 164lb 5oz
3 – Martin Tomas (Acorn) – 145lb 7oz
Sections
A – Brian Slipper (Acorn) – 134lb 14oz
B – Chris Harrison (Acorn) – 91lb 15oz
Silvers
1 – Kev Perry (Acorn) – 54lb 4oz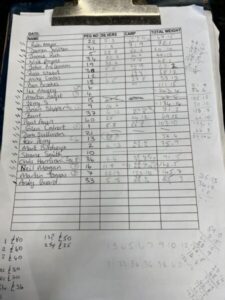 Another fantastic days silvers fishing and I must admit the toss potting thing was a real eye-opener (never stop learning in this game!) although even if I'd tried it earlier, I still don't think I'd have gotten near Kev's brilliant weight.
There's still a great offer running if you fancy treating yourself to some new fishing gear, use the exclusive discount code AgainstMenandFish10 to get 10% off when you shop online at Somerset Angling
Also I still have copies of my book available from eBay here or Amazon here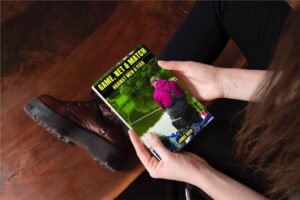 And if you could spare five minutes to leave a nice review on Amazon, it would be very much appreciated.
Next up – Summerhayes
Coming soon – Lots more match reports
Check Out – My last match