I always try and fish a few matches over Easter but this year I'm attempting something I'm not sure I've ever done before and booked in for a match on all four days. Now knowing how knackered I am when I do two in a weekend, would this be a match (or two) too far!
My fishing quadrilogy kicked off at Summerhayes on Good Friday, we had a Maccy D's breakfast before heading to the fishery. Twenty-four booked in for this one so a good turnout including Bruce Hunt who I haven't seen for ages. When my name was called out, I got number 10 which is a great silvers peg. As for the rest of 'The Breakfast Club', Nick P was on 19, Terry 'The Toast' (27), Parker 'The Pole' (33) and Rob C got 37.
Everybody knows which rigs I use at Summerhayes (and other similar commercials) by now, if not, see the last post. Today's bait choices (and they'll be very similar over the next three days as well) were red and white maggots, disco pinkies plus some Bait-Tech Special G F1 and Dark groundbait.
Pete got us underway and I fed a little loose groundbait on the top two line, the same at 10 metres and then flicked a few maggots across to the island. I started short which only produced four small roach so was soon out at 10 metres, more small roach followed along with a couple of 8oz skimmers. Rob Birch over on peg 4 had a decent skimmer on the waggler and the pegs either side of me, Gavin D on 8 and Pete N (peg 11) were catching the odd carp.
I wasn't bagging but it was fairly steady and I had another decent skimmer although I also lost one at the net and bumped another. With around two hours gone, from what I could see, it looked like it was fishing hard and with bites dwindling on the 10 metre line, I was itching to get across where I'd been feeding maggots from the start.
A 6oz hybrid first put in had me thinking it was going to be solid but it was a real struggle, I would get little runs of fish with the odd decent skimmer plus the inevitable carp and I landed several during the day. 'Cyanide Straight' was living up to its name and going into the last hour, the three anglers on it had all opted for early baths.
At the all out, I'd only clicked 19 fish (skimmers and roach) plus around the same number of tiny fish I hadn't counted and five or six carp. Jeff Sparkes came round and was admitting to 6lb and said it had fished really hard. I packed up and went to watch the weigh in which wouldn't take too long as from number 37 round to 6, everybody had gone! Gavin on peg 8 had 24lb 9oz of carp and then I had 17lb 4oz of 'accidentals' plus 10lb 4oz of silvers. Pete N weighed 22lb 7oz, Bill didn't weigh and then Charlie T on 13 had the top weight so far with 31lb 12oz.
Kev chucked back on 14, Oscar had 13lb 7oz (peg 16) and then Mark Leahy was the new leader with 42lb 4oz on 18. Nick had 4lb 8oz of silvers and 23lb 14oz of carp, Rob W on 21 weighed 23lb 15oz and then Jeff was very close to his estimate with 6lb 4oz of silvers which included an eel.
Ian Williams had 29lb 5oz on 26, Terry and Bob on the next two pegs didn't weigh and then Andy Bishop on 30 stormed to the front of the pack with 115lb. Bruce had 4lb 15oz of silvers on 32, Steve P and Neil P chucked back then the last peg to weigh was Jim who had 31lb 15oz.
1 – Andy Bishop (Summerhayes) – 115lb
2 – Mark Leahy (U-ZIT Bait Innovations) – 42lb 4oz
3 – Jim Jenner (Summerhayes) – 31lb 15oz
Silvers
1 – Jamie Rich (Against Men and Fish) – 10lb 4oz
2 – Jeff Sparkes (Summerhayes) – 6lb 4oz
3 – Bruce Hunt (Tiverton) – 4lb 15oz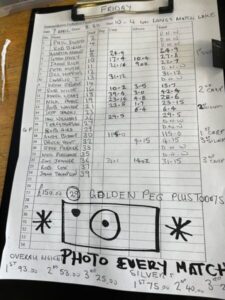 I had a nice pick up of £75 for winning the silvers and got the long weekend off to a great start, the Nugget-O-Meter grew by a £4 thanks to a double nugget from Rob Cox plus pounds from Nick and me, the new total stands at a brilliant £191.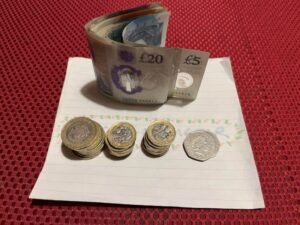 There's still a great offer running if you fancy treating yourself to some new fishing gear, use the exclusive discount code AgainstMenandFish10 to get 10% off when you shop online at Somerset Angling
Also I still have copies of my book available from eBay here or Amazon here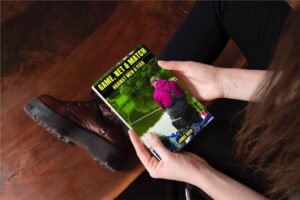 And if you could spare five minutes to leave a nice review on Amazon, it would be very much appreciated.
Next up – Acorn Fishery
Coming soon – Lots more match reports
Check Out – My last match