Stoke AA's lake series kicked off at Landsend on Sunday and with 22 anglers fishing, we were on lakes 1 and 3. Apparently lake 1 was the place to draw for silvers with lake 3 expected to be quite hard. After a lovely breakfast at the fishery, it was draw time and there was the usual scrum of people grabbing tickets from the bucket hoping to see the numbers 25-40 (lake 1). As people starting writing their names on the sheets, the lake 3 numbers (41-70) were filling up fast so I went for it and grabbed a ticket. Nick was happy with 27 and then I opened mine to see the number 32 staring back at me, that'll do.
My initial elation was tempered somewhat when I was told it was a corner swim and the best peg on the lake for carp! I felt a bit better after talking to a couple of venue regulars who said that it was also great for silvers – phew! For company I had Rob Wylde on 31 with Dave Phillips in the opposite corner (33). There were quite a few carp moving about but also some nice silvers topping.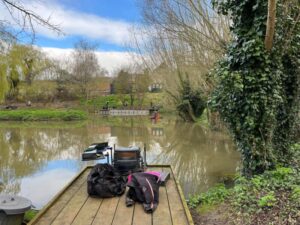 I set up two 0.3 gram Guru AR's for top two plus two and 11.5 metres and I also half heartedly assembled a heavier rig for fishing along the end bank. On the side tray I had red and white maggots, casters, disco pinkies plus some Bait-Tech Special G F1 and Dark groundbait.
On the whistle, I cupped in some loose groundbait and a few pinkies on the two open water lines and then fed half a pot of casters at 11.5 metres along the end bank. Before I'd even finished feeding, Oscar had swung in a roach on the the whip and Allan Oram on 29 was into his first carp. I started on the top two plus two line, toss potted in a few maggots, the rig settled and went straight under as a 2oz roach took the bait.
It was a bite a chuck from roach, rudd and perch on maggot, Oscar was a few fish ahead on the whip so I tried caster in a bid to improve the stamp and I was getting odd better fish but waiting too long for bites. At Landsend, F1's and crucians count as silvers although in the Stoke matches they don't so we had three nets in (carp, silvers and then crucians/F1's in the other) and it wasn't long before I hooked a fish that was going round in a circles and I just knew it would be a lovely golden crucian.
I also started getting the odd decent skimmer but also hooked and landed my first carp. Dave P opposite was catching silvers well and Allan was bagging on carp and already out of sight. Elsewhere I could see Nick and the photobomber (Craig L) next door catching some nice skimmers as was John D over on 37 although at one stage he hooked a decent roach and tried swinging it, only for it to drop off and somehow miss all three of his keepnets, which Nick found highly amusing!
Although I was catching well, every now and again it would go quiet and I would inevitably hook a carp, I landed the first three but that score line didn't last long and I was soon 4-3 down! There were obviously a lot of carp in my peg and somebody who knew what they were doing would have probably done a big weight but I was really enjoying myself catching silvers including some big skimmers.
The match flew by and when Norts signalled the all out, I had 127 fish on the clicker (around 10 decent skimmers and lots of roach, rudd and perch) plus 4 crucians and half a dozen carp including one of 10-12lb. We started the weigh in with Dave P on 33, he had a nice net of silvers weighing 16lb 6oz, Les B next door had some lumps for 34lb 1oz and then Norts also had some big carp for 41lb 5oz.
John Dursley weighed 25lb 15oz which included 16lb 4oz of silvers, Jack Jarvis on 38 had 32lb 8oz and then the last peg on that side was Terry 'The Toast' who weighed 28lb 12oz. Nick P was the first peg on our bank and had some nice skimmers for 16lb 6oz, Craig L had 39lb and then it was Allan, he weighed a brilliant 150lb 11oz of mainly carp including one lump of 16lb 2oz.
Oscar had 32lb 8oz and I was last to weigh, my carp went 39lb 2oz, the crucians added 2lb 2oz and then my silvers went 23lb 12oz and my total of 65lb was second on the lake.
Back at the results and as predicted, Lake 3 had been relatively hard although there were lots of close weights, Chris Haines was top with 32lb 11oz which included the best silvers of 3lb 8oz, close behind was his travelling partner, Nick Veale, with 31lb 6oz from peg 68 and Bish with 31lb 4oz on peg 66. Rob Cox won the silvers by default with 2lb 9oz from peg 41.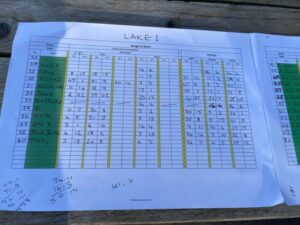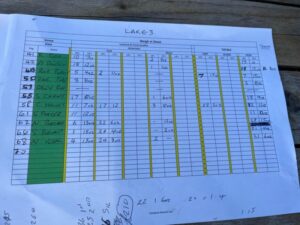 Lake 1
1 – Allan Oram (Stoke) – 150lb 11oz
2 – Jamie Rich (Against Men and Fish) – 65lb
Silvers
Nick Payne (Stoke) and Dave Phillips (Stoke) – 16lb 6oz
Lake 3
1 – Chris Haines (Haines Angling) – 32lb 11oz
2 – Nick Veale (Stoke) – 31lb 6oz
Silvers
Rob Cox (Stoke) – 2lb 9oz
I had another lovely days silvers fishing to round off a cracking weekend and picked up £25. The Nugget-O-Meter received another fiver (£2 each from me and Nick for yesterday and today plus one from Rob Cox) to take the total to £187.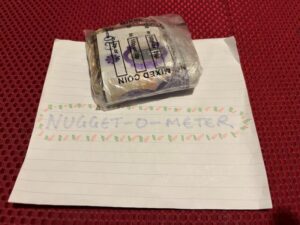 There's still a great offer running if you fancy treating yourself to some new fishing gear, use the exclusive discount code AgainstMenandFish10 to get 10% off when you shop online at Somerset Angling
Also I still have copies of my book available from eBay here or Amazon here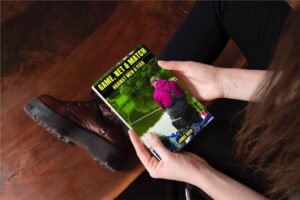 And if you could spare five minutes to leave a nice review on Amazon, it would be very much appreciated.
Next up – Summerhayes
Coming soon – Lots more match reports
Check Out – My last match