A 10:45 draw time for this one which would mean a nice leisurely start but also not getting home until late. I still woke up at the normal time and actually got to the garage 15 minutes before I was due to meet Nick! We stopped at the burger van for a very nice bacon, sausage and egg roll before heading to the fishery. Popping in the shop to pick up some bait it was lovely to have a chat with Ivan Currie who I haven't seen for ages.
While we waited for the draw, it was raining hard but it was forecast to stop later and more importantly, it wasn't too windy for once! Twenty anglers fishing today and when Chris held the bag of dreams/doom aloft, I was second in the queue, number 5 was the first ball out and when I looked at mine, I was on 36 again. As I said in a previous post, it's funny how you seem to draw the same swims and then Nick only went and pulled out peg 4 for the third time!
Even though I'd struggled on my peg the last time I drew it, it's been doing some great silvers weights in recent matches so it was probably user error that day!
I set up a Drennan 0.4 gram Pencil for the top two plus two line, a Drennan 0.4 gram Carp 1 for the same distance but to the left where it was a bit shallower and a 0.3 gram Guru F1 Slim for 11.5 metres across where it was around four foot deep (and I could also use this rig by the aerator where it was the same depth). All three rigs had size 18 SFL-B hooks to 0.11mm. On the side tray I had several pints of red and white maggots, disco pinkies plus some Bait-Tech Special G F1 and Dark groundbait.
On the whistle I fed gb and maggots on the 11.5 metre and short lines and then half a pot of reds by the aerator. I started across, loose feeding regularly and it took five minutes to get a bite which of course I missed. The next indication resulted in a nice 2lb skimmer which came off at the net, I then foul hooked a carp which wasn't on long and I hadn't got off to the best of starts!
I got off the mark with a nice roach and began catching some lovely skimmers and also had a pound tench. With a hour gone, I was catching okay but getting a few quiet spells so decided to have a quick go by the aerator  and hopefully I'd be able to swap between the two. First put in, the float buried and I was into a big carp, it wasn't doing too much so I got down to the top kit but it headed off towards peg 40 and with my pole tip under the water, I felt something give and it had taken my elastic and everything with it!
With that top kit out of action, I had a look on the short line a bit earlier than I would have liked. After a short wait the float buried and a 3lb skimmer came flying out the water, next chuck I had one around 1.5lb and then a 3lb tench! I could see Nick over the island and he was also netting quite a few fish including a big tinca of his own.
I was catching skimmers along with the odd roach plus two more decent tench and some smaller ones. As we approached the halfway mark, I hooked into my best tench yet, this one about 4lb so I made the decision to put another net in as I had 29 fish for 30lb plus already. My carp net had one 3lb fish in it and that was foul hooked!
Bites began to slow a bit so I had a look on the other short line that I'd been feeding from the start, I was expecting it to be good but only one roach from there. Back on the other top two plus two line, I was still catching odd fish and they were a decent stamp, I was missing a few bites and pulled out of a couple of fish but it was going really well and I couldn't believe I wasn't getting more carp trouble (I definitely wasn't complaining though!).
Fishing past the feed worked quite well and I added several more fish but towards the end of the match, it was slowing up and I wished I'd fed a longer line in the open water to the left to give me somewhere else to go. I did have another big 4lb tench and finished up with 50 fish (29 in the first half of the match and 21 in the second three hours) plus just the one carp and I'd only hooked three all day.
Nick hadn't stopped catching all day and said he had 40lb plus but I didn't think he'd had as many big tench as me. Brian Slipper who was on 34 asked if I'd give him a hand weighing in so we started with Glenn Calvert on 31 who had 76lb 11oz, Stuart Stevens on 33 weighed 38lb 3oz and Brian had 74lb 3oz.
My single carp weighed 3lb 1oz and then my first silvers net went 32lb 12oz and then the other weigh was 19lb 1oz to give me 51lb 13oz of silvers but would it be enough? Martin Rayet had carp plus silvers for 51lb 15oz on 38 and Darren Wilton weighed 33lb 15oz on 40.
Onto the island and Rich Lovering went into the lead on peg 1 with an excellent 95lb 2oz before Rich Major on 2 plonked a brilliant 119lb onto the scales. Then it was Nick and his first silvers net went 21lb odd, his second net was almost identical for a total of 42lb 12oz, fantastic silvers fishing.
Dave M on 5 had 24lb 7oz, Mark Broomsgrove on peg 6 went into second place with 98lb 7oz, Graham S on 9 weighed 65lb 12oz, Marco chucked back on 10, Phil W on 12 weighed 61lb (including 27lb 8oz of silvers) and Jerry on 13 had 33lb 4oz.
Paul F on 15 weighed 38lb 13oz, Patrick and Dave C on 16 and 18 didn't weigh, Paul Faiers had 41lb 12oz and Chris Fox weighed 72lb 2oz on peg 21.
1 – Rich Major (Acorn) – 119lb
2 – Mark Broomsgrove (Acorn) – 98lb 7oz
3 – Rich Lovering (Acorn) – 95lb 2oz
4 – Glenn Calvert (Acorn) – 76lb 4oz
5 – Brian Slipper (Acorn) – 74lb 3oz
Silvers
Jamie Rich (Against Men and Fish) – 51lb 13oz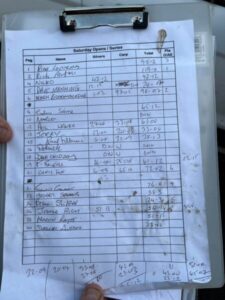 I picked up £45 for winning the silvers and it had been just a lovely day although by the time I got home (via the chinese for tea), it was 8:30 and I was shattered and I still had to be up at 5:30 for Landsend the following day!
There's still a great offer running if you fancy treating yourself to some new fishing gear, use the exclusive discount code AgainstMenandFish10 to get 10% off when you shop online at Somerset Angling
Also I still have copies of my book available from eBay here or Amazon here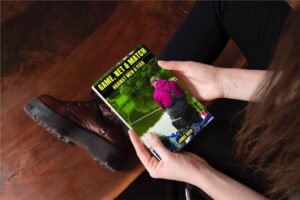 And if you could spare five minutes to leave a nice review on Amazon, it would be very much appreciated.
Next up – Landsend
Coming soon – Lots more match reports
Check Out – My last match