I haven't been to Revels for a little while so with a week off work, I was looking forward to fishing the Tuesday open. After a great run of silvers results last year, my last few visits haven't seen me do so well, to be fair the weather has been a huge factor and I keep drawing the wrong lake (that's my excuse and I'm sticking to it!).
No oversleeping today and a cracking breakfast (although no black pudding) at the Airfield Tavern got the day off to a good start. It was raining on my way to the fishery, by the time I got there it was lashing it down and very windy – great! Main and Canal lakes were being used today and as always I fancied pegs 2 and 20 on Main or I wouldn't mind Canal although the wind would be howling up through there today.
I was around halfway down the list and by the time my name was called out, most of the pegs on Canal had gone but my two favoured numbers on Main were still in the bucket, Dean stuck his hand in and pulled out……. peg 10, bugger that wasn't in the script, not a great silvers peg at all and the last time I drew it I weighed 5lb 7oz which was mainly one carp! Nigel Bartlett was next and got the coveted peg 20, despite him trying to play his chances down, a brilliant silvers angler on one of the best silvers pegs equals only one thing – game over! Not long after Alan W got peg 2 so effectively that was that then.
When I got to my peg, one thing in my favour was that the wind was off my back so hopefully I'd be relatively sheltered (famous last words!). I set up a couple of Guru AR's in 0.2 and 0.3 grams and on the side tray I had red and white maggots, disco pinkies plus some Bait-Tech Special G F1 and Dark groundbait.
On the whistle I fed two lines at 11.5 metres where it was slightly deeper and started on the top two but no bites after ten minutes had me thinking it might be quite hard today. I shipped out to the longer line and after a couple of minutes, the float sunk from view and some elastic came out on the strike before I netted a 2oz perch. Next chuck I hooked something which felt better but it was pulling a bit hard to be a skimmer, I'll never know as it came off.
I was getting quite a few bites and had some tiny perch, a rudd and a roach before landing a little 8oz pastie carp which made me think that's also what I'd lost earlier. Just as the first hour came to a close I landed a 6-8oz skimmer but then pulled out of two in quick succession which killed it. Moving to the other 11.5 metre line, the first bite resulted in a 2lb carp and when I lost another straight after, that was enough of that.
The wind was beginning to get worse with some really strong gusts and I was having to hold on to my EVA bait tray and top kits at times. Despite the worst of it being off my back which meant I could hold the pole, the problem was the rig was getting blown straight out and then swirly gusts were making presentation pretty much non-existent. From a fairly promising start, I was now really struggling and when I did get a bite it was from a carp, I landed a couple of the small pasties and another 2-3lb fish but pulled out of several.
To be honest I wasn't enjoying myself and the wind was bitterly cold, Paul Wyatt behind on my peg 6 said he couldn't feel his hands and when his pole got blown off the rollers, snapping a section, I don't think he was having much fun either. Adrian Hayes on peg 9 to my left was getting the odd carp.
I was going through the motions a bit but then I've had a skimmer and when four more and a little perch followed in as many chucks, I began to think a decent weight was still possible. Dave S who was on 14 came for a walk and said he'd had three carp in the first hour but basically couldn't fish now because of the wind, he also reported somebody had 40lb of carp up on Canal and Bob Chrisp was catching silvers as was Big Al.
The wind was getting worse and worse and blew an EVA case containing catapults and hooklength boxes off my side tray and into my top kits which stopped it going into the lake. I was starting to fear for the safety of my pole so plumbed up a new line at top kit plus two and packed the rest of my pole away.
The first bite on my new line resulted in a lost carp, I then had a decent roach and also hooked another which I knew I should have netted but tried swinging and of course it came off. I landed a small carp but then hooked a lump which snapped me, I was going nowhere fast so with an hour and ten minutes remaining, I got another top kit out with beefier elastic and set up a heavier rig.
After a few missed bites on double maggot, the float sailed away and a big fish was on, it was pretty much under control and at 8-10lb, would be a nice bonus, then it dived under the near bank but I wasn't overly concerned with 0.19mm mainline and a 0.15mm hooklength to a 16 Kaizen hook. Then everything went slack and the line had snapped under the float! At this point I felt like waving the white flag but got another rig out and went back for more punishment.
I landed the next two which were 2-3lb apiece and then just before the all out, hooked a decent 5-6lb fish that I landed after the whistle which I think everybody was pleased to hear! When the scales arrived, there was a 50lb of carp on Canal and Bob had weighed 7lb 15oz of silvers although his keepnet had blown in at one stage! Alan on peg 2 had 9lb 7oz to go into the silvers lead and Chris Burgess on peg 4 weighed 42lb 8oz. Thanks to Dean Hodder for the photos*
Paul W didn't weigh and then Adrian had 45lb 15oz to go into second spot, my carp went 18lb 5oz and the silvers added 3lb 3oz. I finished packing up and as I took my kit back to the car, the scales had just weighed Steve Crowford who had a brilliant 87lb 10oz of carp from peg 18. Nigel Bartlett was last to weigh and he had a nice net of skimmers to win the silvers with 12lb 13oz.
1 – Steve Crowford (Revels) – 87lb 10oz
2 – Stuart Woods (Revels) – 50lb 15oz
Silvers
1 – Nigel Bartlett (Revels) – 12lb 13oz
2 – Alan Winsper (Alan's Angling) – 9lb 7oz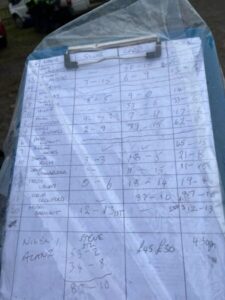 Given the horrendous conditions, it's actually fished really well with some good weights. There were several pole breakages and I was just relieved to pack mine away still intact. If I'm honest, I should have fished for carp short earlier and I could probably have done a decent weight but I just don't like doing it!
There's still a great offer running if you fancy treating yourself to some new fishing gear, use the exclusive discount code AgainstMenandFish10 to get 10% off when you shop online at Somerset Angling
Also I still have copies of my book available from eBay here or Amazon here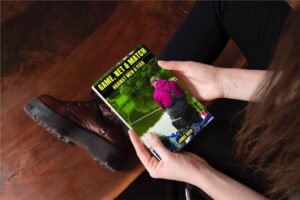 And if you could spare five minutes to leave a nice review on Amazon, it would be very much appreciated.
Next up – Acorn Fishery
Coming soon – Lots more match reports
Check Out – My last match