I really enjoyed my first short pole match here a few weeks back so when I saw they had another coming up I booked straight on along with Nick and Andy S also said he fancied it. Of course as the weekend approached so did the crappy weather with strong winds and loads of rain, I expect nothing less anymore!
I met Nick and we had breakfast before heading to the fishery. There was a slightly depleted turnout after a few had dropped out due to the weather forecast which meant it could be pegged to afford us some shelter from the elements. Zoe drew 32 for Des which he was happy with, Nick got 34 again, Andy drew peg 40 (a good one on his first visit) and I pulled out peg 1 on the island to buck the trend of drawing the same pegs.
The weather was actually really nice as we were setting up and I was hoping they'd got it wrong today. I plumbed up lines at top kit plus three, plus two and plus one, the depth was the same on all three lines. Floats used were Preston Innovations F1 Maggots. On the side tray I had lots of maggots plus some Bait-Tech Special G F1 and Dark groundbait.
We got underway and I fed all three lines with groundbait and maggots before starting at top kit plus three with single maggot on the hook. I had a bite within a couple of minutes but of course missed it! Next put in I had a nice skimmer and was getting regular indications, after another skimmer and a 12oz tench, I foulhooked a carp which tore off and straightened the hook out.
I was catching okay without really bagging (by Acorn's standards) and with sixty minutes gone, probably had 6-7lb although Paul and Nick both looked to be netting fish on a more regular basis. Going into the second hour, I had a nice tench around 3lb along with more skimmers and was still getting lots of bites. The more I fed, the stronger the swim was getting and there were loads of blows coming up although I also lost two foul hooked fish which I'm sure were big tench.
After 2.5 hours I was up to 25lb so started my second net but with Nick, Paul and me all catching well, nobody was running away with it. I was just thinking about having my first look on the shorter lines when I hooked into a decent fish that wasn't going mad and safely netted a lovely 4lb tench. Not long after I was into another and this one felt even bigger, I had it on for ages and at one stage got down to the top kit and had a glimpse of it but then the hook pulled so maybe not in the mouth?
At the halfway point I had my first look on the top two plus two line which was also fizzing like crazy and had a few fish but it wasn't as good as I'd hoped it would be, I also hooked and landed a decent carp that gave me the run-around. Foulhooked fish were a nuisance and Paul hooked two big tench that he had on for ages before losing them. I landed one hooked in the wing and also had another come off with the rig coming back covered in slime.
The wind was a bit of a pain and we had several heavy showers but although it got really dark at times, the worst of it seemed to avoid us. With around two and half hours to go, bites tailed off a bit and it was the same for Nick and Paul, Rich Major behind me on 36 was fishing for carp but kept getting interrupted by some big perch.
The top two plus one line was next and I had a skimmer and a small tench but was waiting ages for bites. Back on the longer line I had a little run of fish but it was short lived, the top two plus two line was still fizzing like a jacuzzi so went back on it with around ninety minutes left. A couple of tench added another 3-4lb to my second net so I chucked back my six carp and started my third silvers net.
The last hour and a half was brilliant and I had another three big tench plus quite a few between 8oz and 2lb along with the odd skimmer. At the all out, I had 71 fish on the clicker and knew I'd done a decent weight but still thought it was going to be close between Paul, Nick and me. Mr Faiers was admitting to 50lb plus and Nick had a similar number of fish to me but hadn't caught any big tench.
After packing up, I caught up with the scales and Mark B was leading with a massive 294lb 6oz from peg 9 followed by Jerry S with 158lb 6oz on peg 7. Andy had really enjoyed his first visit with 105lb 11oz of carp and silvers and then the scales headed onto the island. Rich L on peg 5 weighed 138lb 6oz and then Paul's three nets of silvers went 56lb 8oz.
I was next and my last net went 24lb 1oz, I'd underestimated the second which weighed 23lb 15oz and the first net went 25lb 14oz for a total of 73lb 14oz and my best Acorn silvers weight yet. Rich M on 36 had 118lb 7oz and Nick weighed 43lb 6oz of carp plus 47lb 7oz of skimmers, perch and roach. Last to weigh was Des and after his six nets were added up, his total was a huge 241lb 13oz which included 32lb 11oz of silvers.
1 – Mark Broomsgrove (Acorn) – 294lb 6oz
2 – Des Shipp (Preston Innovations) – 241lb 13oz
3 – Jerry Salisbury (Acorn) – 158lb 6oz
Silvers
1 – Jamie Rich (Against Men and Fish) – 73lb 14oz
So brilliant weights again, a lovely days fishing and I picked up £30 for winning the silvers.
There's still a great offer running if you fancy treating yourself to some new fishing gear, use the exclusive discount code AgainstMenandFish10 to get 10% off when you shop online at Somerset Angling
Also I still have copies of my book available from eBay here or Amazon here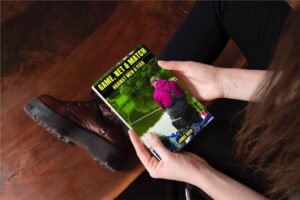 And if you could spare five minutes to leave a nice review on Amazon, it would be very much appreciated.
Next up – Summerhayes
Coming soon – Lots more match reports
Check Out – My last match
#sponsoredpost #affiliatelinks