Sunday we were back at Summerhayes with the weather due to be pants again and I hoped a nice brekkie at the bowling club wasn't going to be the highlight of the day! There was a decent turnout of 17 brave souls prepared to face the weather and we were on Longs which has been a bit hit and miss for silvers lately.
Pete announced the draw and the golden peg for today was peg 12, I was fourth on the list and pulled out number 24 which is basically the last peg on the track side, not my favourite area but it can be good and Adie won the silvers last week on it with 14lb. Nick draw 17 on the bottom bank which is decent for silvers although it's a very wide swim. Rob B was on the bonus peg and my neighbours for the day were Mark L on 21 with Alvin two pegs to my left.
I set up Guru 0.3 gram AR's and 0.2 gram Bobbies with spread Stotz for a top kit line, two swims at 10 metres, straight out and to my right, plus across to the island at 13 metres. On the whistle I fed all my lines before starting short which very often can be a good indicator of how the day is going to go. The early signs weren't good, a couple of little roach and blades plus a lost carp.
Moving out to the longer lines it was similar and I was having problems getting through the tiny roach, skimmers and motherless minnows. Nobody around me was really catching and it was looking like being a rock hard day with some heavy showers which were pretty unpleasant as well.
By the half way point I only had four skimmers and a some bits and pieces for 3-4lb so I had my first look across and small fish were being a pain there as well and I was bumping off loads, I did have one 6-8oz skimmer but it was hard work for little reward. Back at 10 metres I had a flurry of action swapping between the two lines with another four skimmers but it was short lived so I started feeding a top two plus two line to give me another option.
I did hook one fish that I initially thought was a big skimmer, I carefully shipped back to the top kit and it still wasn't doing much but then went under my pallet, it still didn't feel like it was pulling hard enough to be a carp but it went again and snapped me! The rig came back in a mess with the float pushed right up to the elastic and half the Stotz missing so I chucked that up the bank and came in on the top kit plus two line for the remaining hour.
It was a bite a chuck but only from a small roach and little skimbobs again, I tried a top kit to hand and had more small fish and even added a 3oz chublet. I also landed my third carp and dropped off a half decent roach that I should have netted.
I packed up and loaded the car and as it had stopped raining, took my waterproof jacket off as well (big mistake!) before going up to watch the weigh in. As we'd all struggled down our end I thought it had fished hard all round but Dan P on 38 was first to weigh and had 92lb 2oz of mainly carp. Pete gave me the board to write down the weights and of course it began chucking it down and I was drenched in no time. Bob on peg 1 had thrown back, Kev O on peg 4 weighed 21lb of carp and then Alex K on 7 had 49lb 10oz.
Glynn on 10 was next and went into the silvers lead with 10lb 14oz, then Rob B had caught well early on and weighed 8lb 13oz but wouldn't be taking home a bumper payday. Bill 'The Paste' was on 14 and went into the overall lead with a brilliant 124lb 7oz of carp, Nick chucked back on 17 and then Toby B put 111lb 14oz on the scales to go into second spot. Mark on 21 didn't weigh and then it was my turn, I was surprised when my silvers went 9lb 1oz so all those little fish add up and I was left regretting not fishing short to hand earlier.
Alvin weighed 21lb 13oz which included 7lb 4oz of silvers and then Adie had 41lb 11oz, Terry 'The Toast' on 30 had gone, Rich S weighed 55lb 13oz on 32 and then Lee S had 45lb of carp but when he pulled his silvers net out he had some decent skimmers and it was going to be close, Pete called it at………9lb 1oz! The last peg was Hollywood on 36 but he didn't weigh. Apologies for the lack of photos but I was trying to keep the weigh sheet dry (and failing miserably!).
1 – Bill Hopping (Summerhayes) – 124lb 7oz
2 – Toby Burrell (Team Army) – 111lb 14oz
2 – Dan Pither (Summerhayes) – 92lb 2oz
Silvers
1 – Glynn Wickham (Summerhayes) – 10lb 14oz
2 – Jamie Rich (Against Men and Fish) – 9lb 1oz
2 – Lee Smart (Summerhayes) – 9lb 1oz
So me and Lee finished joint second in the silvers and had to split £29 which was better than a kick up the bum. The Nugget-O-Meter went up another £4 as Nick and me both put in £2 for yesterday and today, the new total is £309.
There's still a great offer running if you fancy treating yourself to some new fishing gear, use the exclusive discount code AgainstMenandFish10 to get 10% off when you shop online at Somerset Angling
Also I still have copies of my book available from eBay here or Amazon here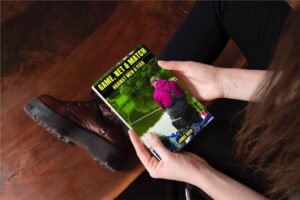 And if you could spare five minutes to leave a nice review on Amazon, it would be very much appreciated.
Next up – Acorn Fishery
Coming soon – Lots more match reports
Check Out – My last match
#sponsoredpost #affiliatelinks