I've only just caught up with last weekend's reports and it's time to start again with another trip up to Acorn for (hopefully) a nice day fishing for silvers. Of course as it's the weekend, the forecast was pretty rubbish with lots of rain and strong winds on the agenda – great! Despite the weather, the match was a sell out with all 23 spaces filled.
Chris announced the draw and I pulled out 31 which is a new one for me, Nick got 19 on the far side and for company I had Bunghole Bob to my left on 33 (check out his You Tube channel for footage from the match) and nobody on my right as I was the last peg up the arm of the lake. It was already chucking it down although we were relatively sheltered from the wind compared to a lot of the pegs.
I set up a couple of Preston Innovations F1 Maggots for lines at top kit plus three, plus two and plus one. On the side tray I had lots of maggots plus some Bait-Tech Special G F1 and Dark groundbait. The all in was shouted and I fed groundbait and maggots on all three lines before starting at top two plus three. After losing a foul hooked carp, my first fish was a lovely 4lb tench which was a great start.
I was getting regular bites from skimmers and tench (including another that was 5lb plus) and after an hour probably had around 14lb. The second and third hours were similar and thankfully I wasn't having too many carp problems so far, going into hour four, I was up to around 50lb and began my third silvers net. Just as I was thinking a big weight was on the cards, bites slowed on my longer line so I had my first look at top two plus two.
I started getting odd fish on the shorter line but it wasn't as good as I'd hoped and the top kit plus one line was the same, I was also catching some little pasties which I put straight back. The only other angler I could really see was Bunghole who was catching carp steadily. I did manage another big tench plus skimmers and a few roach short before going back on the longer line with an hour remaining.
The rest had done it some good and the first bite saw me into another big tench and I've caught steadily until the end of the match, landing a nice roach on the whistle. I ended up with 60 fish and despite the weather (the rain had been relentless), it had been an awesome days fishing.
Chris soon arrived with the scales and my third net went 20lb something, the second was 24lb and the first net added 26lb+ to give me a total of 70lb 15oz. Bob weighed 166lb 5oz, Rich Major had 121lb 9oz and then as the scales went to weigh the rest, I finished packing up and loaded the car.
Back at the results and there had been a string of big weights led by Neil Morgan with 251lb 1oz from peg 9, followed by Gareth Boycott with 225lb 6oz (peg 21) and Barry Richards on 13 with 222lb 7oz.
1 – Neil Morgan (Acorn) – 251lb 1oz
2 – Gareth Boycott (Acorn) – 225lb 6oz
3 – Barry Richards (Acorn) – 222lb 7oz
4 – John Mills (Acorn) – 197lb 11oz
5 – Phil Weaver (Acorn) – 188lb 12oz
Silvers
1 – Jamie Rich (Against Men and Fish) – 70lb 15oz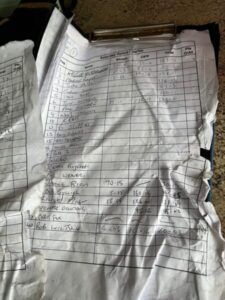 I picked up £46 for winning the silvers and was only one fish away from beating my pb Acorn silvers weight and I'd lost a few today as well. Even though my swim was fairly sheltered my feeding was all over the shop due to the wind and I should have just potted rather than try to use the catty or feed by hand.
There's still a great offer running if you fancy treating yourself to some new fishing gear, use the exclusive discount code AgainstMenandFish10 to get 10% off when you shop online at Somerset Angling
Also I still have copies of my book available from eBay here or Amazon here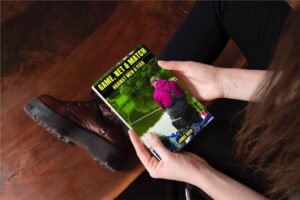 And if you could spare five minutes to leave a nice review on Amazon, it would be very much appreciated.
Next up – River Parrett
Coming soon – Lots more match reports
Check Out – My last match
#sponsoredpost #affiliatelinks