After all the rain on Saturday, I was sure there was no way we'd be on the river the following day but I was assured there hadn't been much rain down here and the Parrett would be fishable. The Breakfast Club assembled and were well looked after by Charlotte at the bowling club before we headed to Kingsbury. As we turned into the drove and approached the bridge over the river I was still convinced it would be up and coloured at the very least but was gobsmacked to see it at normal level and gin clear!
Cliffy and Dave P were in charge of proceedings and it was a rolling draw. Rob C pulled out peg 1, the upstream end peg which had won the last match, then Nick got 16, the downstream end peg which was second. I delved into the bucket and the result was number 11 which was the fourth swim below the bridge and my heart sank. I had a horrible feeling it was the same peg I'd drawn a couple of years ago and really struggled on but then Neil got my hopes up by saying it was the one he had the same day and weighed 5lb of gudgeon.
As I drove down the field I counted down the pegs and I could see Derek Goad getting his kit out near where I'd hoped my swim was and then I saw the white peg marker above him and as I got closer I just knew it would have the number 11 on it and it did – bugger! It looked really nice but all the swims do and while I was setting up, I didn't see a single fish top which was a tad worrying.
Rigs for today were a 1 gram bodied float for down the middle and 0.6 gram DH16 for across, both rigs had size 20 Guru Match Specials to 0.10mm. Maggots, casters and Bait-Tech hemp adorned the side tray. I was ready with half an hour to spare so I walked up to see Chris who was on the first peg below the bridge, normally a flier and I was sure a win would be the inevitable result for Mr Haines. I then wandered down to see Parker The Pole on 14 and then Nick on the end, while we were chatting, a decent fish topped across, the first one I'd seen so far.
Back on my box just as the whistle went, I started down the middle with single maggot on the hook expecting to catch quite quickly but once again I was disappointed. Inching the float through, it's eventually gone under after ten minutes, only for me to miss it. Next put in I had another bite and this time a little bit of elastic came out before I netted a small perch (the first one I've ever caught at Kingsbury). I added a gudgeon but the 'action' was  worryingly short lived.
Along with the fishing being painful, the weather was all over the place, showers one minute, blazing hot sunshine the next! I could string this out but there really isn't much to tell, a couple of gobies over the next hour or so was the sum total of my efforts and I wasn't even getting minnows on single maggot.
I'd been flicking a few casters across where there was an inviting looking hole in the far bank cover and with a couple of hours to go, went over for the first time with the hook buried in a caster. A few little digs on the float and a tiny little chublet of less than half an ounce didn't really help my cause much. Holding the heavier rig back in different areas of the swim I had another little perch, a roach of 3oz and my first ruffe in ages that was hanging on when I moved the rig.
The five hours flew by (I'm joking, it felt like an eternity!) and at the end of the match my disappointing total of 9 fish (2 perch, 4 gudgeon, a roach, chublet and ruffe) wouldn't be picking up any envelopes and have put a big dent in my chances of challenging for the Memorial Shield. I walked down to watch the weigh in starting with Nick, he weighed 1lb 9oz but had lost several decent chublets.
Priv on peg 15 was next and had struggled for 5oz, Steve P didn't weigh and then the Grand Wiz also weighed 1lb 9oz to go into the joint lead. Derek had a roach and loads of minnows for 1lb 4oz and then my mixed bag went 9oz (mainly small fish!). Dave N on peg 10 had a nice roach and minnows for 1lb 6oz and Terry 'The Toast' weighed 4oz on peg 9. Hainsey had 15oz although he was in the other section with the pegs above the bridge.
As the rest began arriving back, it had been hard going upstream as well, Rob had the top weight and would see his name etched on the trophy with 1lb 12oz, Paul S weighed 1lb 3oz, Dave P had 1lb 2oz on peg 4, Danny weighed 13oz, Cliffy had 11oz and Neil P on peg 2 weighed 8oz.
1 – Rob Cox (Ilminster) – 1lb 12oz
2 – Nick Payne (Ilminster) – 1lb 9oz
2 – Chris White (Stoke) – 1lb 9oz
4 – Dave Nash (Stoke) – 1lb 6oz
Sections
A – Paul Smith (Stoke) – 1lb 3oz
B – Derek Goad (Stoke) – 1lb 4oz
The results make for rather grim reading although as always, it was very close with just ounces separating the top six.
There's still a great offer running if you fancy treating yourself to some new fishing gear, use the exclusive discount code AgainstMenandFish10 to get 10% off when you shop online at Somerset Angling
Also I still have copies of my book available from eBay here or Amazon here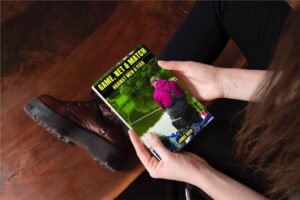 And if you could spare five minutes to leave a nice review on Amazon, it would be very much appreciated.
Next up – Revels
Coming soon – Lots more match reports
Check Out – My last match
#sponsoredpost #affiliatelinks