I really enjoyed my last match at Revels a few weeks back and had been dying to get back so booked a few Tuesdays off work. After meeting Parker The Pole for breakfast we headed to the fishery. We were a little early and I thought we'd be the first ones there but the car park was already virtually full as there were 23 fishing today! A fantastic turnout for a mid week match although one noticeable absentee was Big Al who'd been in hospital, get well soon mate.
The lakes being used were Main, Middle and Canal (initially the first two but due to numbers, four pegs were put in on Canal). As always I was hoping I might finally get to fish Middle but as the draw got underway, quite a few of those pegs went early, when my name was called out I was on 63 again! To be honest with five pegs on Middle and then Rich Chave on Main peg 2 and Dave Litchfield on 20 (two great silvers pegs), I thought the best I could hope for was a nice days silvers fishing.
When I got there, I had loads of room as the next peg on my left was Neil S on 66. I set up the same two rigs as last time, a 0.2 gram Bobbie to fish two lines at 10 metres plus a little 0.25 gram F1 Carbon Slim with spread shot to fish down the edge on a top kit. On the side tray I had maggots, pinkies and casters plus some Bait-Tech Special G F1 Dark.
At the all in, I fed loose groundbait and some pinkies on the two longer lines before starting on the top two. I had a little perch first put in and it was a bite a chuck, mainly from small perch with the odd slightly better 3oz fish. After thirty minutes I had 37 fish, Rich behind me on Main said he was on 20 fish so I was doing okay at this early stage.
The perch kept coming along with a couple of roach (I also missed the net with one!) and as the first hour came to a close my catch rate had slowed slightly as I was up to 60 fish on the clicker. I was just thinking about trying the longer lines when I've hooked into a better fish which turned out to be a foul hooked 8oz skimmer so I stuck with it a bit longer. With an hour and a half gone I reached 72 fish but bites were definitely dwindling on the short line.
Out to 10 metres it took a while to get bites but then started catching 2-4oz skimmers steadily. By swapping between the two lines and toss potting in a little groundbait after every couple of fish, the skimmers and roach kept coming. I was getting a bite every put in but when it went quiet for five minutes, I should have known what was coming. Sure enough, the float buried and as soon as I struck, I knew I'd hooked a carp.
I threw the pole back but the fish had already gone under the far bank and I could see the vegetation moving, something gave and the carp was no longer attached but my rig was snarled up solid and this wasn't going to end well. Not wanting to lose everything, I screwed my weed cutter into my landing net handle and then stuck it on my pole before shipping across and I managed to dislodge the rig which flew back at a rate of knots. It was a bit of a mess and the eye of the float was hanging on in there but it was still just about useable.
Shipping back out, the float's gone straight under and I was into another carp, thankfully this one was better behaved and I landed a little koi which although pretty, didn't help my cause much. After that carpy interruption, the next fish was a 4oz skimbob and I started catching well again including a decent skimmer around 12oz.
It was a bite a chuck, just lovely fishing although I kept waiting for bites to tail off or carp to become a pain. Neither really happened until fifteen minutes before the end when I hooked a carp which in a carbon copy of the first one, went under the far bank and came off, leaving the rig snagged up. This time there was no saving it so I picked up the top two rig but after missing a couple of bites, I hooked another pond pig that tore off and snapped me.
That was enough of that so I quickly plumbed up again on the 10 metre line and had a nice little flurry of roach up until the whistle. In the last match I had 88 fish for 9lb, this time I finished up with 182 so more than double the number of fish but how had I done?
The scales soon arrived after weighing Middle and I was amazed when the top silvers weight there was 8lb 5oz, my little carp was 11oz and then my silvers went 19lb 6oz. I walked down to watch Rich weigh in and he had a nice net of silvers for 16lb 10oz. The scales then headed off round the rest of Main lake while I finished packing up.
Back at the results and Andy Miller had the top overall weight with 74lb 15oz followed by Stu Woods on 41lb 6oz and Roy Worth just an ounce behind. I won the silvers and had a nice little pick up of £50, Rich was second and Neil Muir was third.
1 – Andy Miller (Revels) – 74lb 15oz
2 – Stuart Woods (Revels) – 41lb 6oz
2 – Roy Worth (Revels) – 41lb 5oz
Silvers
1 – Jamie Rich (Against Men and Fish) – 19lb 6oz
2 – Richard Chave (Colmic) – 16lb 10oz
2 – Neil Muir (Revels) – 8lb 5oz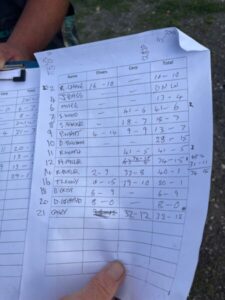 There's still a great offer running if you fancy treating yourself to some new fishing gear, use the exclusive discount code AgainstMenandFish10 to get 10% off when you shop online at Somerset Angling
Also I still have copies of my book available from eBay here or Amazon here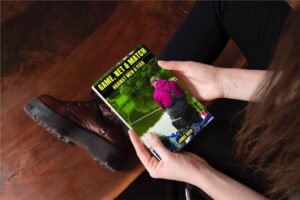 And if you could spare five minutes to leave a nice review on Amazon, it would be very much appreciated.
Next up – Summerhayes
Coming soon – Lots more match reports
Check Out – My last match
#sponsoredpost #affiliatelinks