I've been really enjoying these Saturday silvers matches although the turnouts have been fairly modest, averaging around 8-10 anglers. Pulling into the car park, there were a few more vehicles this week with 15 booked in to fish.
Pete announced the draw and we were called up in the order that we'd booked in. The golden peg today was 13 and it was still in the bucket when it was my turn, I didn't draw the bonus ball but was well happy with peg 9. Nick drew 23 on the far side and my neighbours were Adie on 11 with young McKenzie on my right.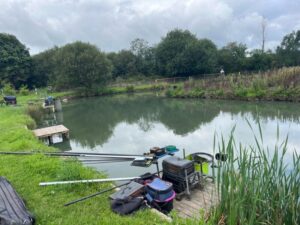 I set up Guru 0.3 gram AR's and 0.2 gram Bobbies with spread Stotz for a top kit line, two swims at 10 metres, straight out and to my right, plus across to the island at 13 metres. Pete got us underway and I fed all my lines before starting short. After five minutes I had my first fish, a decent hybrid around 6oz but when the next bite resulted in a carp which went straight under the pallet and snapped me, that was enough of that!
Moving out to the 10 metre lines, I've had a nice run of skimmers plus some roach during the remainder of the first sixty minutes. Going into hour two I was still catching okay by rotating the two lines and also feeding across but wanted to leave it as long as possible before going over. I was hooking odd carp (everybody was) but they weren't being too much of a pain so far.
My catch rate was ticking along nicely in the third hour but then I hooked a lumpy carp which wasn't posing me too many problems and I was down to the top kit waiting for it to tire when there was an almighty twang and the rig, fish and everything had gone! Initially I thought something had snapped but the rig had come out of the stonfo – great!
We were nearly at the halfway point so I picked up my other rig and went across a little earlier than I would have liked. I had a roach first chuck and was getting regular indications although I could also see loads of carp across by the island. The lack of skimmers was a little worrying but by coming half a metre off the island and waiting for bites I started getting the odd skimbob.
Adie had been suffering carp problems so switched to the waggler and then the pole across and began getting roach and skimmers whereas I was now spending more time playing carp and I also must have bounced off 2lb of roach! I could see Gabe and Alex down on pegs 5 and 6 landing fish but apparently they were struggling on the far side with the exception of John Fuidge on 16 who was catching skimmers and also had a couple of tench.
The last ninety minutes was a bit of a struggle for me and I only managed to catch roach, at the all out my clicker was reading 43 fish. I packed up and went to watch the weigh in, Tom R on 3 had 12lb 1oz and then Gabe on 5 went into the lead with 21lb 14oz of big skimmers. Alex had 9lb 10oz on peg 6, young McKenzie weighed 5lb 10oz and then my fish went 13lb 15oz.
Adie had 10lb 9oz, Rob B on 13 didn't weigh, Zooner had 8lb 1oz and Bill 'The Paste' weighed 4lb 8oz on peg 15. John F went into second place with 16lb 15oz, Pete W weighed 3lb 7oz on 17, Glynn had 9lb 8oz on 19 then Mark L and Paul E didn't weigh and Nick P had 6lb 11oz on 23.
1 – Gabe Skarba (Mosella) – 21lb 14oz
2 – John Fuidge (Summerhayes) – 16lb 15oz
3 – Jamie Rich (Against Men and Fish) – 13lb 15oz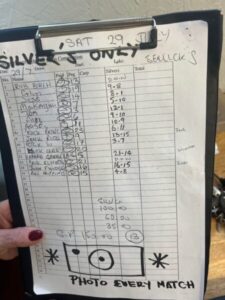 So I was third and picked up £35, after a great start I got carped out somewhat towards the end. The Nugget-O-Meter went up another £5 thanks to a squid from Zooner plus Nick and me both put in £2 for today and tomorrow, the new total is £323.
There's still a great offer running if you fancy treating yourself to some new fishing gear, use the exclusive discount code AgainstMenandFish10 to get 10% off when you shop online at Somerset Angling
Also I still have copies of my book available from eBay here or Amazon here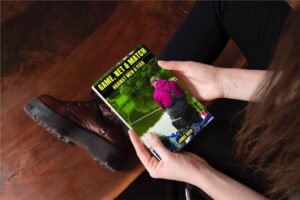 And if you could spare five minutes to leave a nice review on Amazon, it would be very much appreciated.
Next up – Summerhayes
Coming soon – Lots more match reports
Check Out – My last match
#sponsoredpost #affiliatelinks