For the next Stoke match we were at Summerhayes on Longs which has been fishing quite hard for silvers of late. Quite a few of us met for breakfast including Roy Worth and Chanter so the banter was top notch and it's always a lovely way to start the day! Then on to the fishery which was busy with a match on Sellicks as well.
With 15 of us fishing we had loads of room so the pegs were well spread, Norts got the draw underway and I pulled out peg 7 which is a great carp peg and I did have a bit of a whinge. Nick was on 9 and my right hand neighbour was Priv on 3 (I did say we had lots of room!).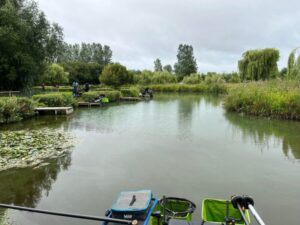 The usual Guru 0.3 gram AR's and 0.2 gram Bobbies were set up to cover two top kit lines, 11.5 metres where there was a slightly deeper hole of 3ft and across to the point of the island at 14.5 metres. Once again the weather forecast made for grim reading and we were in for another moist day.
Norts got us underway with a toot on his whistle and I fed a little loose groundbait (Bait-Tech Special G F1 Dark) on the top two lines straight out and to the right, 11.5 metres and then flicked a few maggots across. First put in on the top two to the right, the float slid away and I struck into solid resistance as a carp moved off. It headed over towards Nick and went between the lilies and the pallet in peg 8 before snapping me, the rig flew back at a rate of knots and spangled up in the undergrowth to my right. After much faffing about I retrieved the rig minus the hooklength and several Stotz, so not the best of starts!
I added the missing rig components and started my match for the second time. Nick flew out of the blocks with several decent skimmers from his short line whereas I got off the mark with a much more modest roach of less than an ounce! I was getting plenty of bites but mainly from little skimmers and roach although I did bump a decent fish. Just as I was contemplating trying the 11.5 metre line, I had a leaper around a pound and then not long after landed one of 8oz.
Two more decent skimmers and some blades followed over the next hour or so to put me on 4-5lb with a third of the match gone. I was still catching odd fish but probably stayed on the short line too long. There wasn't much between Nick and me but carp were starting to become a pain so I've gone on the longer line for the first time. After a few minutes, a lovely bite saw me into yet another carp before I landed a two pounder and I was hoping it wasn't going to carry on like this.
My next fish was a small skimmer and I've had a nice little run of fish between 2-6oz before hooking another carp that went round the back of the lilies, something gave but the rig was stuck fast in the middle of lily pads. I've had to grab the elastic and pull and eventually the line snapped and I'd lost the lot – brilliant! On Friday night I'd made up two shiny new rigs and lost them both over the weekend.
After getting another rig out and starting again, I was still catching skimmers regularly and in a bid to try and minimalize carp problems, I was just feeding 6-10 maggots via a toss pot and it seemed to work to a certain extent although you're always going to hook some. The last two hours was really good for me and I must have had 15 skimmers from 4-8oz with a couple around the 12oz mark. Nick slowed up a bit and also lost several leapers which didn't help matters.
I finished up with 43 fish on the clicker plus around the same number of tiny fish I hadn't clicked. Chanter up on peg 11 had caught carp really well and would be there or thereabouts today. I took some of my kit back to the car and then gave Norts a hand with the weigh in, Tom Mangnall on 39 had 97lb, then it was Norts and after multiple weighs, his total was an excellent 114lb, Nick Veale on 35 had 68lb 11oz and then Roy weighed 109lb 8oz to go into second spot.
The Grand Wiz on 31 had 71lb 12oz, Bagger Burton had caught loads of small fish and a bonus perch to weigh 9lb 14oz of silvers, Rob Cox weighed 39lb 13oz on peg 26, Rob Wylde had 76lb 14oz, Dave Phillips weighed 17lb 11oz on 19 and then Parker 'The Pole' had 18lb 5oz on 17.
Craig L on peg 14 weighed 48lb 6oz and then it was Chanter, after all his nets were weighed, it was going to be very close, his total was an agonising ounce short and he'd thrown a few skimmers back as well! Nick weighed 31lb 2oz which included 9lb 4oz of silvers, my carp went 16lb 7oz and then my silvers net weighed 14lb 12oz, last but not least was Priv who had 43lb 15oz on peg 3.
1 – Chris Norton (Stoke) – 114lb
2 – Steve Chant (Somerset Rig Company) – 113lb 15oz
2 – Roy Worth (Stoke) – 109lb 8oz
Silvers
1 – Jamie Rich (Against Men and Fish) – 14lb 12oz
2 – Ian Burton (Taunton) – 9lb 14oz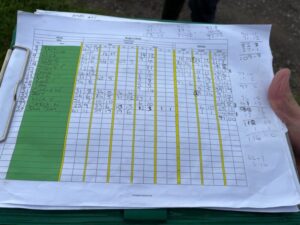 I had a nice pick up of £45 and the Nugget-O-Meter went up another £2 thanks to squids from Craig and Grand Wiz so the total has climbed to £325.
There's still a great offer running if you fancy treating yourself to some new fishing gear, use the exclusive discount code AgainstMenandFish10 to get 10% off when you shop online at Somerset Angling
Also I still have copies of my book available from eBay here or Amazon here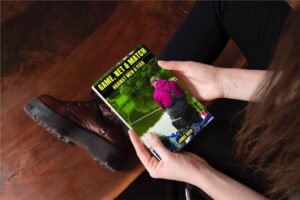 And if you could spare five minutes to leave a nice review on Amazon, it would be very much appreciated.
Next up – Revels
Coming soon – Lots more match reports
Check Out – My last match
#sponsoredpost #affiliatelinks