After a lovely days fishing last week, I was back for another go this Tuesday along with Parker 'The Pole'. With 14 fishing we were on Canal and Main today and I wouldn't mind either as long as I could avoid the noted carp pegs.
The draw was announced and I was around half way down the list, Dean delved into the bucket and pulled out peg 2 on Main for me, an absolute bunghole and one of the best silvers pegs on the lake, that'll do! Steve got 18 which is another peg I really like.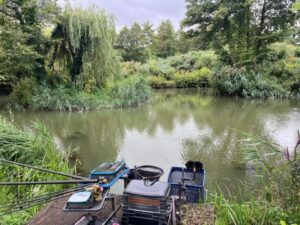 My swim looked lovely as always and there were quite a few silvers topping although I could also see a fair few ominous looking black shapes cruising around. I set up a 0.4 gram float for 10 metres, a little 0.25 gram F1 Carbon Slim with spread shot to fish down the edge on a top kit plus a 0.2 gram Bobbie to fish shallow. Todays side tray contained lots of maggots plus some Bait-Tech Special G F1 Dark.
On this whistle I fed some groundbait on both lines before starting short (just off the weed you can see on the right in the photo). I had two perch in as many put ins and then third chuck had a decent skimmer to get off to a great start. There were obviously loads of fish there and I was catching lots of small perch, the odd better one which required netting and also several chunky roach and rudd.
After half an hour I had 41 fish and it was still a bite a chuck, with two hours on the clock I was up to 140 fish but starting to catch quite a few small gudgeon. I also had two lovely (but non-counting) crucians so decided to have my first look on the longer line. With loads of blows coming up, I was expecting to catch quite quickly but it took a while to get my first bite and when it came, it was from a roach rather than the skimmer I was hoping for.
It certainly wasn't fast and furious and although I did get a few skimmers amongst the roach and perch, it was disappointing after such a good start to the match. I fed another little nugget of groundbait and came back short for another little burst of fish but it didn't last. Trying the shallow rig resulted in several 3-4oz perch but I also hooked my first two carp in quick succession.
Back at 10 metres, I managed a few more fish but it was still slow going so I dropped in on the short line again. Expecting more small perch or gudgeon, I was surprised when the float went and on the strike a fish tore off but stopped and I could see what looked like a decent skimmer in the very clear water. It actually turned out to be a nice hybrid hooked in the arm pit, a handy bonus!
Next chuck I had pound skimmer followed by two more but then after only hooking a couple of carp all day, they were beginning to be a pain so I started a new line at top two plus two with about 45 minutes to go. This new line was pretty good and I had some decent roach along with several skimmers although I did hook a couple of carp as well. At the all out, my clicker was reading 194 fish which was a few more than last Tuesday but I did have a lot of gudgeon so thought I had a bit less weight wise.
The scales soon arrived after weighing in the anglers on Canal where Dave S on 63 had 50lb 2oz, Bob Crispe had a nice net of silvers for 14lb 3oz on 66 and John B weighed 23lb 6oz on 69. Then it was my turn, the carp went 8lb 4oz and my silvers weighed 19lb 4oz.
Back at the results and Stuart Woods had the top weight with 57lb 11oz of carp from peg 7 ahead of Rich Butler on peg 11 with 50lb 5oz. I won the silvers picking up £40 and Bob was second.
1 – Stuart Woods (Revels) – 57lb 11oz
2 – Richard Butler (Revels) – 50lb 5oz
Silvers
1 – Jamie Rich (Against Men and Fish) – 19lb 4oz
2 – Bob Chrisp (Revels) – 14lb 3oz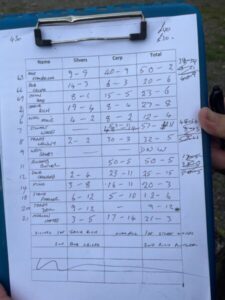 There's still a great offer running if you fancy treating yourself to some new fishing gear, use the exclusive discount code AgainstMenandFish10 to get 10% off when you shop online at Somerset Angling
Also I still have copies of my book available from eBay here or Amazon here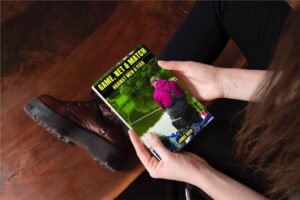 And if you could spare five minutes to leave a nice review on Amazon, it would be very much appreciated.
Next up – Summerhayes
Coming soon – Lots more match reports
Check Out – My last match
#sponsoredpost #affiliatelinks