On Saturday it was Clive and Ray's Memorial, a match I was very proud to win last year (you can read about that one here if you so wish!) and I would be trying my hardest to do it again. I've got used to the weather being awful every weekend but the forecast was nothing but downright despicable with 50mph winds and rain lying in wait for us! It was on Sellicks with 17 prepared to face the elements.
Pete announced the draw and I was hoping for a peg at the top end which would be relatively sheltered or failing that, somewhere on the far side. I got neither and ended up with number 7 but it's still a good silvers area and had the added bonus of an empty peg next door. Bill 'The Paste' was on 6 and I had Rob B to my left on 9. While we were getting our kit ready the weather was really nice, perhaps they'd got it wrong?
I set up my usual Guru 0.3 gram AR's and 0.2 gram Bobbies plus a 4 x 12 Preston F1 Maggot, all with size 16 Guru F1 Pellet hooks to 0.10mm. On the whistle I fed a top kit line and two 10 metre swims with groundbait (Bait-Tech Special G F1 Dark) and maggots and was also feeding across to the island at 13 metres.
I gave the short line ten minutes but no bites, 10 metres was better although I bumped off two roach before getting off the mark with a small one. The next bite resulted in a flying skimmer and I had a really nice spell landing three more and also lost a foulhooked carp. I'd seen Rob and Zooner on 10 land a couple of fish and apparently Jeff Sparkes up on peg 12 had gotten off to a great start. Along with some nice skimmers, he'd also caught a couple a decent crucians and there was a prize for the biggest caught during the match.
The second hour began quite well with another skimmer and some roach but the wind was starting to pick up and we were getting some showers. I normally like to leave the 13 metre swim for at least three hours before going across but with the wind strengthening all the time I decided to have a look to try and nick a few fish before it got too bad.
A roach first chuck was encouraging and I was getting quite a few bites but bumped several roach, I did have two skimmers but also had one come off shipping back and a leaper shed the hook so changed my top kit to one with a number three Dura Slip elastic. This helped to a certain extent but I was still bouncing off a few roach and carp were beginning to be a nuisance.
The wind was now horrendous and at times I had to drop my pole on the water and at one stage had to retrieve all my top kits from the pond. Dropping back to 10 metres I had two skimmers and a quality roach quite quickly but the weather was getting worse by the minute and I was really struggling to hold the pole.
Zooner and Nick down on peg 4 were both still catching and according to reports, Tom over on 23 was also doing well. Thinking I needed a run of decent skimmers to do any good, I started a new line at top two plus two where I could at least achieve a modicum of presentation. The last hour was a complete anti-climax and I've only hooked carp while Nick had his second big eel and Bill and Jess both managed a couple more decent skimmers.
I wasn't too upset to hear the final whistle and my final tally was 25 fish and I knew I'd be well down today. Adie was doing the weigh in today and Nick set the pace with 11lb 3oz, Alan on peg 5 had 9lb odd (sorry forgot to take a photo of the weigh sheet!), Bill had 7lb 11oz and then my fish went 8lb 9oz.
Rob had chucked back before Zooner edged into the lead (and took a nugget off me) with 11lb 8oz which also included a crucian of 1lb 3oz, Alan J on 11 had struggled before Jeff on 12 went into third place with 10lb 13oz including three crucians with one cracker of 1lb 13oz. Alex also came close with 10lb 8oz and then there were no more double figure weights until we got to Tom who had some big skimmers for 14lb to win on the day.
1 – Tom Rattenbury (Summerhayes) – 14lb
2 – Jess Jordan (Summerhayes) – 11lb 8oz
3 – Nick Payne (Ilminster) – 11lb 3oz
4 – Jeff Sparkes (Summerhayes) – 10lb 13oz
Best crucian
Jeff Sparkes – 1lb 13oz
We all enjoyed burgers afterwards courtesy of Pete and Sally which were lovely. Despite the weather, it was a really close match with just a pound between second and fifth place. On a personal note I thought I was miles behind but actually wasn't far away. I should have just struggled on trying to fish long as I'm sure I'd have caught a few more skimmers and roach.
Nick and me added £2 each to The Nugget-O-Meter for today and tomorrow and the new total is £329.
There's still a great offer running if you fancy treating yourself to some new fishing gear, use the exclusive discount code AgainstMenandFish10 to get 10% off when you shop online at Somerset Angling
Also I still have copies of my book available from eBay here or Amazon here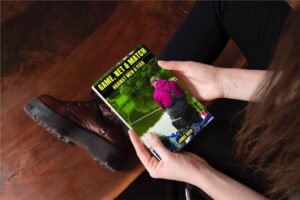 And if you could spare five minutes to leave a nice review on Amazon, it would be very much appreciated.
Next up – Dillington
Coming soon – Lots more match reports
Check Out – My last match
#sponsoredpost #affiliatelinks