I fished Clive Cunningham's memorial match in 2021 and after sadly losing Ray Wickham, they decided to have a combined memorial match for this year. It started filling up quickly and in no time, there were 28 names down, a fantastic turn out and I was really looking forward to it, especially as it was silvers only.
The Breakfast Club assembled at the O'Bridge in Taunton and we were sat down for ages wondering why nobody had come to take our order, Nick went to ask and it turns out it's gone back to a buffet breakfast which was disappointing.
Arriving at the fishery, the car park was already busy and along with the regulars it was nice to see Stu White fishing today. Pete said he would be paying the top four today plus an accidental carp pool and £20 for the biggest perch. Mark Leahy also kindly donated a bottle of champers for the angler catching 8lb 14oz or the closest to it.
The draw got underway, starting with the golden peg which today was number 17, a good silvers area. I was fifth on the list and Pete pulled out 13 for me, the same peg as last time I was on Longs, Adie Bishop got the golden peg, Nick P was on 21, Jenny 26, Rob Cox on 39 and Steve P got 35. For company I had Rob Birch on my right and Stu White was on 14 so we'd have a laugh today, Pete was on peg 11 and modelling the latest fishing chair technology!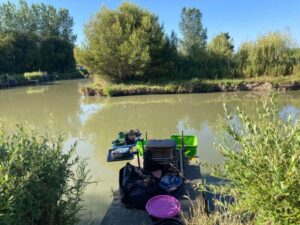 I set up a 0.3 gram NG Mini Gimp for top two to my left, and a little Guru 0.2 gram AR for 5 metres, 11.5 metres and also across at 14.5. On the side tray I had two pints of red maggots, micros, 2mm and 4mm expanders plus some Bait-Tech Special G F1 and The Juice groundbait. I was ready with 10 mins to spare so popped round to have a natter with Adie 'three hats' Bishop who was well protected from the sun.
On the whistle I fed a little loose groundbait with a few freebies on three lines and then flicked a few maggots across. Starting at top two with single maggot on the hook, I had a bite first chuck and a tiny fish flew out the water and dropped off! The next indication resulted in a 3oz skimmer followed by a better one around 10oz and I was getting regular bites. Stuart hooked an early carp and luckily it came off as he realised he hadn't set a landing net up and had to go back to the van to get one! Rob had a nice skimmer from his short line and I'd also seen Adie catch a couple of fish on the waggler.
I had another small skimbob but then a carp spoiled things and after tying on a new hooklength, I could only catch tiny fish so after 45 mins I went out to 11.5 metres. A nice bite and a decent skimmer leapt out the water but thankfully stayed on. I had a really nice spell catching 4oz skimbobs along with the odd better one but already carp were being a pain. Rob was having a nightmare with the pond pigs loving his paste and he hadn't put a carp net in.
After every couple of fish I was toss potting in some groundbait as well as loose feeding maggots over the top and was catching well but Stu was also landing some big skimmers and I didn't think there was much between us. Although I thought I was doing okay there were lots of carpy looking blows on my longer line and when I hooked two in as many chucks I decided to fish to the right away from my feed. I was having to wait a while for bites but crucially I wasn't hooking as many carp and when all the blows calmed down on my original line, I could catch a couple of skimmers from there before it became carp city again.
Cyanide straight was living up to it's name and Paul Purchase (who was on peg 4) came for a walk and said him and Jeff were struggling although Gabe (on peg 1) and Tom R (on 2) had caught well early but had slowed up now. With around 90 mins to go, nobody was really catching anything other than carp, Rob landed one around 10lb and had probably chucked back enough to challenge for the accidentals pool.
I had my first look across at 14.5 metres and when I had a 4oz roach first put in, I thought I might be able to keep my catch rate ticking over for the rest of the match. The next few bites resulted in small fish although most were getting bounced off on the strike and it was hard work shipping in and out at that length for fish of less than an ounce! I did have a 3oz skimbob on double maggot but then Stuart had a couple of decent skimmers in quick succession so I came back in on my 11.5 metre line.
A decent leaper was very welcome but then Stu had another and on the whistle he said I'd beaten him but I wasn't so sure. I'd ended up with 40 fish (39 skimmers and a roach) plus a few small fish I hadn't counted and six carp. I packed up and went to watch the weigh in which was starting with Gabe on peg 1, he'd caught well at the start to weigh a level 10lb, Tom R on the next peg had 5lb 8oz, Paul P didn't weigh and then Jeff Sparkes also had 5lb 8oz on peg 5.
Bill on 7 DNW'd and then Roy Hughes on peg 9 had done well to weigh 10lb but had snapped his nearly new Drennan Acolyte rod and trodden on his landing net pole! Roger Kimberley had switched to fishing for carp and weighed 50lb of them. Pete and Rob B didn't weigh and then it was me, I chucked my carp back and then my silvers went 18lb 2oz which I was chuffed with but there were still some good pegs left to weigh.
Stuart had a nice net of skimmers for 13lb 10oz, Adie had 8lb and then Mark Leahy went into third spot with 12lb 5oz and he also had 32lb 10oz of carp. Roger C on 20 had 24lb 4oz of carp and then Nick P weighed 5lb 8oz but had also chucked back a load of carp. Mark Saunders on peg 24 had 8lb 4oz of silvers which put him in pole position for the bottle of bubbly.
Jenny on 26 weighed 1lb 5oz of silvers but had been carped out, Glynn on 27 had 7lb 13oz of silvers and then weighed 38lb 15oz of carp which put him second in the accidentals pool and I could imagine his dad, Ray, looking down chuckling at Glynn catching vermin! Jacko and McKenzie didn't weigh and then Eric Fouracres on 31 went into fourth spot with 10lb 4oz of skimmers.
Alex K on 32 had 8lb of silvers and 18lb 13oz of carp, Jess 'Zooner' Jordon was on 34 and weighed 5lb 1oz of silvers and 26lb 2oz of carp, Parker 'The Pole' had 3lb 8oz of silvers and 17lb 3oz of carp, Ady chucked back on 36, Jamie C on 37 had 4lb 6oz of silvers and 13lb 10oz of carp and Rob C didn't weigh. So I was the top weight and over the moon to win this one as Ray and me had fished several pairs matches together at Summerhayes over the years.
1 – Jamie Rich (Against Men and Fish) – 18lb 2oz
2 – Stuart White (Summerhayes) – 13lb 10oz
3 – Mark Leahy (Summerhayes) – 12lb 5oz
4 – Eric Fouracres (Summerhayes) – 10lb 4oz
Accidental carp pool
1 – Roger Kimberley (Summerhayes) – 50lb
2 – Glynn Wickham (Summerhayes) – 38lb 15oz
3 – Gabriel Skarba (Summerhayes) – 26lb 12oz
Bottle of bubbly
Mark Saunders – 8lb 4oz
Perch prize
No winner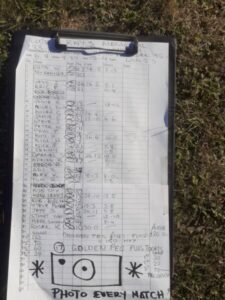 Glynn had brought a lovely cake for everyone which was lush and then Pete and Sally laid on burgers and refreshments for everyone which was fantastic. I received a trophy from Glynn and a medal from Roger plus a nice pick up of £120. I also won the £4 side bets and nuggets from Stu and Jess. Jeff Sparks also donated a nugget he'd won off Paul P (cheers Jeff) so the charity Nugget-O-Meter benefitted by £7 and is now up to £155. Photo credit – Glynn Wickham*
There's still a great offer running if you fancy treating yourself to some new fishing gear, use the exclusive discount code AgainstMenandFish10 to get 10% off when you shop online at Somerset Angling
I still have copies of my book available from eBay here or Amazon here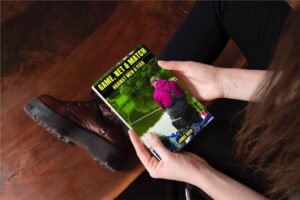 And if you could spare five minutes to leave a nice review on Amazon, it would be very much appreciated.
Next up – River Parrett
Coming soon – Lots more match reports
Check Out – My last match (below)