With Kingsbury very weedy, we were back at Parrett Works for this one and there was another good turnout including Chris Haines and his mate Nick Veale who were fishing their first Stoke match. Breakfast at the bowling club got us off to a great start (thanks Drew) before we headed to Martock for the draw.
I had a mental wish list of pegs I fancied (9, 16, 25, 28, 29 and 32) and was well happy when I pulled out number 25. Elsewhere, Russ wasn't so happy with peg 4, Dave P got the in-form number 16, Nick and Jenny were on 13 and 28 respectively, Parker 'The Pole' got peg 20, The Grand Wiz was on 29, Tony C got 32 and new boys Chris and Nick got 24 (not bad) and 11(not so good).
I set up three rigs, a 1 gram bodied rig for down the middle, a 0.5 gram DH16 for fishing across with 0.14mm to a 16 B611 and another identical float but with 0.10mm to a size 20 Guru Match Special, the usual maggots, casters and hemp were on the side tray. The swim looked lush with several fish topping before the start.
On the whistle I cupped in some hemp with a few casters at 8.5 metres down the middle before starting with single red maggot on the hook. I had a minnow first put in and then was getting a bite a chuck from gudgeon along with the odd little roach and dace. After half an hour I had 16 fish for a pound and was off to a great start as you generally only need 3lb to frame in these matches.
I had a few fish on double maggot and then a nice spell on caster including a decent dace and a chunky chublet. Bites slowed over the next thirty minutes but I was still putting odd fish in the net and my catch rate was ticking along nicely. I started getting quite a few minnows so tried a grain of hemp but never had a bite on it. The lighter rig resulted in a gudgeon, two roach and a couple of missed bites but it was short lived.
As we approached the halfway point, it was beginning to get really hot and bites were now at a premium. I picked up the heavy rig and went across where I'd been feeding hemp and caster from the start but despite missing a couple of tentative bites (small fish?), I haven't had anything else over the next half an hour. Trying the lighter rig across, I had two gudgeon but bites were now few and far between. I did manage a roach from across but with around an hour to go, I couldn't get a bite anywhere.
Dennis came for a walk and reported that everybody was struggling and Dave Pope on 16 was winning with three chub, apparently the Grand Wiz on 29 had caught a small eel but also lost one that went through a hole in his landing net. With nothing to lose I decided to have a go for an eel so chopped up some maggots and casters and potted them in down the middle and went over it with a caster on the hook.
Fifteen minutes passed and then the float slowly slid away, I struck and a decent amount of elastic came out but straight away I knew it wasn't an eel but a 4oz roach was still very welcome. Another half an hour went by and then I had an unmissable bite that I somehow managed to miss! With ten minutes of the match remaining I was praying for another chance but it didn't happen. I ended with 39 fish plus some minnows that I thought would go around 2lb.
After packing up I went to give Parker 'The Pole' a hand with the scales starting with Tony C on peg 32, he weighed a 1lb and then Wayne C next door had 7oz but had lost a decent chub at the net. The Grand Wiz was next and he had 3lb 4oz which included a nice perch and then Jenny did well again on 28 with 2lb 7oz of roach and dace.
My fish went 2lb 8oz and then Chris H did brilliantly on his first visit catching 3lb 11oz of dace, chublets, roach, gudgeon and loads of minnows. Dave Hilton on 22 weighed 1lb 9oz and then Steve P had 1lb 14oz which included two decent chublets caught in the last ten minutes and he lost one as well.
Back at the results and it was a similar story in the other section, Dave P had landed three nice chub from peg 16 for 6lb 10oz and first place on the day, Nick 'The Snake Charmer' caught four good eels for 3lb 2oz on peg 13, Russ did well from peg 4 to weigh 2lb 7oz of dace, roach and chublets and Cliff had 1lb 10oz from peg 15. Thanks to Chris Norton for the photos*
The rest of that section had been a real struggle, Derek weighed 1lb 2oz on peg 8, Danny B had 12oz, Norts weighed 11oz (mainly small fish) and then Nick V and Mark D both had 9oz.
1 – Dave Pope (Stoke) – 6lb 10oz
2 – Chris Haines (Haines Angling) – 3lb 11oz
3 – Chris White (Stoke) – 3lb 4oz
4 – Nick Payne (Stoke) – 3lb 2oz
Sections
A – Russell Hilton (Stoke) – 2lb 7oz
B – Jamie Rich (Against Men and Fish) – 2lb 8oz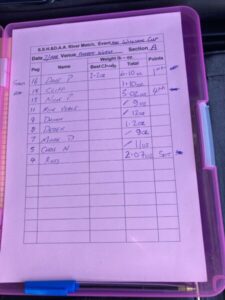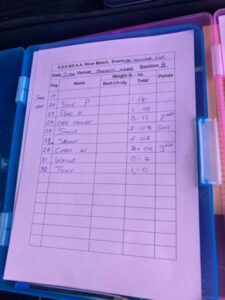 I've said it before but even though it's hard fishing I find it strangely addictive, it's always close and one fish or a missed bite can make all the difference, several chub were lost that would have been enough to frame. I picked up £20 for winning the section (by double default) and The Grand Wiz won the £3 side bets so the charity Nugger-O-Meter is now up to £158.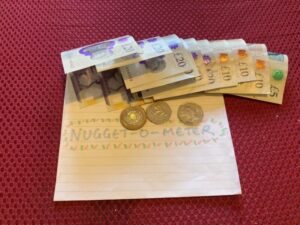 There's still a great offer running if you fancy treating yourself to some new fishing gear, use the exclusive discount code AgainstMenandFish10 to get 10% off when you shop online at Somerset Angling
I still have copies of my book available from eBay here or Amazon here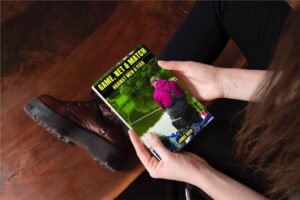 And if you could spare five minutes to leave a nice review on Amazon, it would be very much appreciated.
Next up – Revels
Coming soon – Lots more match reports
Check Out – My last match (below)