I do love my Tuesday trips to Revels, I just wish I could go every week but as retirement is a fair way off yet, I will have to keep praying for a lotto win. After a quick breakfast stop with Parker 'The Pole' we were on our way. I did think the hot weather might put a few off but there were 18 fishing again today.
The draw got underway and I was towards the bottom of the list this week. After drawing some great pegs on my last few visits, I thought I must be due a bad one and couldn't quite believe it when I got peg 20, the best silvers peg on the complex. Steve P was on Dead Tree again, peg 50 this time and then the man to beat when it comes to silvers, Nigel Bartlett, got drawn the best carp peg on the lakes in the shape of peg 8.
Things got even better when I got to the swim and it was nicely in the shade thanks to a tree on my right. I set up two 0.3 gram Guru AR's plus a little 0.25 gram F1 Carbon Slim with spread shot to fish through the water, all with size 20 Guru Match Specials to 0.08mm. On the side tray I had plenty of maggots plus some Bait-Tech Special G F1 and Pro Nat Fine Lake Dark.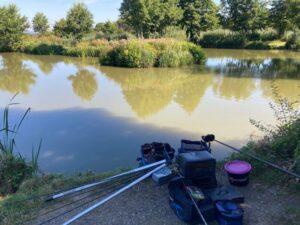 Dave S got us underway and I threw a few maggots down the edge to my right before feeding some loose groundbait on two lines at 11.5 metres, straight out and angled to the left before starting down the edge with single maggot. It was a bite a chuck from small perch and gudgeon and after half an hour I had 40 fish. Tony C turned up to have a look around and while he was with me I carried on catching well and was up to 80 fish after an hour.
Nigel was landing some decent skimmers but was waiting longer for bites so I didn't think there was much between us. I was expecting sport to slow going into the second hour and although it did a bit, I was starting to get some better fish, including a couple of skimmers and annoyingly pulled out of two as well. With two hours gone, I had 140 fish on the clicker but bites were beginning to tail off and to be honest I was itching to get out on the longer line.
First put in at 11.5 metres I had a decent skimmer on the drop and was getting a few bites but it wasn't fast and furious. Mr Bartlett was still catching quite well but also hooking a fair few carp. Just past the halfway point, Tony left me to it and not long after Nigel appeared opposite me to enquire how I was getting on and if I had 10lb yet, I said I might just have that (171 fish at an ounce apiece) and he said similar.
It wasn't really happening on the longer line so I picked up the lighter rig but that wasn't the answer. I decided to have another quick go on the inside, not really expecting much but the rest had done it some good and I had a brilliant spell catching some nice skimmers, quality roach, rudd and even a 12oz hybrid.
With two hours to go, I had my first carp and even though I was still getting some nice silvers, the pond pigs were beginning to be a bit of a pain and when I hooked two in two chucks, I left it alone and had another look long. The float sailed away and a carp tore off which didn't bode well but after landing that one, I began to catch some decent skimmers. I spent the last half an hour down the edge and finished strongly with some nice roach and another decent hybrid.
At the all out, my clicker was reading 229 fish and I'd had a lovely days fishing, as I packed up I had a nice chat with Terry Green who was sat on the seat behind me and I hadn't seen for years. As always Dead Tree was weighed in first and Rich Butler was leading the silvers with a brilliant 20lb from peg 48 and Andy Miller had also done well with 14lb 5oz on peg 51. Thanks to Dean Hodder for the photo*.
When the scales got round to me, Nigel had done 17lb 11oz of silvers which is a fantastic weight from that peg. He'd also landed 31lb 7oz of carp and was leading overall with 49lb 2oz but only just as he was closely followed by Neil Saxby on 10 and Rene on 16 who both weighed 49lb exactly although Rene had chucked a skimmer back which was costly!
My four carp went 19lb 10oz and then my silvers weighed 23lb 6oz which is my best weight at Revels yet. Terry Dell on 21 was last to weigh and had 24lb of carp so I'd won the silvers and picked up £40 plus a nugget off Steve and The Nugget-O-Meter now stands at £159.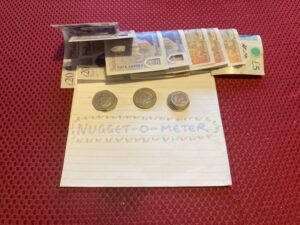 1 – Nigel Bartlett (Revels) – 49lb 2oz
2 – Neil Saxby (Revels) – 49lb
2 – Rene Turanek (Revels) – 49lb
Silvers
1 – Jamie Rich (Against Men and Fish) – 23lb 6oz
2 – Rich Butler (Revels) – 20lb
3 – Andy Miller (Revels) – 14lb 5oz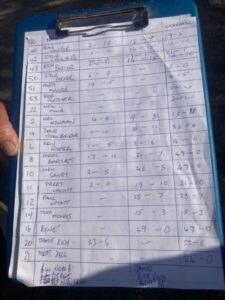 So really close weights again (2oz between the top three overall!) which is one of the reasons I love it so much, of course there are better pegs and areas for carp or silvers but it's never as cut and dried as that. For example, Alan W won off my peg with 80lb of carp recently and Nigel does some brilliant bags of silvers from 'carp' pegs. The matches are always well run with a friendly bunch of anglers and I can't wait to come back again.
There's still a great offer running if you fancy treating yourself to some new fishing gear, use the exclusive discount code AgainstMenandFish10 to get 10% off when you shop online at Somerset Angling
I still have copies of my book available from eBay here or Amazon here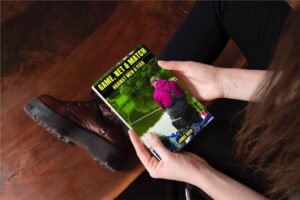 And if you could spare five minutes to leave a nice review on Amazon, it would be very much appreciated.
Next up – Summerhayes
Coming soon – Lots more match reports
Check Out – My last match (below)