I had booked Wednesday off work to fish the next match at Hebditch's for Ruthie's Cup but it had to be postponed so I swapped my leave around so I could fish Revels and Parker 'The Pole' did the same. We met for breakfast in Yeovil before heading to the fishery, the Tuesday opens are always popular and there was a great turnout of 18 anglers including Baz who'd done well the previous week.
We were on Main and Dead Tree lakes this week and I was around halfway down the list as the draw got underway. Some good silvers pegs went early although so did a couple of the ones I really didn't want (14 and 16) but 12 was still in there. I ended up with 42 on Dead Tree which I was happy with as Baz had 12lb for third in the silvers from it last Tuesday. Steve P then got peg 40 just along from me, Baz was one of the last out of the bucket and ended up with 12.
The pond looked lovely with quite a few fish topping and I was really looking forward to it. I set up two 0.3 gram Guru AR's and plumbing up, it was only around 18 inches deep and virtually the same depth all over the peg. Today's side tray had red maggots, casters plus Bait-Tech Special G F1 and Dark.
On the whistle I fed three lines at 10 metres, to the left in open water, straight out and angled towards the gap between two islands, with some loose groundbait and a few maggots. I started on the middle line with single red maggot and was expecting to get bites straight away but the float just sat there and it was the same when I tried the left hand line. Steve and Paul W on 48 hadn't caught yet either although Alan on 50 was off the mark with a decent skimmer.
Back on the line straight out, I had an indication which I missed before going to the right and the float buried and I finally got off the mark with a roach. Next put in I hooked another but it came off shipping back, a nice skimmer followed and I also pulled out of another which killed it. Moving to the middle line I had two nice skimmers on the trot and already it was looking like I'd have to keep swapping swims to keep the fish coming.
The left hand swim was a bit of a flop but on the other two lines I could get bites by toss potting a little loose groundbait and leaving it on one line while I fished the other. After a couple of fish or bites, I'd swap round and it was working quite well although I'd also hooked a couple of carp which didn't help matters in the shallow water.
I've been on this lake three times before and only ever hooked a few carp but going into the second hour today, it was obvious they would be a real nuisance today. Steve was really struggling to get bites and it looked like Alan had now stopped fishing for silvers and was trying to catch carp.
By swapping between lines, I had a decent two and half hours without really bagging, catching the odd skimmer plus a few roach and a rudd but had also landed three carp and lost a couple. Steve had caught a couple of nice perch but had been seen off by several carp and was running out of rigs rapidly!
I did manage two skimbobs from the left hand line but then the carp moved in and for the second match running, I found myself reaching for the hooklength box more often than I would have liked and Somerset Rig Co. would be receiving another order when I got home! Fishing past the feed at 11.5 metres resulted in a couple of small fish but after a decent start I was now really struggling.
With around an hour to go every bite was resulting in a carp tearing off, one particularly feisty devil headed off between the islands so I plunged the pole tip under the water only to feel something give and the rig and everything had gone! I had to try something else so started a new line at 11.5 metres towards the opening of the left hand arm of the lake. First put in I had a small perch followed by a skimmer but the next bite was from a carp and they seemed to be everywhere now.
Swapping between the two left hand lines, I had two more skimmers in the last fifteen minutes to finish with a flourish. The scales soon arrived and Steve had 2lb 2oz of silvers and chucked a carp back, I had 10 carp for 24lb and then my 36 silvers (16 skimmers, roach, perch and a rudd) went 9lb 12oz. Paul on 48 had 3lb 8oz of silvers, Alan weighed 30lb 6oz of mainly carp, Terry Dell on 51 had 6lb 11oz of silvers and Jerry on 53 didn't weigh so our lake had fished hard.
Back at the results, quite a few on Main had found it tough with the wind (whereas we'd been relatively sheltered) but Nigel Bartlett had the top silvers weight from peg 2 with a brilliant 26lb 6oz and the next best was Baz with 4lb 14oz! Andy Miller won overall from fancied peg 8 with 94lb 7oz of carp, Rene was second on 14 with 52lb 13oz and Terry L took third spot with 49lb 15oz from peg 11. Thanks to Dean Hodder for the photos*
1 – Andy Miller (Revels) – 94lb 7oz
2 – Rene (Revels) – 52lb 13oz
3 – Terry Lenny (Revels) – 49lb 15oz
Silvers
1 – Nigel Bartlett (Revels) – 26lb 6oz
2 – Jamie Rich (Against Men and Fish) – 9lb 12oz
3 – Terry Dell (Revels) – 6lb 11oz
So I ended up second in the silvers and picked up £30 plus a nugget from Parker 'The Pole' and the charity total is now up to £148.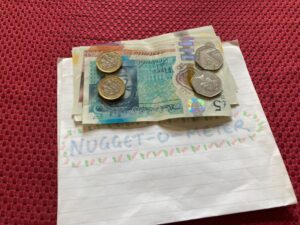 There's still a great offer running if you fancy treating yourself to some new fishing gear, use the exclusive discount code AgainstMenandFish10 to get 10% off when you shop online at Somerset Angling
I still have copies of my book available from eBay here or Amazon here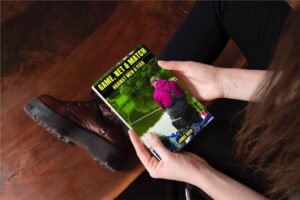 And if you could spare five minutes to leave a nice review on Amazon, it would be very much appreciated.
Next up – Summerhayes
Coming soon – Lots more match reports
Check Out – My last match (below)