We were back on Sellicks for this one and it was almost a full house with 22 anglers booked in. Young Geoff was fishing again but thankfully after his bout of garlic poisoning last time, he'd left his special pellets behind. Pete got the draw underway and today's golden peg was number 17 which is a decent silvers area.
My name was top of the list so I was first out of the bucket and got peg 4 which I was well happy with as Rob B had won the silvers with 11lb odd the last time we were on this lake. Nick was next and got the golden peg, Jenny was on peg 8 and Rob C on 14. My neighbours for the day were young McKenzie on 3 with Tom R the other side.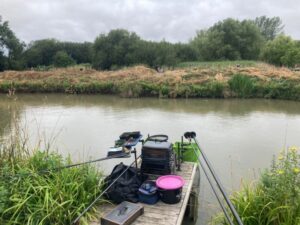 I set up a 0.3 gram NG Mini Gimp for top two, 5 metres and 10 metres plus a Guru 0.3 gram AR for across at 13 metres. On the side tray I had a couple of pints of maggots, micros, 2mm and 4mm expanders plus some Bait-Tech Special G F1 and The Juice groundbait.
On the whistle I fed some loose groundbait on the three shorter lines and then flicked some maggots across before starting on the top two to the right with single red maggot on the hook. Normally the response on this line is fairly quick but after five minutes I hadn't had any indications, McKenzie had a carp first put in and then followed that up with three or four nice skimmers. Adie up on peg 6 also got off to a great start with several decent silvers on the whip.
I was just thinking about going out to 10 metres when I missed a good bite which made me stick with it a little longer. Then the float flew under and a carp tore off which wasn't in the script and that was enough of that. Out on the longer line and when the first bite there resulted in another carp, I was hoping the day wasn't going to carry on in the same vein.
I finally put something in my silvers net when I had a 2oz roach on the drop, the next bite resulted in a big 2lb+ skimmer leaping out the water. Two more decent skimbobs before the first sixty minutes was up and I was starting to enjoy myself. I should have known better as the second hour was a complete write off due to carp carnage and my hooklength box was taking a battering.
Things didn't improve over the next half an hour and a quick look on the five metre line was unproductive so it was time to go across, albeit a little earlier than I would have liked. I was expecting to catch roach straight away but it just wasn't happening. Adie was now fishing the waggler across and catching skimmers while I was falling further and further behind. Dan on peg 2 was bagging on carp and Tom next door was also getting a few.
I began getting some bites across but the trouble was, they were mainly from carp which were running me ragged and although I was landing a few, my hooklength boxes were starting to look a little bare! Coming back to 12 metres helped and I had a nice run of five skimmers to make inroads into Adie's early lead. Then I've hooked a fish that felt like a foulhooked carp but when I got down to the top kit, there were loads of bubbles coming up which made me think I may have hooked my second ever Summerhayes eel. It was a decent fish but I was very wary of the 0.08mm hooklength but thankfully it held and I netted a very welcome 1.5lb bonus.
Things got even better a few minutes later when I hooked another fish that didn't feel like a carp and a 10oz tench popped up and then a 8oz perch added further variety to my net. I did have one nice roach and some smaller ones but also bumped a few off due to the pingy elastic and hooked what felt like a good roach which went round some submerged branches and came off.
Adie reckoned there wasn't much between us but then during the penultimate hour, he's had a really good spell whereas I've only hooked carp. Going into the last hour I kept hoping I'd get the odd skimmer among the pond pigs but it just hasn't happened. With 15 minutes to go, I've dropped back in on the five metre line and missed a couple of bites which had me hoping there might be some skimmers there but then lost two more carp as my match fizzled out.
I ended up with 23 silvers (14 skimmers, 6 roach, a perch, an eel and a tench) plus around a dozen carp. Dan on peg 2 had caught well for most the match to weigh 92lb 11oz although he had a bit of a nightmare towards the end when his top five came off with a carp attached and headed up the pond along the far bank before stopping in Adie's peg. Thanks to some skilful waggler casting by Adie, Dan and his pole were soon reunited.
McKenzie did well weighing 24lb 8oz, I had 13lb of silvers and my carp went 33lb. Tom had 39lb 10oz before Adie weighed a brilliant 20lb 6oz of skimmers and roach. Sam W on peg 7 had 76lb 8oz and then Jenny weighed 18lb 3oz which included 3lb 14oz of silvers. Alex on peg 9 had 75lb, Alvin weighed 56lb, peg 11 chucked back and Chris W on 12 had 63lb.
Dick Bull on 13 weighed 46lb 10oz, Rob C didn't weigh on 14 and then Roy Hughes on 15 had 13lb 11oz of silvers. Roger C next door had 7lb 11oz and then Nick on 17 had 19lb 11oz of carp and 11lb 14oz of silvers. Jess 'Zooner' Jordon weighed 10lb 9oz of skimmers, peg 19 didn't weigh and then Dave Romain on 20 went into the lead with 103lb 12oz.
Glynn had 11lb 5oz of silvers, Geoff on 22 chucked back and then Rob Birch was second in the silvers with 19lb of big skimmers on peg 23.
1 – Dave Romain (U-ZIT Bait) – 103lb 12oz
2 – Dan Russell (Summerhayes) – 92lb 11oz
3 – Sam Williams (Summerhayes) – 76lb 8oz
Silvers
1 – Adie Bishop (Summerhayes) – 20lb 6oz
2 – Rob Birch (Summerhayes) – 19lb
3 – Roy Hughes (Summerhayes) – 13lb 11oz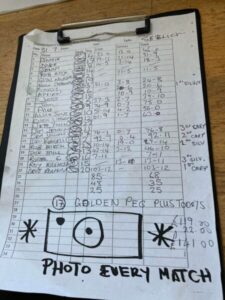 So another close match with just a couple of fish between first and second overall and one skimmer the difference in the top two silvers weights. The back up silvers weights were also really close with 3lb 2oz between third and seventh place. I did win the £4 side bets from the Breakfast Club and a pound off Zooner so The Nugget-O-Meter climbed to £147.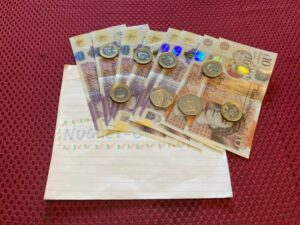 There's still a great offer running if you fancy treating yourself to some new fishing gear, use the exclusive discount code AgainstMenandFish10 to get 10% off when you shop online at Somerset Angling
I still have copies of my book available from eBay here or Amazon here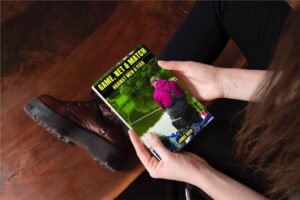 And if you could spare five minutes to leave a nice review on Amazon, it would be very much appreciated.
Next up – Revels
Coming soon – Lots more match reports
Check Out – My last match (below)