Round 5 when we should have been at Coombe was cancelled and will be rescheduled so this is actually Round 6 when we would have been at Dillington but I've called it Round 5 as it's the fifth match we've fished (hopefully that makes sort of sense!). After breakfast at the bowling club, it was time for the draw, starting with the anglers at Coombe before it was our turn. Everybody was hoping for peg 2 after Leighton had 53lb last match but before I even reached the bucket I saw Neil Purchase had already drawn it, I pulled out 18 which hasn't been very good at all so far and my drawing arm definitely needs fixing!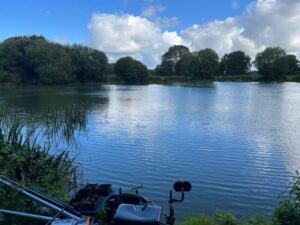 In the last round quite a few bonus fish had been caught on the feeder so my tip rod was in the car ready for its annual outing! I only set up a single pole rig for 13 metres and then a little Guru cage feeder on my 11ft N-Gauge rod. Leighton got us underway and I cupped in two balls of groundbait on the pole line before having ten chucks with the feeder rod to get some bait out there.
First put in on the pole, I missed a bite and then started catching small roach with the odd slightly better one around 2-3oz. It wasn't fast and furious by any means but with nobody setting the world alight in the early stages, I stuck with it. After ninety minutes I had 23 fish for a pound or so but when Les over on peg 7 struck into a decent fish on the feeder followed quickly by Bagger Burton on 6 and Bish on 10, I knew I was wasting my time with the pole.
Three dead reds were impaled on a size 14 hook and I chucked the feeder out and was poised like a viper ready to strike as I waited for my first bite. After half an hour and not a touch I tried two live maggots and had a little knock quite quickly which got me interested again. Les had another bream and then my tip flew round and I was into a decent fish which turned out to be a 2lb plus skimmer.
A second, slightly smaller fish followed quite quickly and thought I'd be in for a nice day. Les was catching really well, Bagger and Neil both had several big fish but everybody else was just getting odd roach and perch. I did miss a good bite when I looked away and the tip was bouncing but over the next couple of hours, apart from a tentative pull not a lot was happening for me but I couldn't see any point in doing anything else as I needed big fish.
Nick came round and said he was really struggling and reported that Parker 'The Pole' on 17 had lost several big fish (carp or chub) in the reeds. I tried unclipping and going further out, casting more regularly and just putting groundbait through the feeder but that exhausted my repertoire of feeder 'tricks' (well I don't do much tip fishing) and I didn't add to those two early skimmers. Five minutes from time, I did have a positive pull but missed it!
Leighton soon arrived with the scales and my fish went 4lb 13oz which I was sure wouldn't be any good today, 'The Pole' ended up with 4lb 4oz of roach and perch and then Dave P on 14 weighed 3lb. Nick chucked back on 13, Bish also had 4lb 13oz and then Les weighed a brilliant 28lb 15oz of mainly bream. Bagger's four carp had weighed 19lb 15oz and then Neil on 2 caught four bream on the feeder and a big chub on the pole for 12lb 10oz, Leighton weighed 3lb 6oz which was mainly one bream although he also lost several that were foulhooked.
Dillington
1 – Les Braunton (Sharp MG) – 28lb 15oz
2 – Ian Burton (Taunton) – 19lb 15oz
3 – Neil Purchase (Ilminster) – 12lb 10oz
4 – Steve Bishop (Sharp MG) – 4lb 13oz
4 – Jamie Rich (Against Men and Fish) – 4lb 13oz
Coombe Farm
1 – Frank Woodard (Ilminster) – 35lb 14oz
2 – Chris Norton (Stoke) – 26lb 12oz
3 – Jake Woodard (Ilminster) – 16lb 5oz
4 – Chris Haines (Haines Angling) – 15lb 12oz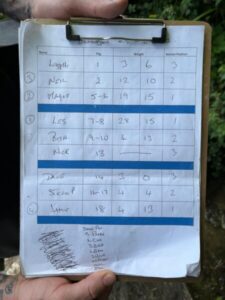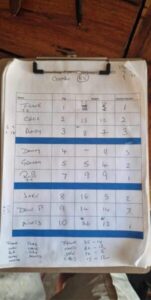 So the top three weights were excellent but then dropped right off and Bish and me were joint fourth picking up £7.50 each! I did win my mini section of three to score the all important one point for the league.
At Coombe, Frank had the top weight with a brilliant 35lb 14oz from peg 1 while Norts continued his great form with 26lb 12oz for second from peg 10 and Jake was third on peg 8 with 16lb 5oz.
Rob kindly donated a squid to The Nugget-O-Meter which now stands at a brilliant £330.
With one round to go, Norts now leads with 4 points with Bagger Burton a point behind and then there are four anglers on six points,
Chris Norton – 4 pts (dropping 2)
Ian Burton – 5 pts (dropping 2)
Jamie Rich – 6 pts (dropping 2)
Leighton Cox – 6 pts (dropping 3)
Jake Woodard – 6 pts (dropping 3)
Les Braunton – 6 pts (dropping 3)
Dave Pope – 7 pts (dropping 3)
Andy Saunders – 7 pts (dropping 3)
Nick Payne – 7 pts (dropping 3)
Steve Bishop – 7 pts (dropping 3)
Frank Woodard – 7 pts (dropping 3)
Rob Cox – 7 pts (dropping 3)
There's still a great offer running if you fancy treating yourself to some new fishing gear, use the exclusive discount code AgainstMenandFish10 to get 10% off when you shop online at Somerset Angling
Also I still have copies of my book available from eBay here or Amazon here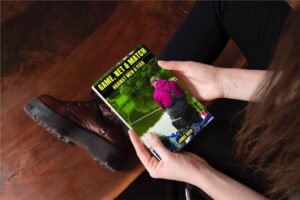 And if you could spare five minutes to leave a nice review on Amazon, it would be very much appreciated.
Next up – Revels
Coming soon – Lots more match reports
Check Out – My last match
#sponsoredpost #affiliatelinks