After two lovely matches I was back again for my third Tuesday on the trot along with Parker 'The Pole' and this week Nick joined us as well. The car park was already pretty full and the vehicles kept arriving, when it was draw time, there were 25 fishing (which apparently is their biggest ever turnout for a Tuesday open). It was great to see Big Al back fishing again and hopefully he's well on the way to recovery. The lakes being used today were Main, Canal and Middle but I've given up all hope of ever drawing on the latter!
When my name was called, Dean rummaged around in the bucket and pulled out peg 3 on Main for me, just one away from where I was last week and with peg 2 not in, I really fancied it. 'The Pole' got 63 on Canal, Nick was on peg 10 on Main and Glynn Wickham was my neighbour for the day on 5 while McKenzie was on Middle peg 60. Elsewhere, Steve Nadin was on 55 (Middle) and Andy Miller on 20 (Main), two brilliant silvers pegs and they'd take some beating today.
I set up a 0.4 gram float for two lines at 10 metres, a little 0.25 gram F1 Carbon Slim with spread shot to fish down the edge on a top kit plus a 0.2 gram Bobbie to fish shallow. The side tray contained the usual maggots plus some Bait-Tech Special G F1 Dark.
10:30 arrived and I fed all my swims with gb and maggots before kicking off on the top two, I had a roach first chuck and thought I'd be in another busy day. I missed a few bites before catching a nice 4oz roach but it wasn't really happening and in ten minutes, I only had two fish. It was hard going and I struggled up to 29 fish after an hour. It was a similar story for Glynn who had only caught a couple of skimmers.
The longer lines weren't great either with just the odd roach and the lack of skimmers was worrying. Albie who was up on Canal came down and said he was struggling and only had around 3lb of silvers, I said I probably had around the same (50 fish by this point). Glynn had switched to the dark side and was now fishing for carp. I did foul hook a skimmer on the drop which made me think they might be up in the water so I picked up the light rig and had a 6oz skimbob first chuck which made me think I'd cracked it.
Shipping back out, I laid the rig in and it buried, this was no skimmer though and a carp tore off before breaking me. I tried going past the feed with the deeper rig and once again, a skimmer has had it on the settle. By continuingly laying the rig in, loosefeeding and swapping between the two longer lines and going past the feed, I've caught quite well for the remaining hour and a half to end up with 94 fish on the clicker.
When the scales reached us, there had been some good silvers weights on Middle with Steve Nadin leading the way on 55 with 20lb 1oz followed by Adrian Hayes with 11lb 6oz and McKenzie with 9lb 8oz. On Canal it had fished quite hard, Bob Crispe was best silvers with 7lb 5oz from 66 and Albie had 6lb 12oz, Hugh was leading overall with 42lb 5oz from peg 69. Thanks to Revels for the photos*
Stu Woods was first to weigh on Main (peg 1) and had 28lb 7oz of carp, then it was me and I chucked back my two little pasties before my silvers went 11lb 7oz which put me second so far by an ounce! I didn't think it would last though as Nick said he'd caught small fish all day plus a bonus 2lb+ skimmer and Andy Miller had caught well on 20.
Glynn weighed 33lb 9oz of mainly carp, John Bass on 6 had a level 6lb of silvers and Neil Saxby went into the lead on 7 with 50lb 13oz, Mike next door had 16lb and then Rich Butler took over the lead with 55lb 14oz from peg 9. Nick was next and when he pulled his net out, it was going to be very close and when the digital display read 10lb 13oz, I was still hanging in there. Roy 'The Bomb' Worth on 11 had 36lb before the scales headed round to weigh the rest and I took my kit back to the car.
At the results, Rich won overall followed by Neil and then Alex Nadin on peg 21 with 48lb 7oz, as expected Andy Miller had done well on 20 with an excellent 19lb 1oz which put him second behind Steve N and I sneaked third place picking up £25, in what had been another really close match on both fronts.
1 – Richard Butler (Revels) – 55lb 14oz
2 – Neil Saxby (Revels) – 50lb 13oz
3 – Alex Nadin (Revels) – 48lb 7oz
Silvers
1 – Steve Nadin (Revels) – 20lb 1oz
2 – Andy Miller (Revels) – 19lb 1oz
3 – Jamie Rich (Against Men and Fish) – 11lb 7oz
Another really enjoyable day, loads of bites and the weights are always close, overall just 7lb separated the top three which is effectively a carp or two, then Big Al was just behind with 46lb 9oz and there were several other weights between 36lb and 42lb. In the silvers there was just a pound between first and second and only ounces between me, Adrian and Nick with McKenzie also not far off with 9lb 8oz.
There's still a great offer running if you fancy treating yourself to some new fishing gear, use the exclusive discount code AgainstMenandFish10 to get 10% off when you shop online at Somerset Angling
Also I still have copies of my book available from eBay here or Amazon here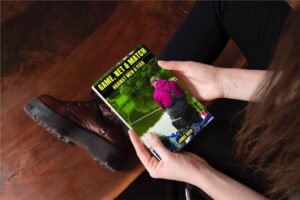 And if you could spare five minutes to leave a nice review on Amazon, it would be very much appreciated.
Next up – Acorn Fishery
Coming soon – Lots more match reports
Check Out – My last match
#sponsoredpost #affiliatelinks