Saturday and it was back to Acorn and Norts (Stoke AA's ex Club Angler of the Year) was looking forward to fishing it for the first time. After the usual breakfast stop we made the short drive to the fishery. Chris Fox announced the draw and it was back to drawing the same pegs for me when I pulled out number 1 again. I wasn't complaining though as I had an awesome day the last time I was on it. Nick was happy with peg 10 and Norts was on 19 which can be good for silvers.
I set up a couple of Preston Innovations F1 Maggots for lines at 10 metres, top kit plus two and plus one. On the side tray I had lots of maggots plus some Bait-Tech Special G F1 and Dark groundbait. At the all in I fed groundbait and maggots on all three lines before starting at 10 metres. There were carp everywhere and my long line was just a mess, my float wouldn't stay still and I was getting liners all over the place which resulted in several foul hooked carp and the first hour was basically a write off. It wasn't just me as both Gareth Boycott on 2 and Pete Z on my right on 34 hadn't had much at this early stage either.
I was going nowhere fast so started a new line at top kit plus three angled to the right and just toss potted in some maggots. My first bite resulted in a 12oz skimmer and I started getting a few fish, tench and more skimmers to 1.5lb. I was still loose feeding maggots on the other lines and had two decent leaping skimbobs from 10 metres before losing a flyer. That seemed to set the scene for the rest of the match, a few fish from a line before it went quiet and I'd have to try elsewhere.
I did have one leaper that went airborne and came off, I thought it had just slipped the hook but on closer inspection the rig had snapped halfway down! Carp were still being a real pain and numerous times during the day, I've been playing one and looked over at Pete who was in the same boat and we'd exchange head shakes and exasperated looks! Paul Faiers over on 15 was catching skimmers regularly but it looked like Norts had started fishing for carp.
Gareth was now bagging on carp as was Tom Thick over on 33 and thankfully he'd now pulled his shorts back down after hoisting them up to his chest earlier in the match, I should have taken a photo as it was a good look for Tom but this post would then have required an 18 certificate!
It turned out to be a very frustrating day for me and I never really got going, on the whistle I had 30 silvers which I knew wouldn't be any good. I ended up giving Brian Slipper a hand to do the weigh in and lifting up numerous bags of carp gave me a good work out and exposed how painfully unfit and weak I am!
John Mills (of Average Angler fame) on 31 had 168lb before Mr Thick once again showed his class on 33 (even with his shorts up round his neck!) to weigh a massive 310lb 10oz, Pete Z chucked back, Martin R on 36 had 176lb 6oz, peg 37 didn't weigh and then Kev Perry on 40 had 206lb including two lovely nets of tench he'd caught on paste for 56lb 12oz.
Onto the island, Rich Major weighed 160lb 12oz on peg 5, Mark Broomsgrove had 209lb 15oz, Brian S weighed 102lb 6oz on 3 and then after several weighs Gareth totalled a huge 260lb 12oz, my accidental carp net went 44lb 2oz and my silvers weighed 26lb 12oz which was still a nice days fishing but would be well off the pace today.
Back at the results and Phil Weaver had the top weight with a staggering 396lb on peg 9, the next best silvers weights after Kev were Paul Faiers with 37lb 15oz and Nick weighed 33lb 8oz, both great weights but like me neither had any of those big bonus tench (I reckon they were all in Mr Perry's swim!). Norts couldn't catch silvers and ended up fishing for carp to weigh 69lb 13oz and he said he'd really enjoyed his first visit.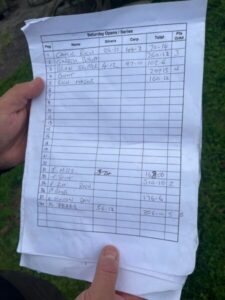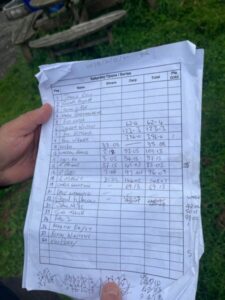 1 – Phil Weaver (Acorn) – 396lb
2 – Tom Thick (Tom Thick Baits) – 310lb 10oz
3 – Gareth Boycott (Acorn) – 260lb 12oz
4 – Mark Broomsgrove (Acorn) – 209lb 15oz
5 – Kev Perry (Acorn) – 206lb
Silvers
1 – Kev Perry (Acorn) – 56lb 12oz
The Nugget-O-Meter jumped to £337 as Nick and me put £3 in each for last Tuesday, today and tomorrow and Norts kindly bunged a squid in as well.
There's still a great offer running if you fancy treating yourself to some new fishing gear, use the exclusive discount code AgainstMenandFish10 to get 10% off when you shop online at Somerset Angling
Also I still have copies of my book available from eBay here or Amazon here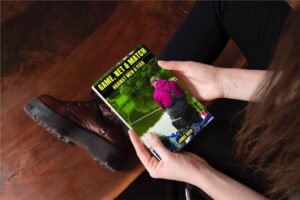 And if you could spare five minutes to leave a nice review on Amazon, it would be very much appreciated.
Next up – River Parrett
Coming soon – Lots more match reports
Check Out – My last match
#sponsoredpost #affiliatelinks