It was back to Parrett Works for this one and after a lovely breakfast at the Ranch, the 18 anglers assembled hoping to draw a good peg. My day started nicely when the Grand Wiz presented me with an envelope containing £35 for finishing third in Ruthie's Cup. On my personal wish list were the numbers 1, 5, 8, 9, 16, 28 and 29 (31 and 32 weren't in). As the usual scrum at the draw bucket ensued, Bagger Burton pulled out bunghole peg 16 then Nick got 28 so with the fliers disappearing fast I went for it and was dreading opening my fingers to see the result. When I summoned enough courage to have a look, I was over the moon to see I was on peg 8, one I've never fished before but it's been really good this year.
We could all park up close to our pegs and mine looked lovely, a big sweeping bend that is probably the biggest peg at PW, Nick Chedzoy was above me on 7 with Hainsey to my left on peg 9.
I set up two rigs, a 1 gram bodied float to fish on the right where there was a nice depth but plumbing up it was all over the place, getting shallower towards the overhanging branch and then a 0.5 gram DH16 for fishing across at 13 metres to the left of the little clump of reeds (in the middle of the photo above). Both rigs had size 18 Guru Match Specials to 0.10mm and number 5 Dura Slip elastic through the top kits.
We had multiple whistles today with Norts on peg 10 and the Grand Wiz on 5, it was like Stoke's version of 'Duelling Banjos'! Starting with single maggot on the heavier rig, I had a couple of gudgeon followed by some minnows so tried double maggot for a few more gobies and then a small roach which I hoped was a good sign at this early stage. Minnows began to be a pain so I put a caster on and couldn't get a bite from anything!
After a promising start where I'd caught about 10 gudgeon, a roach, a tiny dace plus minnows in an hour, I was now really struggling. Nick C above me had already caught several eels on chopped worm while Hainsey was busy emptying the river of it's minnow and gudgeon population and I was already pinning my hopes on some better fish putting in an appearance.
Back on the maggot I had a few more gudgeon and the obligatory minnows but it was fizzling out fast and I snagged up a few times. I tried running the lighter, shallower rig through but that wasn't the answer, I'd also been flicking some maggots down the peg but never had a bite there either. With around two hours gone, I'd reached the snookers required stage so buried the hook in a caster and held the rig back to the right.
After a few minutes the float slid away and on the strike, elastic streamed from the pole tip, it was in open water and not giving me too much trouble so I got back to the top two, unshipped and started stripping elastic from the pulla kit. A nice chub around 1.5lb came to the top but as I reached for the landing net, its dived into some snags to my right and it was solid. I vaguely prodded around with the net but to no avail and the fish had long gone – gutted!
That fish would have been a massive bonus and I was chuntering away to myself as I put on a heavier 0.12mm hooklength, thinking that might be my only chance and I'd blown it. Next put in, the float has gone and I was in again, this time I made no mistakes although it was a smaller 8-10oz fish (still very welcome though). No more bites so I tried maggot and had two more gobies but it was short lived.
A couple of better fish topped across by those reeds so I started flicking a few casters over, I changed top kits to one with yellow hydro before having my first look. After a minute or so, the float buried and another decent fish was on, it was trying to get under the far bank so I swung the pole round to the left and although wary of the 0.10mm hooklength I wasn't unduly worried and then everything went slack and it had snapped me. There were obviously some snags out there but I was seriously now losing the plot! I often say on the blog that my target weight on the Parrett is 3lb, catch that and you're pretty much guaranteed to frame, well I had a pound in the net and left 2.5lb in the river!
I've upped the anti again and this time put on a size 14 B611 to 0.14mm but would I get another chance? Bob Newbury turned up and said everybody he'd spoken to so far was struggling apart from Nick C above who now had five eels. No more indications at 13 metres so I went back to the right but felt like I was going through the motions. Then the float went and I was in again, this one snagged me briefly in the middle of the peg but thankfully came out and I netted a nice chub of a pound and a quarter.
Not long after, I've bumped a good fish and the caster has come back shredded, the next bite came from 13 metres and the chub went through the reeds, cutting off several in the process and then headed under the far bank. I thought I had no chance of getting this one out either but it started to come and I was really glad I'd upped the hooklength before netting another fish similar to the last one. I got another top kit out, this one with black hydro (which I should have done at the start) and with half an hour left, I was praying for another one but I'd had more than enough chances today and didn't add to my tally.
Norts and Chris D went to start the weigh with peg 1 so I went to get some photos, Cliffy had loads of minnows for 1lb 13oz, Mike G weighed 1lb 14oz which included two decent eels on peg 2, Mark D had 1lb 10oz and then the Grand Wiz had struggled for 13oz. Nick C on 7 had caught six eels (and lost two) for 4lb 8oz, a brilliant weight from that peg, my fish went 3lb 8oz and it should have been at least double that! Hainsey had well over 200 fish for a level 2lb, Norts weighed 1lb 9oz and Chris D was the last peg in our section and had 1lb 5oz.
Back at the results and Bagger Burton had the top weight from 16 with two chub plus several eels for 7lb 9oz, Nick P had done well on 28 to weigh 4lb 4oz for third place on the day, Dave P weighed 3lb to win that section and Rob Cox had 2lb 8oz with most of the better bags of fish containing bonus chub or eels. Photo credits – Nick Payne*
1 – Ian Burton (Taunton) – 7lb 9oz
2 – Nick Chedzoy (Stoke) – 4lb 8oz
3 – Nick Payne (Ilminster) – 4lb 4oz
4 – Jamie Rich (Against Men and Fish) – 3lb 8oz
Sections
A – Chris Haines (Haines Angling) – 2lb
B – Dave Pope (Stoke) – 3lb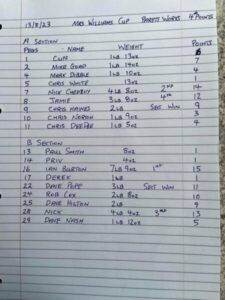 I picked up £30 for finishing fourth but was really disappointed with myself and I'm still having nightmares about those lost fish now, two days later! Thanks to pounds from Norts, Rob C and the Grand Wiz, The Nugget-O-Meter now stand at £340.
There's still a great offer running if you fancy treating yourself to some new fishing gear, use the exclusive discount code AgainstMenandFish10 to get 10% off when you shop online at Somerset Angling
Also I still have copies of my book available from eBay here or Amazon here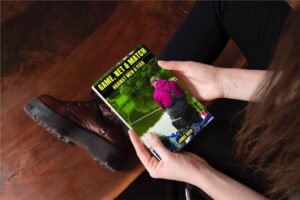 And if you could spare five minutes to leave a nice review on Amazon, it would be very much appreciated.
Next up – River Parrett
Coming soon – Lots more match reports
Check Out – My last match
#sponsoredpost #affiliatelinks