I was looking forward to getting back on Sellicks for the latest silvers open but had car troubles in the week, thankfully Nick came to the rescue and picked me up in the morning – cheers buddy. After a not so great breakfast at The Obridge (they've gone back to having a buffet rather than cooked to order) we headed to Bridgy. The usual Saturday suspects were in attendance and I have to also say a big thanks to Adie for bringing us on some bait, much appreciated.
The golden peg today was number 9 and it was still in the bucket when it was my turn to draw. I skilfully managed to avoid it but was over the moon to draw 17 on the far side, a brilliant silvers peg and Zooner won off it last weekend with nearly 20lb. Talking of Jess, he was next up to draw and pulled out the bonus ball. Nick was on 11 so I couldn't see him today and the next pegs to me were Mark S on 15 and Tom R on 20.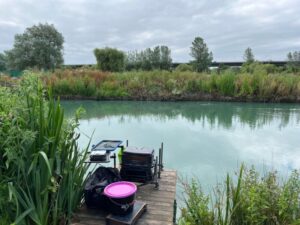 As I was setting up, the pond was flat calm and I set up my usual Guru 0.3 gram AR's and 0.2 gram Bobbies with spread Stotz but there was a fair bit of tow caused by the aerators. They would be turned off at the start but it takes a while for the pond to settle back down so I also set up a 4 x 12 Preston F1 Maggot with a bulk and two droppers which was a bit more stable.
On the whistle I fed groundbait (Bait-Tech F1 Dark) and maggots on a top kit line plus the same at 10 metres on two lines and also pinged some maggots across to the island. Starting short, I had an indication quite quickly but a foul hooked carp wasn't ideal, I did have a 3oz hybrid but after 15 minutes, that's all I had, so it was out onto the longer lines.
Swapping between the two 10 metre lines, I've caught well for the remaining 45 mins of the first hour and had three decent skimmers and some roach for about 3lb and if I could maintain that catch rate, I thought 18lb would be there or thereabouts today. Then typically, going into the second hour, I've gone from doing well to struggling. Mark next door was getting odd skimmers as was Tom and Rob B down on peg 22.
I'd only added a few roach (and was hooking the inevitable carp) but towards the end of hour two, I had a couple of nice skimmers to salvage a poor sixty minutes. The next couple of hours were steady with the bulk and two droppers rig definitely best but I did have a couple of fish on the strung out rig including a nice Bob Nudd.
After four hours I had my first look across at 13 metres and had a nice little run of roach and skimmers before carp began to be a pain. When I hooked three on the bounce, I spent the last hour swapping between the two 10 metre lines and had some nice roach along with a couple of decent skimmers. Just before the all out I hooked what felt like a good roach but it came off at the net, shipping back out, the float buried and a decent skimmer went airborne, it stayed on and a two pounder was a nice fish to end on. I finished up with 47 fish (skimmers, roach and one rudd).
I packed up and went round to watched the weigh in which started with Alex on peg 4, he had 5lb 4oz, Adie on 6 weighed 12lb 2oz, Jess had 9lb 6oz and then we got to Nick on 11 and his net had gone in! He retrieved it and said he didn't think he'd lost any fish as he'd caught three tench and they were still in there, his fish went 11lb.
Mark L on 13 weighed 5lb 13oz, Mark S to my right had 9lb 7oz, my fish went 18lb 13oz, Tom R had 6lb 3oz and Rob B was last to weigh and had some big skimmers on paste for 15lb which put him second on the day.
1 – Jamie Rich (Against Men and Fish) – 18lb 13oz
2 – Rob Birch (Summerhayes) – 15lb
2 – Adie Bishop (Summerhayes) – 12lb 2oz
So a really nice days fishing, I picked up £53 and squids from Zooner, Nick and me took the Nugget-O-Meter to £295.
There's still a great offer running if you fancy treating yourself to some new fishing gear, use the exclusive discount code AgainstMenandFish10 to get 10% off when you shop online at Somerset Angling
Also I still have copies of my book available from eBay here or Amazon here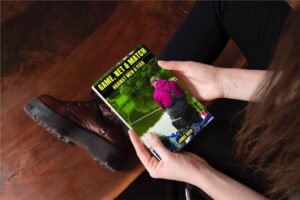 And if you could spare five minutes to leave a nice review on Amazon, it would be very much appreciated.
Next up – Summer league (Dillington)
Coming soon – Lots more match reports
Check Out – My last match
#sponsoredpost #affiliatelinks