Only one outing for me this weekend….. The Isle & Parrett Challenge Shield is always keenly contested and has now been running for five years, IAA are the current holders although we did only manage to fish the away leg (on the Parrett) last year.
After an excellent brekkie at the bowling club we headed to Parrett Works for the draw where the two elite teams of athletes faced off across the car park. Andy S (Team IAA) came fully prepared for battle and ready for the modest catches from the Parrett with a new landing net and jam jar keepnet combo.
Bob announced the draw and I delved in hoping to pull out one of the favoured pegs. I opened my fingers and the first number was 2, so I was in the second field but as I revealed the remaining digit, it was a 3, not what I wanted to see. I've really struggled on 23 the last two times I've drawn it, weighing 8oz and 2lb.
When I got there, the swim was actually cut out a little higher up between two trees and looked really nice. As I was setting up, there were a few fish topping below and above me and I was beginning to quite fancy it. On the side tray was the usual maggots, casters and hemp but I pepped up the casters with a few squirts from one of the new Bait-Tech Super Sprays. They're only small (and great value at £1.99) but pack a punch and smell great.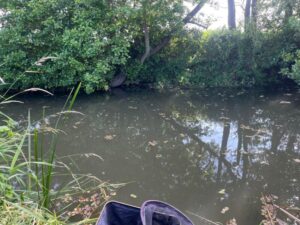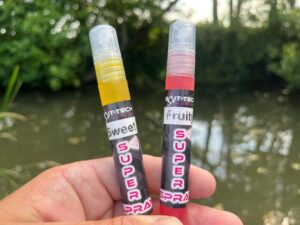 Andy S (and his jam jar) was within shouting distance on 24 with Rob W below him and Dave P was the next peg upstream on 17. The whistle got us underway and I started down the middle but after five minutes and only a couple of little knocks (from minnows?) I added another section. First put in with single maggot on the hook, a positive bite resulted in a chunky 3oz roach, next chuck the float sailed away and lots of yellow hydro came out before I netted a nice 8oz chublet. A fat gudgeon was next, then a couple of minnows so I tried double maggot and had a small roach followed by a cracking 6oz dace.
At this stage it felt like there were loads of fish in the peg but you know it's not going to last! I asked how Andy was doing and he said he was catching gudgeon and minnows. After my initial flurry, bites tailed off but I was still getting gobies along with another roach and two tiny little chublets. With around two hours gone, I probably had 1lb 8oz and was halfway to my usual 3lb target, the only trouble was now all I could catch was the odd minnow on maggot and couldn't buy a bite on caster.
I'd been feeding caster and hemp across (in the hole slightly on the left – see photo above) so picked up my heavier rig (0.14mm to size 16 Guru Kuranku hook) and went over with three maggots on the hook. I was getting lots of minnow knocks and then had a 2oz dace which was encouraging. Then a few minutes later struck into a better fish and before I could throw the pole back it had gone under or through a snag and snapped me! Gutted and I knew that was going to cost me.
Dave Pope came down and said it was fishing really hard with lots of people admitting to a pound apart from Mike Goad on peg 8 who'd caught some decent chublets. With sixty minutes to go, I chopped up some maggots and casters which I potted down the middle to have a go for an eel and spent the remaining time swapping between the middle and the far side looking for a bonus but never had a bite. I ended up with 19 fish (chublets, roach, dace and gudgeon) plus a few minnows.
The Grand Wiz and Norts (with his hand wrapped in a towel after a pole roller accident!) were doing the weighing and I walked down with them to assist and get some photos. Derek G (Stoke) on 32 had 5oz, Bagger Burton (Ilminster) on 31 weighed 1lb 2oz, Cliffy (Stoke) on 29 had 1lb 7oz and then Priv (Stoke) on 28 had 9oz.
Next was Rob W (Ilminster) who was another member of the walking wounded with tape round a finger after having a pole float harpoon it, he had 11oz. Andy S (Ilminster) emptied his jam jar which weighed 1lb 3oz and then my fish went 1lb 10oz. Dave P (Stoke) had 12oz, Norts (Stoke) weighed 1lb 3oz on peg 16 and then GWiz (Stoke) won our section with 1lb 15oz from peg 14.
Back at results and the other section had fished slightly better, Mike G (Stoke) had the top weight with 3lb 1oz, Nick P (Ilminster) was second with 2lb 2oz from peg 1, Dave Phillips (Ilminster) weighed 1lb 8oz, Neil P (Ilminster) had 1lb 6oz from peg 5, then Dave H (Stoke) weighed 15oz, Rob C (Ilminster) 10oz, Mark D (Stoke) 7oz, Parker 'The Pole' (Ilminster) 2oz and Bob N (Stoke) didn't weigh. Thanks to Nick Payne for the photos*
1 – Mike Goad (Stoke) – 3lb 1oz
2 – Nick Payne (Ilminster) – 2lb 2oz
3 – Chris White (Stoke) – 1lb 15oz
4 – Jamie Rich (Ilminster) – 1lb 10oz
Sections
A – Dave Phillips (Ilminster) – 1lb 8oz
B – Cliff Gaylard (Stoke) – 1lb 7oz
After the points were added up, the scores on the doors were,
Ilminster 68 pts – Stoke 61 pts
so we take a 7 point lead into the second leg but will it be enough?
I picked up £30 for fourth and £4 was added to The Nugget-O-Meter (thanks to a double squid from Rob Cox and pounds from Nick and me) and the total now stands at £292.
There's still a great offer running if you fancy treating yourself to some new fishing gear, use the exclusive discount code AgainstMenandFish10 to get 10% off when you shop online at Somerset Angling
Also I still have copies of my book available from eBay here or Amazon here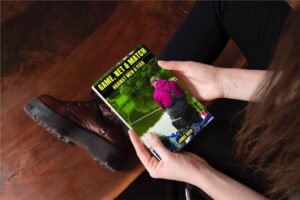 And if you could spare five minutes to leave a nice review on Amazon, it would be very much appreciated.
Next up – Summerhayes
Coming soon – Lots more match reports
Check Out – My last match
#sponsoredpost #affiliatelinks