On Sunday we were back at Summerhayes and it was a busy one with a club match on Sellicks, another on half of Longs and us on the other side (pegs 2-21). Todays golden ball was number 21 and Bill 'The Paste' pulled that one out, I was well happy with peg 20 again where I'd won the last match I'd fished here with 18lb 13oz of silvers. Nick drew 9 which is also a decent area and Terry 'The Toast' was next door on 8.
We were rather cosy on the bottom bank with every peg in which wouldn't do us any favours. The same rigs as last time were set up and on the whistle I fed my various lines before starting on the top kit. I was getting bites straight away but only from small roach and after an hour I probably hadn't caught a pound yet. It was already looking like being really hard, nobody around me was catching much and I thought 8-10lb would be a good weight today.
10 metres wasn't great either and I was just getting the odd tiny 1oz blade, loads of that fluff added to the fun and there were also plenty of carp mooching about trying to eat the white stuff and even my float. Roy up on 15 was catching small roach and the occasional skimmer on the waggler while Zooner on 13 kept me entertained as he tried to land a decent eel, which he finally did after several attempts!
After three hours and with very little in the net, I added the 13 metre section and went across to the island where I'd been feeding from the start but it was the same story with just a couple of small roach. Bill was now catching on the paste and in amongst several carp he had two decent skimmers while I was still really struggling.
Another look on the short line was fruitless so I decided to just sit on the 10 metre line, finally I hooked a nice leaper and when I added a second not long after, I began to think there was still a chance as it wouldn't take much to get in the frame today. Then disaster struck when I foul hooked a carp which went berserk and tore off, snapping the elastic in the process.
I thought I'd have to spend the rest of the match across but it hadn't improved so I plumbed up again at 10 metres, I did have two more decent skimmers but also pulled out of two as well and twice I've hooked fish that I thought might be perch or crucians but turned out to be 6-8oz carp! All in all, a very frustrating day and I wasn't too upset to hear the whistle.
After packing up, I went to watch the weigh in, Hollywood on peg 2 chucked back, Craig M on 3 weighed 66lb 8oz, Paul H had 43lb 8oz on peg 5 and then Terry on peg 8 went into second place with 64lb 12oz.
Nick was next and his 6lb 13oz was the best silvers weight so far, Baz B on 10 weighed 26lb 5oz before Martin A's excellent 91lb 5oz put him in the lead. Young McKenzie did well on 12 with 6lb 3oz of silvers and then Zooner weighed 2lb 6oz.
Roy had 5lb 14oz on 15, Glynn weighed 4lb 6oz next door and then Kev O had chucked back on 17. Rob W weighed 13lb 11oz and then Clive C on 19 had 19lb 8oz. I didn't bother with my carp and my modest silvers catch went 5lb 3oz, which wasn't actually far away on the day. Last to weigh was Bill and he was just short of framing with 63lb 7oz.
1 – Martin Addicott (Summerhayes) – 91lb 5oz
2 – Craig Morris (Summerhayes) – 66lb 8oz
2 – Terry Morgan (Ilminster) – 64lb 12oz
Silvers
1 – Nick Payne (Ilminster) – 6lb 13oz
2 – McKenzie Wickham (Summerhayes) – 6lb 3oz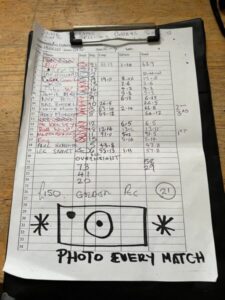 Although it's fished quite hard there were still lots of close weights. The Nugget-O-Meter now stands at £288 thanks to double nuggets from Nick and me for yesterday and today plus a squid off Zooner.
There's still a great offer running if you fancy treating yourself to some new fishing gear, use the exclusive discount code AgainstMenandFish10 to get 10% off when you shop online at Somerset Angling
Also I still have copies of my book available from eBay here or Amazon here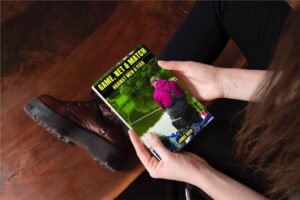 And if you could spare five minutes to leave a nice review on Amazon, it would be very much appreciated.
Next up – River Parrett (Stoke v Ilminster)
Coming soon – Lots more match reports
Check Out – My last match