This is the fifth year we've fished Bob's match (where does the time go?) and it's one I always look forward to as it's rod only and I rarely get the opportunity to fish the feeder these days. Most of us met at the bowling club for breakfast and were well looked after as always (thanks Charlotte).
The draw time arrived and I got Nick P to draw for Leighton (who was meeting us out the pond) and he got peg 7 which has been a good area and then he pulled out 18 for me. I must admit to being a little disappointed as I had the same swim last time I fished the pond and struggled for 4lb 13oz. That day I fished the feeder for most of the match and had two nice skimmers early on and then never had another fish.
The last two matches had been won with 25-28lb of skimmers and bream on the feeder so I decided on a one rod approach and would sit it out for bonus fish. So my Guru 11ft N-Gauge rod had it's second outing of the year. The rig was simplicity itself with a little plastic cage feeder, twizzled boom and Drennan size 14 pre-tied hooklength with a pushstop (which would be added after I'd fed at the start).
On the side tray I had dead maggots, casters, corn plus Bait-Tech Omen and Pro Nat Bream Dark. Getting us underway I had ten chucks to put some feed out there before hair-rigging a piece of corn and going straight over the top of it. I wasn't expecting much early doors and so it proved for me although Dave P on peg 14 flew out of the blocks with a lovely 2lb+ tench first chuck!
Over the next thirty minutes or so, I was getting the odd knock but no positive indications although odd better fish were beginning to show with Leighton and Neil P over on the far side both getting off the mark with nice skimmers. Despite Andy S on peg 3 having his casting restricted somewhat due to overhanging branches, he was doing okay and had landed a couple of net fish.
Forty-five minutes into the match and with nothing in the net, doubts were beginning to creep in but then the tip flew round and I was into my first fish which I played carefully before netting a decent 2-3lb skimbob. Things started to get interesting when I had my second fish with an hour and a quarter on the clock. By the sounds of it, some good fish were being hooked, Nick P on 16 had landed a big skimmer but also lost several chub in the reeds.
After catching those two skimmers in fairly quick succession, the next hour or so was uneventful and my concentration was beginning to wander, I was looking round the pond when my rod nearly got pulled in which rather grabbed my attention! As I picked the rod up, the fish snapped me (on 0.18mm!) so I'm pretty sure it was a carp and it felt like I'd just blown a massive chance.
Half an hour later I had a skimmer which settled the nerves a little, Norts came out for a walk and said there were a few people on three or four decent fish so I was still in the mix. Then while he was with me, the tip went round and I had another skimmer to put me on four with over two hours to go.
No more bites and I was toying with the idea of swapping hooklengths and fishing dead maggot or trying a window feeder but with nobody really catching (as far as I could tell), I really thought I'd get another fish doing what I was doing. With half an hour to go, I unclipped and went past my feed but it didn't work and I ended up with just the four fish. Andy was also on four with Leighton on three but then somebody said Dan Baldwin had landed two decent fish in the last half an hour.
I packed up and went round to do the weigh in, Mark R on 1 had chucked back, Steve 'The Rod' weighed 1lb 2oz and then Andy set the bar with 10lb 3oz. Terry 'The Toast' on 6 had three skimmers and some small fish for 8lb, Leighton's three went 7lb 1oz, Neil had two for 4lb 7oz and then Bagger Burton weighed 2lb 9oz on peg 9.
Nick V had fished the waggler for 5lb 4oz which included a chub, a skimmer plus some roach, Bish on 13 didn't weigh and then Dave P had that tench and a few bits for 2lb 11oz. Nick on 16 landed a chub to go with his skimmer for 3lb 15oz but had lost six chub! Les chucked back on 17 and then it was my turn, I hoped I had 10-12lb but my skimmers weren't as big as I thought and the needle registered 9lb 9oz which put me second with Dan the last person to weigh.
When he pulled his net out, it was obvious his would be the new name on the trophy this year, he had a big 3lb+ chub, four big skimmers, a few smaller ones plus roach and perch for 18lb 4oz and a comfortable win.
1 – Dan Baldwin (Colmic Somerset) – 18lb 4oz
2 – Andy Saunders (Sharp MG) – 10lb 3oz
3 – Jamie Rich (Against Men and Fish) – 9lb 9oz
Sections
A – Terry Morgan (Ilminster) – 8lb
B – Nick Veale (Haines Angling) – 5lb 4oz
Bob's daughter Eve and granddaughter came to present the trophy and also brought some lovely homemade sausage rolls for the anglers which went down very well.
£5 from the entry fee always goes to charity and this year Bob's family wanted the money to go to the RSPCA rescue centre at West Hatch. Chris Haines (who couldn't fish this year) very kindly donated a fiver via Nick V and then Les generously added another £5 to the pot taking the total to £80 which I sent across as soon as I got home.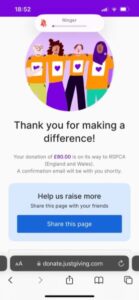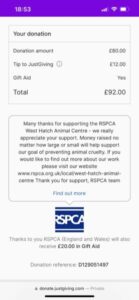 I picked up £40 for third place and although a bit disappointed I was relieved that lost carp hadn't cost me winning. Talking to Dan afterwards, he'd caught on dead maggots and had fished several lines which had me wishing I'd have at least tried a few different things during the last two hours. When you read articles by the top anglers they all say if you think it, you should do it and it would have only taken seconds to swap hooklengths.
The Nugget-O-Meter had a good day as well thanks to the Grand Wiz who joined us for breakfast and donated £5 plus £2 each from Nick and me saw the total rise to £383. 
There's still a great offer running if you fancy treating yourself to some new fishing gear, use the exclusive discount code AgainstMenandFish10 to get 10% off when you shop online at Somerset Angling
Also I still have copies of my book available from eBay here or Amazon here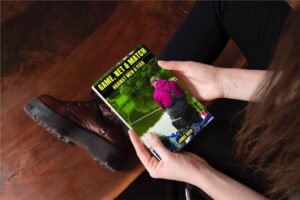 And if you could spare five minutes to leave a nice review on Amazon, it would be very much appreciated.
Next up – Acorn Fishery
Coming soon – Lots more match reports
Check Out – My last match
#sponsoredpost #affiliatelinks