Saturday was the final match in Chris Fox's summer series which Gareth Boycott had sown up with a match to spare. After breakfast we got to the fishery in good time and had a look round the now complete lake which brings the number of pegs up to 40 (I think!).
Chris announced the draw and after delving into the bag, I pulled out number 33 which is Bunghole Bob's favourite peg! It's a new one for me (I have been on 34 a few times) and as it's a bridge peg, I was hoping some of those big tench would be in residence.
I plumbed up two lines by the bridge at top two plus two and 10 metres followed by two more at the same lengths but angled to the right. A Preston Innovations F1 Maggot for the longer lines and a Drennan 0.4 gram Pencil for top kit plus two. Today's side tray contained several pints of maggots plus some Bait-Tech Special G F1 and Dark groundbait.
On the whistle I fed all the lines with a gb and maggots before starting on the right hand 10 metre line. I missed a couple of bites before foul hooking a carp which thankfully came off so I moved to the line by the bridge. After a few minutes I got off the mark with a little tench followed by a better one of a pound or so.
By swapping between the two longer lines after every couple of fish, the rest of the first hour was steady and I had 8 fish for around 5lb. Going into the second sixty minutes, Tom Thick, who was on peg 16, came for a wander to get a coffee and said he had around 15lb of silvers. I was up to around 9lb at this point, so already some catching up to do!
Rotating around all four lines, I was getting some decent skimmers and the odd tench, including a good one of 5lb+ although I was hooking more carp than I would have liked and also had two leaping skimmers slip the hook. With around an hour and a half left, I had between 25-30lb when Tom arrived after another coffee run and said he'd clicked 26lb in one net with a couple of small tench in the other, so it was close as we headed down the home straight.
I caught well for the remainder of the match and ended up with 49 fish which I thought would go around 43lb. After packing up, Tom was driving his van round to get his gear and stopped to ask how I'd done, he was admitting to 45-50lb. The scales round our side started with Patrick on peg 40 who'd caught some big tench for 37lb 2oz, Chad on 37 didn't weigh and Mark Birdseye on 34 had 109lb 14oz. I was next and my second net weighed 20lb 14oz before the first one went 26lb 9oz to give me a 47lb 7oz total which was a little more than I thought but I knew it wouldn't be enough.
Brian Slipper on 31 weighed 180lb 13oz after he'd gone over in two of his nets and was knocked back a few pounds. The scales then headed round the other side and I took my kit back to the car. Back at the results and Tom had weighed 49lb 5oz to win the silvers so it had been really close and of course my thoughts turned to all the fish I'd lost/bumped and bites I'd missed but Tom had lost fish too (and lets not forget he had a couple of coffee breaks as well!).
Overall, Gareth finished the league in style by winning yet again, this time with a huge 318lb 9oz from peg 5. Paul Faiers was second with 217lb 5oz from peg 7 and Mark Walsh on 13 was just 2oz behind in third place.
1 – Gareth Boycott (Acorn) – 318lb 9oz
2 – Paul Faiers (Acorn) – 217lb 5oz
3 – Mark Walsh (Acorn) – 217lb 3oz
4 – Graham Smith (Acorn) – 200lb 13oz
5 – Mark Broomsgrove (Acorn) – 181lb 10oz
Silvers
1 – Tom Thick (Tom Thick Baits) – 49lb 5oz
There's still a great offer running if you fancy treating yourself to some new fishing gear, use the exclusive discount code AgainstMenandFish10 to get 10% off when you shop online at Somerset Angling
Also I still have copies of my book available from eBay here or Amazon here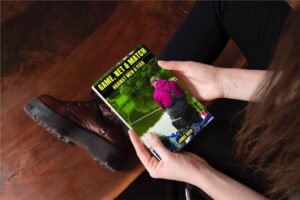 And if you could spare five minutes to leave a nice review on Amazon, it would be very much appreciated.
Next up – Ilminster v Stoke
Coming soon – Lots more match reports
Check Out – My last match
#sponsoredpost #affiliatelinks