I love the inter-club matches and competition is always fierce between the two teams of elite athletes. After the first leg on the Parrett back in June, Ilminster AA were taking a 7 point lead into round two which was being held on Dillington and Coombe lakes. We all met at the bowling club for breakfast before it was time for the draw, Rob called up the team captains, Dave Pope for Stoke and I somehow ended up in the role for Ilminster.
We both had little tubs with the names of our anglers in and would take turns drawing a name and then a number starting with the nine pegs at Coombe (where I was hoping to be). My drawing arm deserted me again and I ended up with peg 18 at Dillington (the same peg as in Bob's match). The pond looked nice and as per usual there were lots of decent fish topping out in the middle.
We'd had a bit of a frost overnight and when I got to my peg I could see the water was gin clear and thought it might fish quite hard with 10lb being a good weight. The last few matches have been won with skimmers, chub and the odd carp and I thought today would be no different. I'd really enjoyed Bob's match and did okay catching four decent skimmers for 9lb odd and third place but I lost a carp and was left feeling like I hadn't got things quite right on the day.
Speaking to match winner Dan Baldwin after the match, he'd fished dead maggots on the hook whereas I'd only fished corn even though I had maggots with me, secondly Dan had also fished several lines so he could rest swims and he'd used a 0.10mm hooklength (opposed to the 0.18mm I stuck with all day!)
So my Guru 11ft N-Gauge rod would come out to play again but I would also set the pole up (which I couldn't do last time) with a 0.4 gram Perfect Gloucester to a 0.10mm bottom and a size 18 Guru Pole Special hook. The feeder rig was virtually the same apart from a longer hooklength of 0.14mm to a size 14 B611. On the side tray I had red and white maggots, casters, disco pinkies plus Bait-Tech Pro Nat Bream Dark.
On the whistle I fed a single ball of groundbait containing a few pinkies at 13 metres before having five chucks on a feeder line angled slightly to the right and then ten chucks at the same distance to the left. In Bob's match I didn't have a bite on the feeder until around the 45 minute mark so today my plan was to fish the pole to try and put something in the net for the first hour or so.
Starting on the pole with double pinkie on the hook, the float settled and went straight under but I missed it. Lowering the rig back in, it's gone again and a little roach got me off the mark. It was a bite a chuck from small roach, perch and the odd Dillington barbel. Trying double maggot resulted in a couple of chunky 2-3oz perch which I landed to be sure. I could get bites on caster but was missing most and the stamp of fish was no bigger so I stayed with maggot.
From what I could see round the pond, people on the pole were getting some small fish but I hadn't seen anyone catch on the feeder yet so while I was still getting bites, I decided to stick with the pole. With an hour on the clock I had around 20 fish for a pound but bites were beginning to slow up a bit. Then out the blue, the float buried and lots of elastic appeared from the pole tip, initially I thought I'd hooked a chub but as I shipped back I could see it was a nice hybrid before netting a decent fish around 10-12oz, a nice bonus.
Chris Haines, who was on 16, went to get his waggler rod from the van and said he was struggling although Derek G between us was catching small fish and had around 1.5lb. Big Frank over on peg 7 landed a decent skimmer on the feeder and with my bites dwindling, all I could catch was tiny little waspy perch so it was time to have a look on the feeder.
Starting on the right hand line with three dead reds on the hook I was going to have 10-15 minute chucks. I was getting knocks straight away and missed a bite, on the next cast I had a positive pull round but bumped it on the strike. No more indications over the next twenty minutes so I switched to the left hand line. A decent 2lb skimmer first chuck was a good sign and I added two more quite quickly but also pulled out of one.
I decided to leave that line for a bit so went back to the right and gave it half an hour but no bites while Frank had a couple more skimmers which I think put him on three. The rest had done the left hand swim some good as a savage bite saw me land another good skimmer. I was getting regular bites, landing a couple more but also rather annoyingly, pulled out of another. It felt like there were a lot of fish there and I could see blows coming up.
Apart from the two bites I had on the right hand swim early on, I hadn't had any since although it felt like I had to keep trying it, even just to rest my main line. I was just about to come off it again when the tip wanged round and once again I thought chub but it was a hybrid about the same size as the one I had on the pole. That warranted another chuck and the next bite resulted in a big 3lb skimmer.
Andy Saunders on peg 5 landed a skimmer on the pole and apart from Frank, the only other big fish I'd seen landed was a carp by Nick Veale up on peg 23 although I couldn't see how Cliffy on peg 1 or Parker 'The Pole' and Terry were doing to my left on pegs 20 and 21.
Going into the last hour, I was back on the left hand line but things had slowed up and remembering the last match where I wished I'd tried some different things and didn't, I was rummaging through my little tub of feeders (not that I've got an extensive selection mind!) and was going to try a little window feeder when the tip has pulled right round and I was into another skimmer. So I ended up not trying a different feeder yet again and that was my last fish.
Just before the end, I saw loads of yellow hydro out in Steve's swim and he did well to land a carp on light gear. I finished up with 39 fish (8 decent skimmers, 2 hybrids plus roach, perch and gudgeon). After packing up I went round to start the weigh in with Cliffy (Stoke AA) who had 13oz of roach and perch and then Jake (Ilminster AA) on peg 2 had four big skimmers plus small fish for 15lb 7oz and I hadn't seen him catch much all day!
Andy S (IAA) on 5 had a skimmer and bits for 2lb 11oz, Frank (IAA) weighed 5lb 12oz, Richard P (SAA) on peg 8 had 1lb 1oz of small fish and then Leighton (IAA) weighed 2lb. Danny B (SAA) on unlucky peg 13 struggled for 9oz, Rob W (SAA) next door weighed 2lb 8oz and then Chris H (IAA) on 16 had 2lb 7oz but had lost a chub.
Derek G (SAA) weighed 2lb 4oz and then my fish went 20lb 13oz, Parker 'The Pole' (IAA) had a carp assisted 5lb 5oz but had lost two, Terry 'The Toast' (SAA) weighed 5lb 14oz which was two decent skimmers and bits and then last to weigh was Nick V (SAA) who had a carp plus some small fish for 4lb 13oz and had also lost a carp.
Back at the bowling club for the results and the fishing had been tricky for some at Coombe but there were still some good weights recorded. Roy Worth (SAA) won the lake and was top individual overall with five carp for 26lb 1oz from peg 1, Ian 'Bagger' Burton (IAA) was second with 21lb 15oz from peg 5, Norts (SAA) weighed 18lb 2oz for third, Dave Phillips (IAA) had 9lb 5oz, Mike G (SAA) weighed 6lb 2oz, Neil P (IAA) had 4lb 8oz, Rob Cox (IAA) weighed 4lb 3oz, Priv (SAA) had 1lb 12oz and Dave Pope (SAA) didn't weigh. Thanks to Rob Cox for the photos*
1 – Roy Worth (Stoke) – 26lb 1oz
2 – Ian Burton (Ilminster) – 21lb 15oz
3 – Jamie Rich (Ilminster) – 20lb 13oz
4 – Chris Norton (Stoke) – 18lb 2oz
5 – Jake Woodard (Ilminster) – 15lb 7oz
Sections
A – Frank Woodard (Ilminster) – 5lb 12oz
B – Dave Phillips (Ilminster) – 9lb 5oz
After the points were added up, the scores on the doors were,
Ilminster 167 pts – Stoke 132 pts
which added to the points from the first round meant Ilminster AA retained the shield for another year with 235 pts to Stokes 193 pts.
With £2 each from Nick P and me (for yesterday and today) plus pounds from Rob Cox and Norts, the Nugget-O-Meter climbed to £389.
I had a nice pick up of £60 for finishing third overall and I've really enjoyed fishing the feeder again today, of course it's easy to say that when you've sat on a few and had plenty of bites but I felt I fished a half tidy match, although I probably should have gone on the feeder a little earlier.
So another great inter-club match and I have to say a big thank you to Rob Cox for doing a brilliant job of organising, Charlotte at Ilminster Bowling Club for looking after us all and to our great friends at Stoke AA, it's always a pleasure to fish with and against you.
There's still a great offer running if you fancy treating yourself to some new fishing gear, use the exclusive discount code AgainstMenandFish10 to get 10% off when you shop online at Somerset Angling
Also I still have copies of my book available from eBay here or Amazon here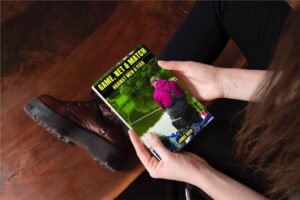 And if you could spare five minutes to leave a nice review on Amazon, it would be very much appreciated.
Next up – Revels
Coming soon – Lots more match reports
Check Out – My last match
#sponsoredpost #affiliatelinks