It was back to Revels on Tuesday and it certainly feels like winter's on the way now as it's quite chilly in the mornings. After meeting Parker 'The Pole' for breakfast we made our way to the fishery. 18 anglers booked in today and we were on Main and Dead Tree lakes. Jason and Dean got the draw underway and after being on some nice silvers pegs recently, I was sure I was due a bad one. Steve got peg 14 which is a carpy island peg and then my name was called out and I couldn't quite believe it when Dean pulled out number 20, probably the best silvers peg on Main and my favourite swim!
The water was gin clear and although there were quite a few fish topping, I thought it might be difficult today, in last weeks match, 9lb had won the silvers from peg 4. I set up a little 0.25 gram F1 Carbon Slim with spread shot to fish a top kit to hand and a 0.2 gram Bobbie for a line at 11.5 metres and also to fish past the feed at 13 metres. The side tray contained lots of red maggots, disco pinkies plus some Bait-Tech Special G F1 Dark.
Dave Stanbridge was on 21 and got the match started with his loudspeaker/siren combo! I cupped in a little loose groundbait with a few pinkies on the top kit swim to the right and then a single ball on the longer line. Beginning short, I hadn't had a bite after ten minutes (much like the last match) but then a fish topped on the inside to my left. I flicked the rig in and it went straight under with a gudgeon the result. Five in as many chucks before I hooked a slightly better fish that came off and that killed it.
Back on the right, I started getting bites from little perch with the odd better one of 3-4oz plus a couple of roach. Dave was catching silvers quite well and had landed several nice skimmers. Swapping between the two short lines I was getting regular bites without really bagging and also landed my first carp around 3lb. After an hour I had around 30 fish for probably 2lb but it was starting to slow and I only managed another 13 fish over the next 45 mins and was dying to get out on the longer which I'd topped up with a little nugget of groundbait.
Shipping out to 13 metres, I toss potted in a few maggots and I was expecting a bite first chuck but that didn't happen. Eventually the float has gone under I shipped back carefully before netting my first skimmer, a decent fish around 12oz. A couple of roach, a small perch and then another skimmer followed and I honestly thought I'd be in for a nice steady day. Of course, I then couldn't get a bite!
Going past the feed resulted in a pound skimmer but it was a one off, double pinkie saw me catch a roach first chuck but I just couldn't seem to string two fish together whereas Dave was regularly catching roach along with the odd skimmer. Dropping back in on the short lines, I had a couple of small perch but also hooked a rather large, wobbly carp that snapped me.
I did manage a couple more skimmers from the longer lines but carp were being a right pain much to Stu Woods amusement over on peg 7. After hooking two in as many chucks, I had another look short and first put in, had a nice 6oz roach, then pulled out of one before catching another. Any thoughts of a late run of fish soon dissipated when I was into another carp that led me a merry dance before I was reaching for the hooklength box again.
I tried feeding another line at 8.5 metres but never had a bite there and rather limped to the finish line where I ended up with 74 fish (roach, perch, skimmers and gudgeon) plus 3 carp. Averaging around 1.5oz apiece I thought I might have 7lb-7.5lb while Dave was admitting to 8lb.I took some of my kit back to the car before going to see how Steve had done, he'd caught 4 carp and a few silvers so it could be close for the nugget.
When the scales got to him, a quick look at the board revealed Andy Miller was leading overall with 51lb from peg 41 on Dead Tree and Paul Wyatt had the top silvers weight so far with 7lb 13oz from peg 6 followed by Big Al with 7lb 5oz from 48 and I wasn't sure I had that. Steve's carp went 11lb 2oz and his silvers added 1lb 1oz. Adrian Hayes on 16 had a 14lb carp in his 48lb 1oz which put him in third place with just two pegs to weigh. Thanks to Revels for the photos*
I was next and my carp weighed 12lb 9oz so at least I'd won the nugget off Steve and then my silvers went 8lb 9oz which put in the lead, it didn't last long though as Dave had a nice net of silvers for 10lb 1oz. Thanks to Rich Butler for the photos**
1 – Andy Miller (Revels) – 51lb 11oz
2 – Alan Winsper (Alan's Angling) – 49lb 3oz
3 – Adrian Hayes (Revels) – 48lb 1oz
Silvers
1 – Dave Stanbridge (Revels) – 10lb 1oz
2 – Jamie Rich (Against Men and Fish) – 8lb 9oz
3 – Paul Wyatt (Revels) – 7lb 13oz
I picked up £30 for second in the silvers and it's always close weights, just 3lb separated the top three weights overall and in the silvers there were four weights between 7-10lb, really nice fishing.
Parker 'The Pole' and me had a pound on overall weight so I added the £2 to the pot which takes the Nugget-O-Meter total to £391.
There's still a great offer running if you fancy treating yourself to some new fishing gear, use the exclusive discount code AgainstMenandFish10 to get 10% off when you shop online at Somerset Angling
Also I still have copies of my book available from eBay here or Amazon here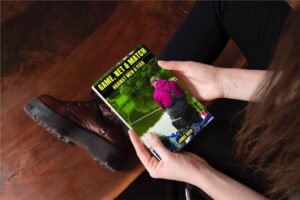 And if you could spare five minutes to leave a nice review on Amazon, it would be very much appreciated.
Next up – Acorn Fishery
Coming soon – Lots more match reports
Check Out – My last match
#sponsoredpost #affiliatelinks