The first time I fished Acorn was this match last year and I absolutely loved it (if you haven't seen that report it's here), it was held in December and being colder the weights were fairly modest and carp weren't too much of a problem. This year it was a little earlier and with the weather still very mild, the silvers weights would be better but there was also a very good chance we'd be hooking plenty of carp too!
Nick, Parker 'The Pole' and me had breakfast before arriving at the fishery in good time to get bait along with some bits and bobs from the shop. 27 booked in for today, a fantastic turnout with loads of brilliant silvers anglers including Des, Stu White, Nigel Bartlett, Gabe Skarba, Martin Rayet (last years winner), Kev Perry and Tom Thick to name just a few.
The draw was announced and everybody started delving into the bag hoping for a good one, I really fancied number 40 but it had already gone by the time I got there, although I was over the moon to pull out 38 which would have been my second choice. A certain Mr Shipp was on my right, so no pressure then! Nick had drawn peg 10 and 'The Pole' was on one of the newly reinstated swims (peg 30).
I set up a Preston Innovations F1 Maggot for 10 metres, a Drennan 0.4 gram Pencil for top kit plus two lines angled left and right plus a little 0.3 gram Guru F1 Carbon with strung out shot. The side tray contained several pints of maggots plus some Bait-Tech Special G F1 and Dark groundbait.
On the whistle I fed groundbait and maggots on all three lines before starting at 10 metres with single red maggot on the hook. I was expecting a slow-ish start but after a couple of minutes, the float sunk from view and shipping back carefully, I netted a nice pound skimmer. Next put in I foulhooked a carp which came off and then had another skimmer. At this point I thought I was in for a lovely day but then every indication resulted in a carp tearing off although most weren't hooked in the mouth! I also came back with a little green scale on the hook after losing a fish so there were some tench around.
It wasn't just me though and nobody including Des was catching much, Rod on 40 had landed a couple of nice tench but was also hooking quite a few carp. After an hour, I still only had two skimmers so had my first look on the shorter lines, nothing on the left but the right yielded a skimmer followed by a tench of a pound or so but it was short lived.
The long line was fizzing like crazy but I was still having problems foulhooking fish, mainly carp but I did land a big 4lb tench hooked in the pectoral fin. I must admit, I'm never overly sure how to combat foulhooking problems, I was only toss potting in maggots on the line I was fishing while loosefeeding the other two. My float was dotted right down and I was striking at lots of indications so I removed a number 12 and then waited for a 'proper' bite which helped to a certain extent.
Although I wasn't catching loads of fish, I was getting some lovely tench up to 5lb+, despite quite a few skimmers topping (as well as loads of carp), I'd only had three and hadn't had a roach or perch yet! As far as I could see there were loads of carp being hooked but nobody was really bagging on silvers, Des was catching roach and skimmers but so far hadn't had any of the big tench.
I kept trying the two shorter swims which I was expecting to come good but they were really disappointing and I only managed one more skimmer from the left hand swim. Resting the 10 metre swim worked well though and would result in a couple of tench every time I went back on it. I thought I was doing okay compared to those around me but then the last hour was a complete flop. There were still loads of blows coming up on the longer line but every fish I hooked turned out to be a carp even though I would have sworn blind a few of them were tench right up until I netted them.
On the whistle I'd ended up with 26 fish (4 skimmers and 22 tench) and a few people said I'd probably won it although Nick said Dave Manning next to him had caught well and Eddie over on 22 had been admitting to 20lb early on.
The scales started down on the new bit and I caught up with them after they'd worked their way round the far side, Eddie was the top weight so far with 36lb 1oz of tench. Dave M on peg 9 had some big tench plus decent skimmers for 57lb 5oz and I knew I didn't have that. The best weight on the island was Glenn Calvert (peg 4) with 19lb 15oz and then Rod on 40 had 21lb. Photo credit – Acorn Fishery*
I was next and my two nets added up to 51lb 9oz so it was quite close but I needed a couple more fish and then Des was the best weight in the remaining pegs with 19lb 11oz.
1 – Dave Manning (Acorn) – 57lb 5oz
2 – Jamie Rich (Against Men and Fish) – 51lb 9oz
3 – Eddie Wynne (Acorn) – 36lb 1oz
Sections
A – Glenn Calvert (Acorn) – 19lb 15oz
B – Tony Ponting (Acorn) – 14lb 2oz
C – Tom Thick (Tom Thick Baits) – 16lb 5oz
D – Rod Dufferty (Acorn) – 21lb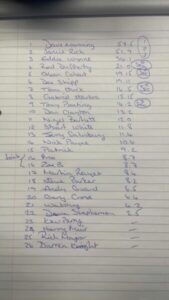 I had a nice pick up of £90 with the super pool plus a bucket of Sonu Bait goodies but I must admit I was a little gutted at finishing second as I'm sure mine was a possible winning peg today. I'd pulled out of a few fish and missed bites but in that last hour I could have started a new line or tried a strung out shallower rig (I had one set up) rather than just sit there waiting for another tench.
It might be me being a little harsh on myself because if I'd been offered a great days fishing and finishing second in the company of so many fantastic silvers anglers in the morning, I'd have snatched your hand off!
On the day, the peg fees were donated to charity and I think in total, £280 was raised which is fantastic.
Nick and me both stuck £2 in the pot for today and tomorrow which takes the Nugget-O-Meter total to £395.
There's still a great offer running if you fancy treating yourself to some new fishing gear, use the exclusive discount code AgainstMenandFish10 to get 10% off when you shop online at Somerset Angling
Also I still have copies of my book available from eBay here or Amazon here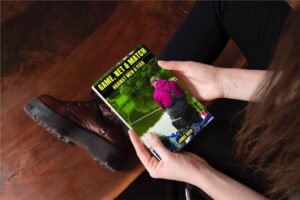 And if you could spare five minutes to leave a nice review on Amazon, it would be very much appreciated.
Next up – Ash Ponds
Coming soon – Lots more match reports
Check Out – My last match
#sponsoredpost #affiliatelinks