Sunday it was back to Summerhayes but on Longs this time, Nick and me had a lovely brekkie at the bowling club (thanks Charlotte) which set us up for the day (unlike yesterdays effort!). 17 fishing and the golden peg today was number 26, I got called up to draw and only pulled out the bonus ball again! It's towards the bottom end of the track and a decent area for silvers although I never seem to do very well from there.
Rob B was on 24 and then to my left Nick was on 28 with Roy the next peg to him on 30 so four silvers anglers in a row which wouldn't do us any favours. Zooner had drawn 19 on the bottom bank which is probably my favourite peg on Longs and Alex was on 12, another area I really like. Longs has been tricky of late for silvers and I thought 8-10lb would be a great weight today.
The rigs were the usual Guru 0.3 gram AR's and 0.2 gram Bobbies while the side tray contained loads of maggots plus some Bait-Tech Special G F1 Dark. On the whistle I fed all my lines before starting on a top kit to my right, I normally give it at least ten minutes but nearly straight away there was a rather large tail (which looked very carp-like) waving at me so I went out to the 10 metre lines.
It was very slow going but eventually the float's gone and I netted a 4oz skimmer, with an hour gone I'd only added two more and my target weight was looking a long way off! To be honest the second hour was a bit of a nightmare and I was struggling to get the bait through the motherless minnows and tiny roach. Nick was having similar problems although Roy was fishing across and netting fish on a regular basis.
Carp were also being a pain so with around half the match gone and very little in the net, I've gone on the 13 metre line but it was just more of the same, small roach taking the bait and most bouncing off on the strike. Rob was fishing paste and although he'd landed a couple of better skimmers, he'd also had a few leapers come off.
Roy was still catching well and out of sight so with around two hours to go, I decided to target the small fish instead of trying to avoid them and fed a new line at top two in front of me. It was a bite a chuck from little roach along with the occasional 2oz skimbob, better roach and even a couple of chunky rudd. It was fairly short lived though and I was soon back to waiting for bites and all the bubbles coming up suggested carp were the reason why.
After hooking a few more carp, I was basically just going through the motions when out of the blue I struck into a better fish and decent skimmer went airborne. A little 2oz skimbob followed and then one of 12oz but any thoughts of a heroic comeback and golden peg win soon dissipated as it was back to hooking carp. Rob threw back and headed off with half an hour to go, as he said goodbye, my float shot under which resulted in another skimmer taking off and that was my last fish.
The scales started with Jim on 38 who set the pace with 82lb 1oz, Chris Whitham (fresh from his Champion of Champions win) did well again with 75lb 13oz on peg 1. Bob weighed 43lb 3oz on peg 4, Kev on 7 had 63lb 7oz and then Mark L weighed 43lb 6oz on peg 10.
Then Alex on 12 went into the silvers lead with a brilliant 15lb 10oz, Roger C on 14 had 24lb 10oz, and Geoff Young weighed 40lb 6oz on 17. Zooner was next and when he pulled his net out it was going to be very close and he went into second place in the silvers with 15lb 2oz (and got his nugget back from yesterday).
Bill 'The Paste' did well on 21 to go into second spot with 105lb 10oz, Rob had gone and then my silvers went 8lb 9oz, Nick had 6lb 12oz and then Roy had lots of small fish for 9lb 9oz. Lee S on 32 weighed 50lb 13oz, Ian chucked back on 34 and then last but not least was Martin A on 36 who took top spot with an excellent 140lb 4oz.
1 – Martin Addicott (Summerhayes) – 140lb 4oz
2 – Bill Hopping (Summerhayes) – 105lb 10oz
2 – Jim Jenner (Summerhayes) – 82lb 1oz
Silvers
1 – Alex Kerr (Summerhayes) – 15lb 10oz
2 – Jess Jordan (Summerhayes) – 15lb 2oz
A disappointing day for me, it actually fished better for silvers than I thought it would but I was miles away today and I'm not even sure how I would fish it much differently next time! Nick and me added a pound each to the Nugget-O-Meter which now stands at £374. 
There's still a great offer running if you fancy treating yourself to some new fishing gear, use the exclusive discount code AgainstMenandFish10 to get 10% off when you shop online at Somerset Angling
Also I still have copies of my book available from eBay here or Amazon here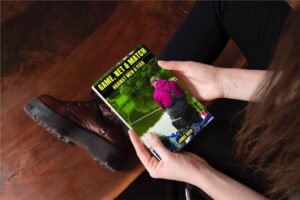 And if you could spare five minutes to leave a nice review on Amazon, it would be very much appreciated.
Next up – Revels
Coming soon – Lots more match reports
Check Out – My last match
#sponsoredpost #affiliatelinks