All week it had been really arctic and bitterly cold and even though the wind had dropped, I knew this match wasn't going to be much fun. At the pub there were only six of us fishing and Robin had pegged us all at Upper Coxes. The only pegs I fancied were 14 and 15 and when Rob announced the draw I dived straight in and pulled out 15! It was also a golden peg and I fancied it for a few fish as Heardy had won off it a few weeks back with 4lb 6oz (mainly trout).
I got to my peg and the river was painfully low and clear but I still thought I'd catch. I set up a 1.5 gram Carbo and plumbed up to find a nice deep hole in front with the peg shallowing up towards the tail of the swim. I decided to feed two lines, one across in the deep water where the flow comes back on itself and also in the flow under my feet. With this being the penultimate match in the series I needed to avoid the blank and started on double maggot to try and catch a minnow.
After ten minutes I started to get knocks and put a couple of minnows in the net, job done, now for the proper fish. I couldn't get a bite on caster or half a lobbie on either line and after an hour I knew it was going to be rock hard. Justin and Robin walked up and Robin had a few minnows from peg 18 but Justin was blanking and they said Neil only had minnows on peg 17 and Heardy on 24 had the same. Fieldy then walked down from 14 (the tank traps) and he hadn't had a bite yet! This really was going to be hard. Justin said that when Martin had it he caught his fish just off the flow on the inside.
I tried this for a bit but had no indications, I went back across with double maggot and fished for minnows for an hour and after about dozen, got bored and went back to bigger baits and catching nothing. I was convinced that at some point a proper fish would have a go but the time was ticking on. With about an hour to go, Robin turned up again and said he had caught some more minnows but nobody had caught a silver fish yet. With that Fieldy walked by with his kit, he'd had enough so at least I was guaranteed two section points.
The last hour I spent with lobbie and double caster in the flow, convinced a trout or two had to be there. In the back of my mind I kept thinking I should be fishing for minnows but I couldn't bring myself to do it and surely somebody would hook a chub, wouldn't they? The match ended and all I had to show for a torturous five and a half hours was a few minnows. I packed up and hoped that not fishing for minnows hadn't cost me. I met up with Neil and Robin by the bridge and they'd both just caught minnows and Robin said if Martin only had minnows as well the only fair way to decide it was to count the fish. I wanted to weigh as I had some quality minnows!
We walked down to Martin and on the way we passed Justin's empty peg (he'd had an early bath too). Heardy had lost a foulhooked chub but only had minnows in the net. He pulled his net out and started counting, he finished with 44 minnows for which we gave him 11oz (four to the ounce!). Next up was Robin and when he got to 40, we knew it would be close but the final tally was 43 and despite searching all the corners of his net he couldn't find anymore. Neil had 24 minnows and a tiny stickleback, I was pretty sure I didn't have 25 and was now really regretting not getting my head down for the minnows as I reckoned I could have won it – bugger.
I pulled my net out and as I was tossing the fish back, it became clear this could be close, I finished two poxy minnows short on 23. I had a monster minnow too and Robin wouldn't let me count it twice! A truly awful day and the first time I can ever remember a match where not a single siver fish was caught. On the league front, Martin still leads with a perfect 5 point score followed by Neil on 6 and me on 11. I can't catch Martin and the only chance of catching Neil is if he blanks on the last match.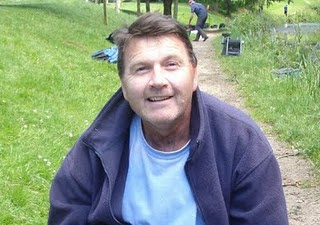 Minnow bagger and match winner – Martin Heard
1 – Martin Heard (Tiverton) – 11oz
2 – Robin Cox (Ilminster) – 10oz
3 – Neil Dring (Ilminster) – 6oz
Next week there's a Crown match and I really hope it warms up and we get some rain because I don't think I can face another day like that!