After a week of wicked frosts, this match had all the potential for being a real grueller and despite Robin winding me up all week about it being on the pond, we were on the river. We hadn't had a frost overnight and with it being overcast the temperature wasn't too bad either, perhaps it would be better than I anticipated?
I got to the pub and it was the usual eight fishing, Robin had pegged two at North Bradon, three at Redbridge (for the first time this season) and three at Isle Brewers. With peg 125 not in, everybody wanted to draw 125a as you can run a float down into 125 and I fancied this to be the winning peg today. Graham Field went in first and pulled it straight out, he really ought to do the lottery! Seizing my chance I went in next and pulled out 123 – great! It had been throwing up the odd weight before Xmas but has been rank the last few times it's been in. Looking on the section boards I actually had the choice of 122 or 123 and Robin reckoned I should fish 122.
I walked past Graham on 125a and Justin on 124 and stopped at 123, without a lot of time I decided to fish it, without looking at 122 (big mistake!). I set up the usual Carbo and plumbed up around the peg, there was a nice depth although there wasn't as much cover as there used to be, which I'm guessing has been scoured out by the floods. I started on double maggot to try and catch a minnow, it was hard going and even at this early stage I just knew I was going to struggle. I persevered with maggot and was eventually rewarded with four tiny roach and a couple of minnows. I tried caster and lobbie but had no indications. Justin turned up after an hour and he hadn't had a bite yet!, he said Fieldy had caught a few without really bagging.
To be honest even at this early stage I was out of ideas and couldn't see me catching anything substantial. The highlight of the day was when David and Roger Tolman turned up, I haven't seen either of them for more years than I care to remember. David was one of my best friends when I was younger and his dad Roger used to take us all over the place fishing as he was a keen angler too. We had a good old natter and they're both keen on starting fishing again, I hope they do as it would be great to see them on the bank again. David was a really good junior angler and used to win loads of matches so maybe he'll get the bug again. They both said they read and enjoyed this blog so all this slaving over a hot keyboard isn't for nothing!
I caught a few more minnows but halfway through the match I grabbed my flask and went down to see Justin. He still hadn't caught and Graham had slowed up as well, he did report that Robin had phoned him to say Neil had caught three chub at Redbridge. I went back and went through the motions of trying to catch a chub on double caster or half a lobbie but never had another bite. I quickly packed up and Justin weighed me in, a fantastic 2oz! and I was left wishing I'd checked out peg 122. Justin hadn't caught so I'd gained a valuable section point. Graham weighed 2lb 6oz and I said I thought he might sneak into third place with that.
Back at the results and neither Steve Parker or Leighton had caught at North Bradon which meant I'd gained some points on Leighton in the league. Then the three from Redbridge came back and Neil had caught five chub for 15lb 14oz from peg 110 and he'd lost two and Robin had five and lost three from 109 for 15lb 1oz. Martin Heard only had one, but at 3lb 10oz it was enough for third place on the day. In the league today's results meant things are very tight at the top with me and Fieldy on 11 points followed by Neil on 12 and Leighton on 14.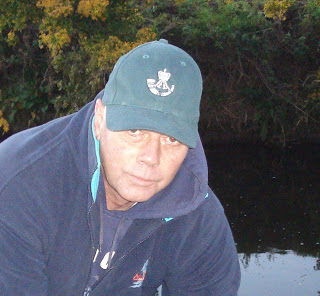 Chub bagger Neil Dring
1 – Neil Dring (Ilminster) – 15lb 14oz
2 – Robin Cox (Ilminster) – 15lb 1oz
3 – Martin Heard (Tiverton) – 3lb 10oz
Lets hope the weather warms up for next week and that I draw a decent peg!