After a fair bit of rain in the week and some more forecast, I feared we might be on the pond again but Saturday was dry and I was hoping we'd actually get on the river. Robin put paid to this when he contacted me and said the river was high and rain due on Sunday would mean the river would be unfishable, I still thought he'd jumped the gun a bit. I also suggested the canal but he was having none of it. I'm not going to moan anymore as organising matches is a shitty job and whatever you do isn't right and I think Rob does an excellent job (oh and thanks for picking my goodie bag up Rob!).
Sunday morning arrived and although pretty windy we hadn't had much rain and when I drove over the river it looked perfect and I started dreaming about pegs 14, 15 and 27, but enough of that, there was a match to be fished. I was determined to do a better job than I did last week and make sure I fined down my tackle and just get my head down and see what I could do. There were only eight of us fishing, Ash was supposed to be fishing but had a bad back (and Spurs were playing Man U today!) and I was surprised that Moses wasn't fishing but at least it gave the rest of us a chance!
Everybody wanted peg 4 as the wind would be off your back and Graham Field was the lucky angler who drew it, Scotty Mugger Russell drew peg 20 (the disabled platform) and that looked fairly calm as well, I pulled out peg 12 on the bottom bank. On arrival at the pond, the wind was gusty and right in my face – great! I had intended to set the whip up but that was out the window. I set up a 0.5 gram Drennan Quad with 0.08mm bottom and size 18 B511 and plumbed up and it was hellishly deep at 11.5 metres. I came back in to 10 metres where hopefully I'd be able to control the pole in the wind.
I mixed up some groundbait, a 50-50 mix of Sensas Noire and Lake and just had time for a coffee before a single blast on Rob's whistle signalled the start. I cupped in a single ball of groundbait at 10 metres before going over it with a single bronze maggot impaled on the hook. The rig settled and I fully expected the float to sail away but this didn't happen, also the wind was blowing from left to right but there was a wicked trip going back the opposite way and it was making presentation a nightmare. After 10 minutes biteless I heard Martin on peg 6 ask Rob if he'd had any bites yet and he replied he hadn't, this could be a real struggle!
I could see Scotty swinging in the odd fish from his armchair peg and after half an hour I started to get worried and then I saw Martin catch a small fish as well. Steve Parker on my left hadn't caught either and I feared the worst. Then my float slid away and I had a small roach – phew. In fact I then started getting regular bites and after the first hour I was on six fish. Martin shouted across to Scotty for an update and he was on seventeen while Martin had seven. So at this early stage it looked like Scott might be the runaway winner but at least I wasn't too far off Martin, who was moaning about the wind and reckoned he hadn't fed in the same place twice.
I was loosefeeding maggots, casters and hemp and after every hour or so, I was cupping in another small ball of groundbait. I was catching without really bagging, mainly roach with the odd small perch. I also realised my rig was woefully undergunned and a gram or heavier would have been better and an olivette instead of shot would have helped (another lesson learned). After two hours I slipped a caster on and after waiting a while, had a decent bite that saw quite a bit of number four elastic come out before I slipped the net under a 6oz perch – bonus! I persevered with caster and had a run of chunky roach and after three hours was on around 35 fish and thought I was doing ok until I heard Martin had 57 and Scotty 65! It looked like the rest of us were fishing for third place.
Last week Ash had 120 fish for nearly 10lb so I set my target at 60 fish as I thought that would give me 4-5lb. The wind was a bloody nightmare and with an hour to go it started to rain as well – perfect! Then Scotty hooked and landed a good perch and I couldn't see anybody catching him. Steve and Rob were both on the feeder but hadn't caught on it. I could see Fieldy netting odd fish on the waggler but I couldn't see how Neil was doing on peg 2 and Malcolm on peg 18 didn't look to be doing much but you never can tell.
I was still getting odd fish, mostly on maggot with the odd fish on caster and ended on 62 fish when Rob blew for the all out. I was soaked and cold and glad it was over to be honest and I was sure I was just going to miss out on any brown envelopes. Scotty had ended with 130 odd fish, including three decent perch and Martin had finished with 92 fish. Scotty came round with the scales and reckoned it would be close between Malcolm, Neil, Graham and me for third place. My fish actually went 5lb 1oz which was bang on my estimate, Steve Parker didn't weigh on my left or Rob on my right (so I won't be fishing the feeder next time!) and then Scott went off to weigh Malcolm in.
I packed up and was loading the car when Martin walked past, I asked how he'd got on and was amazed when he said he'd had 4lb 9oz! He'd caught a lot of small fish and was still moaning about the wind, the rain, everything in fact! Martin said he'd had to fish a two gram float and as Scotty said he'd fished a gram, it confirmed that I'd fished too light (note to self, buy some heavier floats). Martin also said that both Neil and Graham had weighed 3lb 11oz so that just left Malcolm and Scott. Back at the results and Scott said he'd weighed a level 10lb and Malcolm had 4lb 1oz so I'd actually sneaked into second and picked up £30.
Despite his moaning, Martin actually won his section today which means that after five matches and dropping the worst result, he leads with a perfect four point score followed by Neil on five and Graham on eight. I'm on nine points and with two matches to go it's all to play for (or it could all go pear shaped!).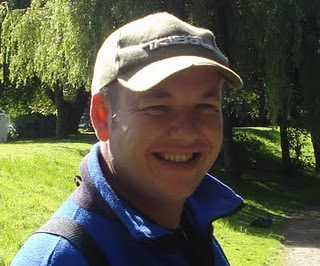 Match winner Scotty (who had a lovely day sat in his armchair!)
1 – Scott Russell (Tackle UK) – 10lb
2 – Jamie Rich (Against Men and Fish) – 5lb 1oz
3 – Martin Heard (Tiverton) – 4lb 9oz
Next week it's the Crown league again (please let it be on the river!)