Apologies for the lateness of my blog but my poxy pc had a virus. There were only six of us again and Neil had put all the pegs at Isle Brewers. I really fancied 125 (mind you so did everyone), I went in first but didn't look at my ball and as everyone else looked at theirs, nobody was admitting to 125, until Martin (who else?) opened his hand to reveal the peg everyone wanted. I looked at mine and came close with 125a. It was a beautiful morning with blue skies and sunshine and on arriving I was surprised to see the river had a nice tinge of colour and looked perfect. Everybody thought it would fish with plenty of roach and we all thought Martin would romp to another victory. Mind you, second place was up for grabs and could come from anywhere.
My peg looked nice and from experience I knew there was a deep hole in front of me and the main flow was under my feet and opposite was slacker water with the flow going back on itself. I got myself comfy down the bank and what wind there was, was blowing over the top of me, perfect! I got Old Faithful out and plumbed up over the peg and the rig was perfect and I was laying on a few inches. Above me was Neil Dring on 124 with Bob Hammond above him on 123 and Fieldy was in the weirpool (120) which I fancied would do a weight today. We got underway and I started with maggot under my feet to catch that all important minnow, after about five minutes I got one to secure me at least three points and third in the league.
Right now for the roach and I shipped out to fish in the deep hole, I fully expected to catch straight away but all I had was minnow bites on maggot so switched to caster. This wasn't any better and I was trying in the flow and in the deep water with the same result – no bites. Martin shouted up to ask what I'd caught and I said just one minnow and he replied he'd had four small roach and the expected bagging session wasn't happening. I was back on maggot and had a few more bites off minnows in the deep hole so went out with caster. I had a positive bite which I missed (it could have been a minnow I suppose), no more bites there so it was back to searching the peg.
I started fishing across but further down the peg and had another good bite on caster which I missed again! and I felt there were some proper fish about. Then the wind changed around and was blowing straight up the river and we started getting the odd spot of rain – great! I was only fishing about 9 metres and it was a job to hold that! I had been feeding the flow under my feet and kept trying it periodically but never had a bite there. In a brief lull in the wind I stuck an extra section on and went further across, the float sat in the flow before sliding away and a proper fish was on. I shipped back slowly and after a few hairy moments where the chub tried burrowing under my keepnet, I netted a good chub of 2lb+ – woo hoo.
I shouted down to Martin that I'd got one and he replied that he only had eight roach. I fancied there might be a few about but it was a real struggle to hold the pole in the wind and it was bloody cold too. No more indications and after another hour Martin wandered up, he was still on eight roach and then he went up to see how Neil was getting on. On his return he said Neil had a chub and a gudgeon, so it was all to play for. The trouble was I couldn't get a bite despite trying lobbie, maggot and caster and the wind was now hideous.
Neil walked past on his way around to the other side of the river to retrieve a lost rig and said he hadn't had anymore. I was by now fishing a section shorter because of the wind and out of the blue the float buried and I was into another chub, this one bigger at 3lb+ and I reckoned I now had about 5lb in the net. On Neil's return from his rig collecting mission he said Martin hadn't had anymore fish. I was convinced I'd get another but the only other action I had was a tiny minnow. I packed up and went to weigh Neil in, he was pretty pissed off as he'd lost two chub and his single chub, gudgeon and a couple of minnows weighed 3lb 2oz.
My two chub and two minnows weighed 5lb 7oz and then it was down to Martin who I was convinced would have more than he was admitting to, but he only had 13 roach for 2lb 9oz and he said I'd win it with my weight. I wasn't so sure, somebody would have more than that surely? The last person I had to weigh was Pete Lonton who had loads of tiny roach, gudgeon and minnows for a level 1lb. So that just left Bob and Fieldy and if I could beat one of them, I'd be in the money as the top two were being paid today. When I got back to the car, Bob had got back from weighing in Graham and I asked how they got on, Bob had only had minnows and Graham had 4lb 4oz so I'd won my second match on the bounce – get in.
I picked up £40 for the win and another £40 for coming third in the league to make this my most successful February for years, picking up money in all four matches. Martin won the league in a tight finish with seven points, only dropping a single point. Neil finished second and if he'd landed one of those two lost chub, he'd have been crowned champion.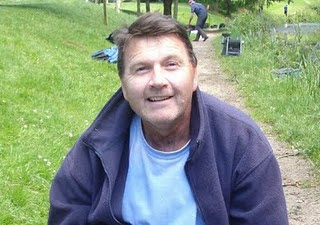 V.E.S. Precision Winter League Champion 2010-11 – Martin Heard
Oh I forgot to mention I had my third squid off Martin on the trot although I don't expect it will be long before he claims them back again!
1 – Jamie Rich (Against Men and Fish) – 5lb 7oz
2 – Graham Field (Taunton) – 4lb 4oz
3 – Neil Dring (Ilminster) – 3lb 2oz
Final league positions
1 – Martin Heard – 7 pts
2 – Neil Dring – 8 pts
3 – Jamie Rich – 12 pts
The club would like to thank V.E.S. Precision for their generous, continued support and Pete, Robin and Neil for arranging the matches and of course Steve and Cindy at the Royal Oak for putting up with us in the mornings.
Tune in next week to see if I can do the hat trick – yeah right!