The weather was forecast to be good for this one and I was looking forward to seeing if I could continue my good form. At the draw, Scotty brought on some new digital scales as the club had been having problems with their set and it was fairly amusing watching half a dozen blokes crowded around, just trying to work out how to open the box!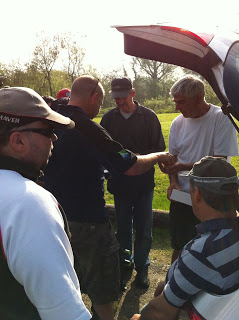 How many blokes does it take to open a box!
After finally figuring out how to open the box and work the scales it was time to draw. Of course everybody wanted peg 10 and Scotty drew it (and he only fishes here once a year), that boy draws better than Picasso! I opened my peg to reveal peg 19, which Bish had done ok off last match, so I wasn't too disappointed. Les had left 18 out so I had an empty peg to my right and then Les was the next peg on (his drawing arm has really let him down this year so far). Carp could be seen all over the pond basking and I couldn't wait to get started.
I set up two dibbers, one for up in the water and the other for fishing the inside lines and also a Carpa 2 rig for fishing at 5 metres (I won't say any more about this rig as I never tried it all day!). For bait I just had corn, micros and 6mm sinkers. Opposite me was Bish on peg 2 and that peg had done ok last match as well. Mike Hosgood (from Exeter) was on peg 1 and Oz was on peg 20, the two corners at our end.
Les blew the whistle for the all in and I set my sights on two carp an hour which would give 45-50lb and hopefully a brown envelope. I cupped in some micros at 5 metres and the same plus corn down the edge to my left and by the cormorant roost to my right. I started out at 11.5 metres with a 6mm banded pellet on the size 16 808 hook, firing half a dozen over the top every few seconds. The early banter around the pond suggested Scotty had caught straight away and Bish, Oz and Mike all had early fish at our end as well.
I started getting indications quite quickly and after 20 mins had my first carp but at 1lb it was probably the smallest one in the pond! After an hour I was on three carp so ahead of my target but two of them were very small with the other probably 6lb or so. With most people catching I quickly upped my target to three fish an hour. Me and Bish were neck and neck on numbers but his fish were bigger, Mike and Oz had slowed up after promising starts. Les had one carp but was also now struggling. I had three more carp in hour two but lost a good fish that snapped me. Before tying a new hooklength, I refed my two inside lines.
The third hour saw things slow up for me, I lost another carp which I think was foulhooked before catching number seven. I then hooked a decent mirror which I came close to netting a couple of times before it powered off and rather than add pole sections I just sat there like a numpty with the top three and it snapped me (schoolboy error!). My mate Andy turned just as I lost it and sat behind me, beer in hand on his deck chair. With the long line now very slow, despite loads of fish still cruising, I fed the insides once more with it in mind to try them shortly. Bish was now ahead of me by a fish or two although he'd lost a couple as well.
I couldn't really see how the pegs past Les were getting on but both the Hoff and Blaker came up with 8lb+ fish for Les to weigh. I had carp number eight before losing another foulhooker, I stuck with the long line a bit longer but only added a small roach, so with the final hour approaching it was time to try my inside lines. Mike was catching me up fast and I also wanted to try and stay in touch with Bish. I fed some corn and micros via a toss pot and lowered my rig in past the cormorant roost, I started getting the odd indication but missed several bites so tried to my left (where Bish had caught last match) but due to a tree you have to stand up to see the float and I soon got fed up with that!
Back to the right and I finally hooked a carp on corn but the hook pulled out and I was starting to get frustrated. After another 10 mins I was just thinking about going back out long when I had carp number nine which was about 3-4lb. I landed number ten with quarter of hour left and hoping to get one more but it didn't happen. I shouted across to ask Bish how many he'd had and when he replied 11 I knew he'd beaten me as along with having more fish, he had bigger fish too. My only hope now of a brown envelope was winning my six peg section. Oz had five carp so I was sure I'd beaten him and Les had a mixed bag of 1 carp, 1 roach, 1 rudd and 1 eel so that left Dave Lawrence, Janders and the Hoff in my section. Hoff said he'd had ten fish including the one of 8lb 1oz he'd weighed earlier and I knew my good run had ended.
The scales started at Mike Hosgood (from Exeter) and he weighed 25lb, before Bish set the bar with 42lb 3oz, Butch had 23lb 8oz and 'Paste King' Terry Green had 32lb 1oz. Then Bushy plonked 18 carp for 70lb 14oz on the scales from peg 6 but would it be enough? Picky stuck eight lumps on the scales and took a £1 off me with 45lb 10oz (and yes it's 3-2 to him now!). Rocking didn't weigh in from peg 8 and Dave Abrams had 20lb 15oz from peg 9. Then we got to Scotty in peg 10 and despite suffering a nightmare with floating white fluff, he had 16 carp for 62lb 13oz. Mike Collins didn't weigh and then Blaker had 68lb 10oz to move into second place.
Then we reached my section and Janders had 17lb 8oz and gave me a replacement £1 for the one I gave Picky, Dave had 25lb 4oz and then Hoff had 41lb 13oz and I knew I had nowhere near that. Les didn't weigh and then my ten carp (and single roach) went 31lb 11oz, I was actually quite relieved that the 6 pounder I lost earlier hadn't cost me, Oz had 19lb 2oz from peg 20 and that was that.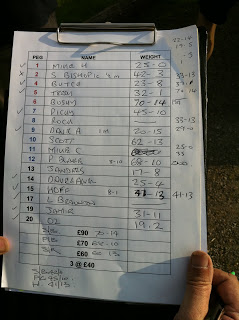 Another impressive set of results
1 – Steve Bush (Chard) – 70lb 14oz
2 – Paul Blake (Chard) – 68lb 10oz
3 – Scott Russell (TackleUK) – 62lb 13oz
Sections
A – Steve Bishop (Chard) – 42lb 3oz
B – Alan Gage (Chard) – 45lb 10oz
C – Mark Hollister (Chard) – 41lb 13oz
So my good run came to an end, next up is a match at Summerhayes on Monday, the trouble is it's on Long's Pond and I never seem to do very well there. Tune in to see if I can get back to winning ways.