After a few bevvies last night, my head was a little woolly for this one, after a couple cups of coffee I was on my way to Summerhayes for the draw at 11. I got there and paid my pools and said hello to Scott and Roger and then saw Bob Gullick who I haven't seen for a good ten years and he was on his maiden visit to the venue. My record on Long's isn't good as I've drawn 39 both times I've been here and not done very well off it. Well the good news was it wasn't in today! I pulled out peg 7 and when I asked people about it, they all turned their noses up – great!
I was determined to fish for silvers all day and Scotty who was the next peg along from me on peg 2 (I think) said I should avoid the reeds in the bay to my left as I'd get smashed up. I set up a Carpa 2 rig for fishing at 8 metres for silvers and I couldn't resist setting up a dibber for the reeds to give me a second line. On the whistle I cupped in half a pot of micros at 8 metres and micros plus corn by the reeds. I went out on my silvers line with a 4mm expander on the hook and waited, and waited!, where were all the skimmers? Scotty looked to be struggling too.
Finally, after 10 mins, the float slid away and I netted a 10oz skimmer, when I had a smaller one next put in, I thought 'here we go, they're arrived' but it proved to be a false dawn and after an hour I only had five skimmers. Scotty had netted some small crucians but it wasn't really happening for either of us. Going into hour two I had a foulhooked 2lb carp plus a small crucian and a sweet little tench plus a couple more skimmers but I wasn't catching well enough to do any good. I then lost a small carp at the net followed by a crucian that slipped the hook as well and I was having to wait ages for a bite.
By the half way point it was time to bite the bullet and go into the dragon's den (by the reeds), with corn on the hook I was getting indications straight away and soon netted two small pasties about a 1lb apiece, when I followed those with a crucian about 1.5lb, things were looking up and I couldn't understand what all the fuss about the reeds was! Then I got smashed up! I cupped in some more feed and went back over my skimmer line and had a brief flurry of two or three skimmers including a flier (why do they do that on commercials?) before that line died again.
So with a new hook on, it was back by the reeds and I had a good skimmer, a smaller one and a couple of tench and a small carp before I got smashed again. I went back over the skimmer line while I tied a new hooklength on my other rig but had no more bites there. We were now into the last hour and I needed a good hour to say the least. Back by the reeds and I had another small tench and was getting a good bite every chuck but I couldn't hit them! I tried 4 and 6mm expanders but couldn't hit the bites on them either. Scotty had dug some worms out of his carryall in desperation and had a blinding last hour catching big skimmers and tench.
I stuck no more fish in the net and got smashed up again just before the all out, not a good day. I had 27 fish and thought I probably had 15lb or so and was hoping I might sneak second in the silvers (but that was just wishful thinking). Scotty reckoned I'd battered him (more wishful thinking). I packed up and caught up with the scales just as Bob was being weighed in, he had 58lb 2oz and was odds on to win here at his first attempt. He'd caught right across on 6mm banded pellet. Looking at the weighboard and any hope of getting in the silvers frame evaporated, Roger had weighed over 23lb of silvers and Bruce Hunt had a level 19lb and I knew I had nowhere near that. My carp went 7lb 4oz and my silvers weighed 12lb 11oz to give me a 19lb 15oz total.
Scotty had 25lb 2oz of silvers (of which he reckoned he had 18lb in the last hour, pesky worms!) to win the silvers pool and Roger was second to keep it a family affair.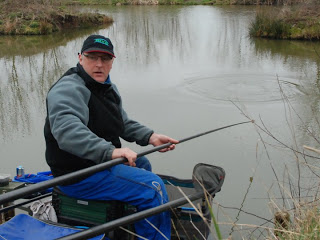 1 – Bob Gullick (Garbolino Blackmore Vale) – 58lb 2oz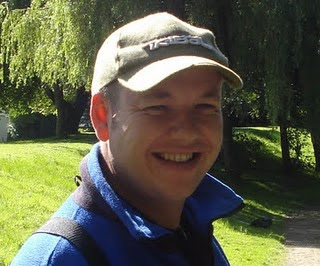 'Silvers King' Scotty
Silvers
1 – Scott Russell (TackleUK) – 25lb 2oz
2 – Roger Russell – 23lb+
So thats two duff matches for me now, next up is Dillington on Wednesday evening, so tune in for more tales of woe then!