The weather was truly awful for this one and I made sure I had waterproofs, wellies and I even took a brolly for the first time in years. I had drawn Dunner in the knockout and he pulled out corner peg 1, while I had peg 8. My peg can be a good one but you're always up against it when you've got 6, 7 and 10 in the same 5 peg section. I had Les next to me on 7 and I can't seem to get away from him these days.
It really was chucking it down so the first job was to try and get the brolly in, after much bashing and crashing I hammered the bankstick in but it was by no means secure. I was already soaked and my enthusiasm was disappearing fast, I set up a dibber for up in the water but couldn't really see me catching on it. I also set up a Carpa 2 for fishing at 8.5 metres slightly to my right, about a metre past the lilies. I had maggots, corn, micros and 6mm pellets for bait.
Les blew for the all in and I cupped in some micros, corn and maggots on the 8.5 metre line before starting on the shallow rig. I gave it nearly an hour but the wind made holding the pole at 11.5 metres a nightmare and at times I had to hold onto the brolly as well. I had a couple of indications but I think they were from roach or rudd. Nobody really seemed to be bagging, Mike T opposite had a couple of fish as did Bushy on 14 and Les had landed a couple of carp and bream.
I baited up the deeper rig with corn and fed some micros, maggots and corn via a little tosspot. After about five minutes I had a good bite which I missed and I missed the next one too! The next one saw me connect with it but it wasn't to be third time lucky and the carp did me in the lilies. I stepped up to 0.14mm bottom and then landed five carp in quick succession and I was back in the hunt. Whilst playing the fourth carp I had to keep grabbing the brolly as it threatened to take off so I took it down and chucked it up the bank. I would get very wet but it was one less thing to worry about.
We were now half way through the match and I was doing as well as anyone apart from Paul Blake on peg 10 who had taken one fish to be weighed at 14lb+. I was still getting the odd bite but it wasn't as hectic, I found if I kept lifting or dragging the rig I would get more bites. I did lose another which I think was foulhooked. I could see Mike T getting the odd fish and as he was getting some eels I thought he must be fishing maggot. I slipped three on the hook and first put in had a roach so it was back to the corn.
I was now absolutely soaked and I really must invest in some decent waterproofs, most of my sodden maggots had made a bid for freedom and my damp micros were in danger of turning into mush. Just as I felt Bushy and Mike T were catching me up, my fish returned and I had two more smallish carp followed by a good one. I hooked my ninth carp just before the whistle and safely landed it five minutes after time. Les reckoned I'd done him as he'd only had six carp but he had some bream to go with it. I quickly packed up my drenched gear and as I walked back, it became apparent it could be quite close as several anglers were admitting to six to eight carp. Picky had six and was sure it would be 6-5 now, I wasn't so sure. Also Dunner said he had six so I thought I might have a chance in the knockout.
Dunner's six (more like eight!) carp went 34lb 6oz and I wasn't sure I had that, Picky weighed 25lb 14oz and I thought I might pull one back. Terry 'The Paste King' had 60lb 14oz from peg three and he gets my man of the match award as it hasn't done a lot this series. Les then weighed 33lb 14oz and had a nice net of bream plus a few carp, I came close with 32lb 14oz but when Blaker added 22lb odd to his earlier 14 pounder I knew any chance of a brown envelope had gone this week, I needed two more fish.
Mike Hosgood (from somewhere in the vicinity of Exeter) had more than I thought he'd had and he pipped me with 36lb 2oz as well. Bushy had dropped a few points with 25lb something and then Chris Haines had eight carp and a few bits for 43lb 15oz and Bish had a similar net for 39lb 15oz from the peg next door and they took second and third places. Dave Abrams had packed up and gone as he'd smashed several pole sections and Dave Lawrence chucked back although if he'd weighed in he'd have won the section by double default!!!
Terry has gone to the top of the league with 18 points, overtaking Bushy who is now on 19 points and Hainsey joins him on the same score. Dunner knocked me out of the knockout leaving the only good thing about today was taking a £1 off Picky to make it 6-5 to him. Janders is on holiday but I beat his stand in, Dan Ball, who also broke his pole today so I'm sure he'll pay me on his return!!!!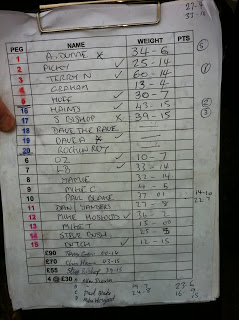 Even the board got soaked!.
1 – Terry Green (Sillybait) – 60lb 14oz
2 – Chris Haines (Haines Angling) – 43lb 15oz
3 – Steve Bishop (Chard) – 39lb 15oz
Sections
A – Alan Dunn (Chard) – 34lb 6oz
B – Paul Blake (Chard) – 37lb 1oz
C – Mike Hosgood (Chard Raiders) – 36lb 2oz
Round eight is next week so lets pray the weather is better, it can't get any worse!