Conditions were much better for this one, although we did have a couple of showers early on. I was still in with a chance of a corner peg but when I opened my peg I had the number one staring back at me, just the peg I didn't want. Although it's a corner, it's not a good one, the only good thing going for it is that it's probably the best peg in the five peg section so at least I'd have something to go for. The peg has lilies in front of you and to the right with just a fairly small channel to get angry carp through – great!
I had Picky opposite me on 19 and he was confident of making it 7-5 in the sidebet stakes, Janders, fresh back from his holiday, was in my section on peg 5. There were quite a few carp moving about and I fancied I'd get a few up in the water. I set up a dibber for shallow, another for fishing the inside to my right and a Carpa 2 for fishing at 10 metres in the channel between the lilies. On the whistle I cupped in some micros, corn and maggots on my deep line and at two spots on the inside before starting up in the water.
Picky's new saying is 'Quit the jibber jabber' and this was soon being heard all over the place, mainly by me and Picky! Dave Abrams on 20 ha a carp on his second put in and and I thought it wouldn't be long before I got in on the action. Firing 6mm's out and lifting and dropping the rig it was harder than I thought and it took me 45 mins before I had my first carp of around 3lb. There was the odd carp being caught but nobody at our end was setting the world alight. I gave it another half an hour before deciding to try my deep rig.
I went over it with corn on the hook and toss potted in some bait, after 10 mins I missed a bite so I gave it a little longer but there didn't seem to be many fish there either. I then tried both inside lines with the same result. Picky got his first carp and quickly followed it up with an eel so I told him to 'Quit the jibber jabber'. Back on the shallow rig I hooked another carp briefly but it tore off and the hook pulled out – bugger. Mike Hosgood (from adjacent to Exeter) had a couple of fish as did Rocking Roy and Mike Collins. Dave Abrams had two eels but released one back to the lake early – whoops.
Mike T on my left was struggling but I think Oz next to him had a couple of carp but still nobody was running away with it in our ten peg section, I was sure the pegs at the other end had to be getting a few. I was back on my inside line when I hooked a carp which swam straight out through the channel and all the way round the lilies and I thought I had it under control when it went into some lilies on my left and the line went slack, I was sure it had broken me but the hook pulled on that one as well. We were now three hours into the match and another disastrous points score was looking likely.
I flirted with up in the water again and even tried fishing tight to the lilies on my right while flicking some pellets over the top, still no joy. My mate Andy turned up and said he's thinking about getting back into fishing which is good news although after watching me for a bit he's probably having second thoughts! After he left I tried shallowing up to six inches and fishing by the lilies, I had three carp quite quickly and despite some hairy moments in the lilies, netted all three safely. I was just thinking about a grandstand finish when with half an hour to go, the fish disappeared as quickly as they arrived.
I spent the last half an hour on the inside, I missed a bite on corn before getting carp number five and still had time to miss two more bites before the all out. Dave Abrams had the same number of carp but he did have a good one so I was sure he'd done me. Picky had four small carp (yeah right!) and a couple of eels so it would be close between us. Janders only had two small carp and was wishing he was still in St Ives as he handed over his nugget. Dino and Oz were both admitting to five carp but as they had decent fish I reckoned it would be between them for the section.
The scales started at me and my five carp weighed 15lb 10oz, Mike T had really struggled for 2lb 10oz and then Oz just pipped me with 17lb odd before Dino pipped him with 20lb 13oz and then Janders two 'mini' carp weighed 2lb 7oz. Then the weights just got better as you went up the pond, Blaker did 44lb 8oz from peg 6, Bushy did 55lb 6oz from next to him, Terry Green had 'struggled' for 25lb 10oz, Butch did just over 30lb although Bish had relatively struggled in the normally good peg 10 for 20lb odd (which just goes to show the fish aren't there all the time). Opposite him the Hoff had no such worries and weighed 71lb 3oz to win comfortably.
The weights were still good coming back the other side, Les did 38lb 2oz and Hainsey had 36lb 12oz before the weights started dropping again with the only other weight of note was Mike Collins who had six carp and a bream on the feeder from peg 16 for 28lb 13oz. Picky handed over a £1 although I've been had like that before but he was actually telling the truth this time when he weighed 13lb something. That's 6-6 now mate! so 'Quit the jibber jabber!'
In the league it was all change again as Bushy went to the top of the leader board with 21 points followed by Chris Haines on 24 and Terry Green on 25. I'm still down in 7th position on 33 points and out of it.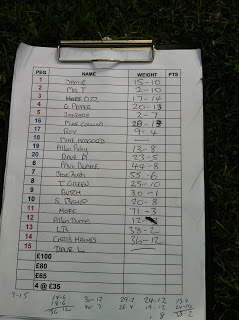 It was almost like there was a line across the pond, good weights from peg 6 upwards and the anglers at my end struggling.
1 – Mark Hollister (Chard) – 71lb 3oz
2 – Steve Bush (Chard) – 55lb 6oz
3 – Paul Blake (Chard) – 44lb 8oz
Sections
A – Graham Pepper (Taunton) – 20lb 13oz
B – Butch Baker (Chard) – 30lb 1oz
C – Les Braunton (Haines Angling) – 38lb 2oz
D – Mike Collins (Chard) – 28lb 13oz
I seem to be having a bit of a duff patch so lets see if I can turn that around at Dillington on Wednesday night, tune in to find out.