Next up on my 'Mission Impossible' hit list was bream and possibly roach so I headed to the resi where I fancied I'd latch into a few, especially after Russell Hilton's great session recently. Janders very kindly agreed to come down with me so I could borrow his trolley and we could head to the prolific pegs in the forties. Well, best laid plans and all that, on arriving at the car park I was surprised to see it almost full and I was hoping I would be able to squeeze into the forties somewhere. Janders arrived and we loaded up and off we went.
There were a couple of pleasure anglers in around peg 41 and they hadn't caught yet but as we walked further up it was bivvy city and every peg was taken right up to peg 50. A change of plan was called for and I dropped into peg 38, these pegs had struggled in the last match with the top weight being 2lb 14oz but as the wind was blowing in to these pegs I still fancied getting a few. After two hours and not so much as a chewed maggot, yet another change of plan was called for! This certainly wasn't going to plan, it was also quite cold in the shade of the trees so we decided to head for the dam wall, where we would be in the sun at least. So the trolley was loaded up again as we headed to warmer climes.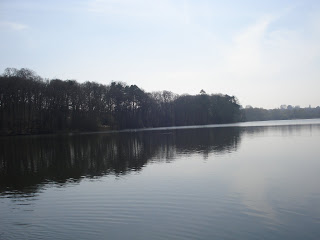 The view up the resi from the dam
I decided on a peg near the car park (near where Picky had won the section the last time I'd fished the resi) and started again. After 40 minutes and no indications I honestly thought another blank was on the cards. The two pleasure anglers turned up and set up along from me, they hadn't had a bite in the woods either. I was just thinking about an early bath when the tip pulled round and I netted a skimmer which I weighed at 2lb 13oz. So at least the blank was avoided and I had done enough to earn badge number two. Then I had another of a similar size next chuck and fancied I might get a few and hopefully the proper slabs would put in appearance.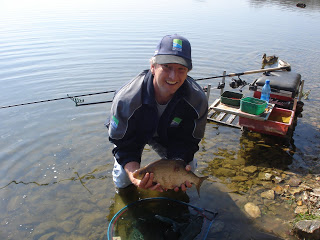 Not the slab I was after but at least I was off the mark!
I had a third but it wasn't exactly fast and furious and the two lads hadn't caught yet either. Then Les turned up and told me I was doing it all wrong, my feeder was too small, my hooklength too long and my groundbait was the wrong colour! He shortened my hooklength and insisted on a chuck to show me how it was done, he was just sinking the line when the tip went round and he had a skimmer! So maybe he did know what he was talking about. He went off to collect the rest of the day ticket money but not before telling me how crap I was!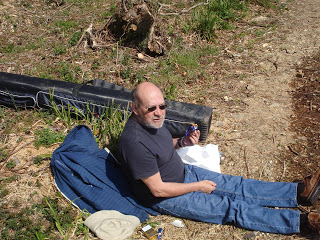 Janders enjoying the sun
I was still hopeful of catching a 5lb+ slab so I could fill out one of the blanks on my pb list but apart from one more skimmer, bites were still few and far between. The two lads packed up fishless but to be fair they probably hadn't picked the best day with it being hot, sunny and flat. Les arrived back and had another couple of chucks but didn't catch anymore before leaving me to it. Then my mate Andy turned up and couldn't believe I was fishing the dam again. I did miss a couple more bites before Janders and Andy decided they'd seen enough. I stuck it out for another half an hour but was soon feeding the ducks with the bait I had left before packing up and heading home.
Les did say there was a space available on the resi on Sunday but as I'd already booked into a match at Summerhayes, I had to decline and I must admit that with there being a chance of drawing the dam again, I just don't know if I could face it! Not the bagging session I'd hoped for but at least I had a few fish and it was a nice day in lovely company. Well tomorrow me and Andy are heading to Seaton to try and catch a mullet and as neither of us have a clue what we are doing, tomorrows blog could be quite short and lacking in fish photos! Be sure to come back to see if we end up getting rescued by the RNLI (now where did I put those flares!).