After last weeks disaster I was hoping for better things today at Summerhayes, it was on Long's Match Lake again and the forecast was for a hot, sunny day. I picked Janders up and on arrival we could see there was a really good turnout (26 anglers in total). There were the usual venue experts in the form of Bruce Hunt, Adie Bishop and the Wickhams plus some right stars (muggers) in the shape of Bob Gullick and Tom Thick who always seem to do well here. Just after I got out the car a chap came and introduced himself to me, it turns out he's Ivan Currie who follows my blog and also writes an excellent blog himself, have a look, a very good read http://ivansangle.blogspot.com/ It was his first time here and he was a really nice bloke, it's always nice to meet fellow bloggers!
I really fancied a draw near to where I was last time but I pulled out peg 5 on the opposite side of the lake and the general consensus seemed to be it wasn't a great silvers area, just what I wanted to hear! I have struggled there before but I did manage a silvers win with over 17lb in one match, but as the silvers was won with 33lb last week with 25lb second, I didn't think that would be enough today. Janders had drawn peg 14 and was determined to fish for silvers this week. I had a chap called Roy on my right and he mentioned he'd started reading this blog and really enjoyed it, cheers mate, I really appreciate it when I get nice comments like that. I had a blank peg to my left so at least I had an inside to go at if the silvers didn't show.
I set up the usual Malman 0.4 gram pencil float with 0.12mm bottom and size 16 808 along with a similar duplicate rig in case of disaster, I also set up a Trabucco dibber for fishing the inside and across to the far bank at 14.5 metres (but I was hoping I wouldn't have to go over there!). I had some micros which I dampened down along with some 4mm Bait Tech expanders and I also opened a small tin of corn. Bobby Gullick was on peg 1 and would be going all out for carp although Roy normally goes for silvers so I wouldn't have them all to myself.
Pete (who wasn't fishing today as he's done his back in) blew for the start and I cupped in half a pot of micros at 10 metres straight out in front before cupping in the same plus some corn on the inside to my left. I wouldn't feed across until I started fishing it, which hopefully I wouldn't need to do. I had a bite first put in with an expander on the hook and netted an 8oz skimmer to get me off the mark. Next chuck I had another and then a crucian and I was catching well. Roy was also getting a few although I think I was just ahead at this early stage. After the first hour I had 11 fish for probably 4.5lb but I knew I wouldn't keep catching at this rate.
Things slowed in the second hour and I only added 3 skimmers plus a few small fish and a tiny carp for probably another 1.5lb. I was on 6lb of silvers after two hours and thought if I could average 3lb an hour it would give me around 18lb and a chance of sneaking in the silvers money as Pete was paying three today (plus the top five). I was toss potting in micros every time and still getting odd fish but I was missing loads of bites (small fish?) and probably only added another 2lb in hour three to put me on about 8lb. I had also bumped a couple and lost a skimmer at the net. I was trying to keep a running total and was counting each skimmer as 8oz as some were bigger and some were probably only 6oz or so. I was getting quite a few 2oz skimmers and roach but I didn't include these.
Bites were now quite hard to come by and Roy was having the odd look down the inside without too much success which meant I was gradually pulling away from him. Janders turned up and said he just couldn't catch silvers and was going to fish the reedbed on the inside as several people had told him his peg wasn't a silvers peg. From what I could see it was a bit of a struggle on our side with only the odd carp coming out. I was still getting odd skimmers and after four hours was probably up to around 10-11lb. I would get a couple before struggling again, I tried fishing past my feed and to the left and right of it but this didn't really improve things.
It was a really hot day and I could feel my arms burning and really should have slapped some cream on. Hour five saw me still missing loads of bites but I added another five skimmers for about 2.5lb plus a few small fish. I had all skimmers and roach apart from one tiny carp and that crucian, in the last match I'd had several tench and a couple of 2lb+ skimmers which bumped my weight up and I was hoping a few might show in the last hour when the heat started going out of the day.
The last hour was a little frustrating as I was still missing bites and had two carp in quick succession and they weren't helping my cause at all. I did manage another three skimmers and a few blades to end with 46 fish (including three carp), by my totting up I reckoned I had about 13.5lb but was admitting to 10-11lb as I didn't want to look like a chump and over estimate. With Pete not fishing today he was soon starting the weigh in as I packed my kit up. As I took some kit back to the car I was surprised to see a few people had packed up and Nigel Wickham on peg 2 already had his nets out on the bank to dry! Bobby said he'd had 16 carp but reckoned Tom had done well on the other side.
When I caught up with the scales the top silvers weight was Glyn Wickham with 12lb 12oz and I thought it might be a close call between me and him. Mark Leahy had an excellent 52lb 12oz of mainly carp before Tom Thick went into the lead with 64lb 6oz, Tom fishes soft pellets and really seems to make them work here for the carp. There were quite a few 7lb silvers weights but nobody else broke double figures and I was confident I'd at least be in the top three. Janders had 10lb 9oz but didn't manage to beat his weight from the last match (I won't mention you said your target was 30lb today!).
Then it was my turn and my three carp went 4lb 13oz but I wasn't too bothered about them, when I pulled my silvers net out I received a bit of ribbing about my estimate, the needle settled on 17lb 12oz and I was leading the silvers with two people to weigh. I was sure I had nowhere near that, I thought I might have had 15lb max but was well chuffed. Roy had 7lb 1oz of silvers before Bobby weighed 32lb 10oz to sneak into third place. So I won the silvers again and picked up £35 plus the all important £1 from Janders. I really do enjoy this style of fishing and I was only 4lb off a frame place again, I just need to sort out a way to stop missing so many bites.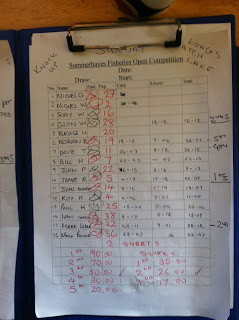 Pretty good weights again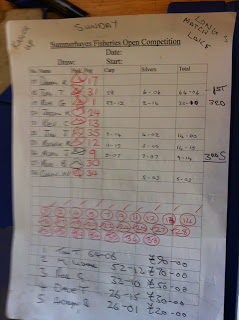 1 – Tom Thick (Bristol) – 64lb 6oz
2 – Mark Leahy (Street) – 52lb 12oz
3 – Bob Gullick (Garbolino Blackmore Vale) – 32lb 10oz
4 – Dave T (Summerhayes) – 26lb 15oz
5 – Adie Bishop (Summerhayes) – 26lb 1oz
Silvers
1 – Jamie Rich (Against Men and Fish) – 17lb 12oz
2 – Glyn Wickham (Summerhayes) – 12lb 12oz
3 – Alan J (Summerhayes) – 7lb 7oz
I'm going to the resi next Friday to see if I can catch some bream but I'm not sure where I am on Sunday as Les might want me to stand in again on the resi or if not I'll fish the match at Summerhayes, come back to find out where I end up!