After yesterdays disappointing trip to try and catch bream down the resi, today me and Andy were off to Seaton to try and catch a mullet, a new species for both of us. The problem was neither of us knew anything about them or how to catch them! I'd tried doing some research but all I really found out was that bread was the bait and that they were very difficult to catch – great!
I was up bright and early and actually got to Andy's before 9:00 which is practically unheard of for me, I'm never early! We made a quick pit stop at Tescos to pick up a couple of loaves of bread and we were off. We found the tackle shop in Seaton and the owner Chris told us they'd been catching mullet opposite the shop and recommended some Whizzo Stench groundbait to go with our breadflake hook bait. We had a coffee and an excellent sausage and bacon sarnie in the next door cafe, which set us up for the day and we were ready to do battle.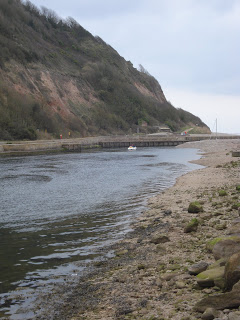 The Axe at Seaton
The weather was overcast and a lot cooler than the previous few days which meant spotting any fish might be difficult. We parked up and walked round to the other side of the Axe where Chris said they'd been catching. I had picked up some bits and bobs from Tackleuk for today including some Chubber style floats and size 8 and 10 hooks. I mixed up some groundbait and we both set up our waggler rods with 4AAA floats with just a simple bulk shotting arrangement. We were both eager to start and I always get quite excited when trying something new.
Andy trying to catch a mullet
We started fishing breadflake and feeding small balls of Stench but after a couple of hours our early enthusiasm had evaporated and neither of us had anything like a bite or even seen a fish. To our left were some mooring pontoons where the tackle shop owner said they sometimes caught fish so with nothing to lose we gave it a go. We started getting little knocks and I'm sure I'd seen a fish swirl when Andy managed to overcast and hooked one of the moorings and had to pull for a break. He said that was enough for him and he'd watch me but a few more indications soon saw him setting up again. I felt sure it was only a matter of time before we latched into a fish. Then a boat owner walked along the pontoon and stood right over where we'd been getting bites and unsurprisingly they stopped.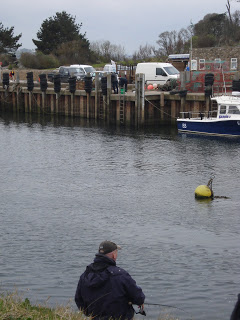 The scenery was certainly different to what I'm normally used to!
He wandered off but I think the damage had been done, but then a fish swirled for a floating piece of bread in the main river and our enthusiasm was back. Andy missed a bite before going back to get the landing net, we'd fed some floating bread and there were fish coming up for it back in the original spot we'd fished. All of a sudden my float buried and a fish was on, it gave me a few hairy moments when it tried going around a buoy, but after a spirited fight, Andy safely netted for me. It wasn't huge but it was a mullet and another new species for me. I weighed it at 1lb 13oz before getting a couple of pictures and releasing it.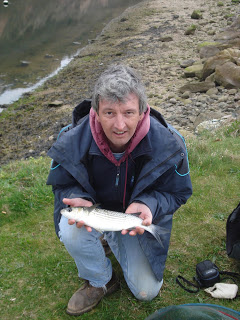 Not huge at 1lb 13oz but it meant we'd achieved our goal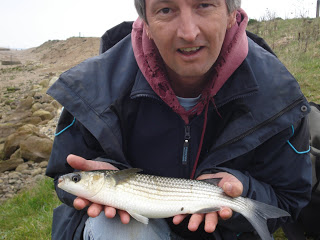 I will definitely be back to try and catch a bigger one
I was happy to watch Andy for a bit and was sure he'd catch but the river level was still dropping and those mullet were swirling further and further down and despite missing a couple of bites we didn't catch anymore. We were about to call it a day when all of a sudden we could see some mullet feeding on something on the bottom but despite our best efforts they ignored us.
A really enjoyable day and will definitely be back for another go when the weathers better although next time I will make sure I've got a couple of loaves of liquidised bread with me as well.
Tomorrow I'm at Summerhayes for the third part of my very varied fishing trilogy, it's on Sellicks which apparently has been fishing hard so make sure you come back tomorrow to see how I got on.
P.S. if anybody can tell me what kind of mullet I caught I would be grateful as I know there are different species.
Update – I have been told by several people the mullet I caught was of the Thick Lipped variety, so thanks for your help guys.